Date: 22 October 2022 / League: Polish 5th tier
Final Score: 3-0 / Attendance: 100 approx.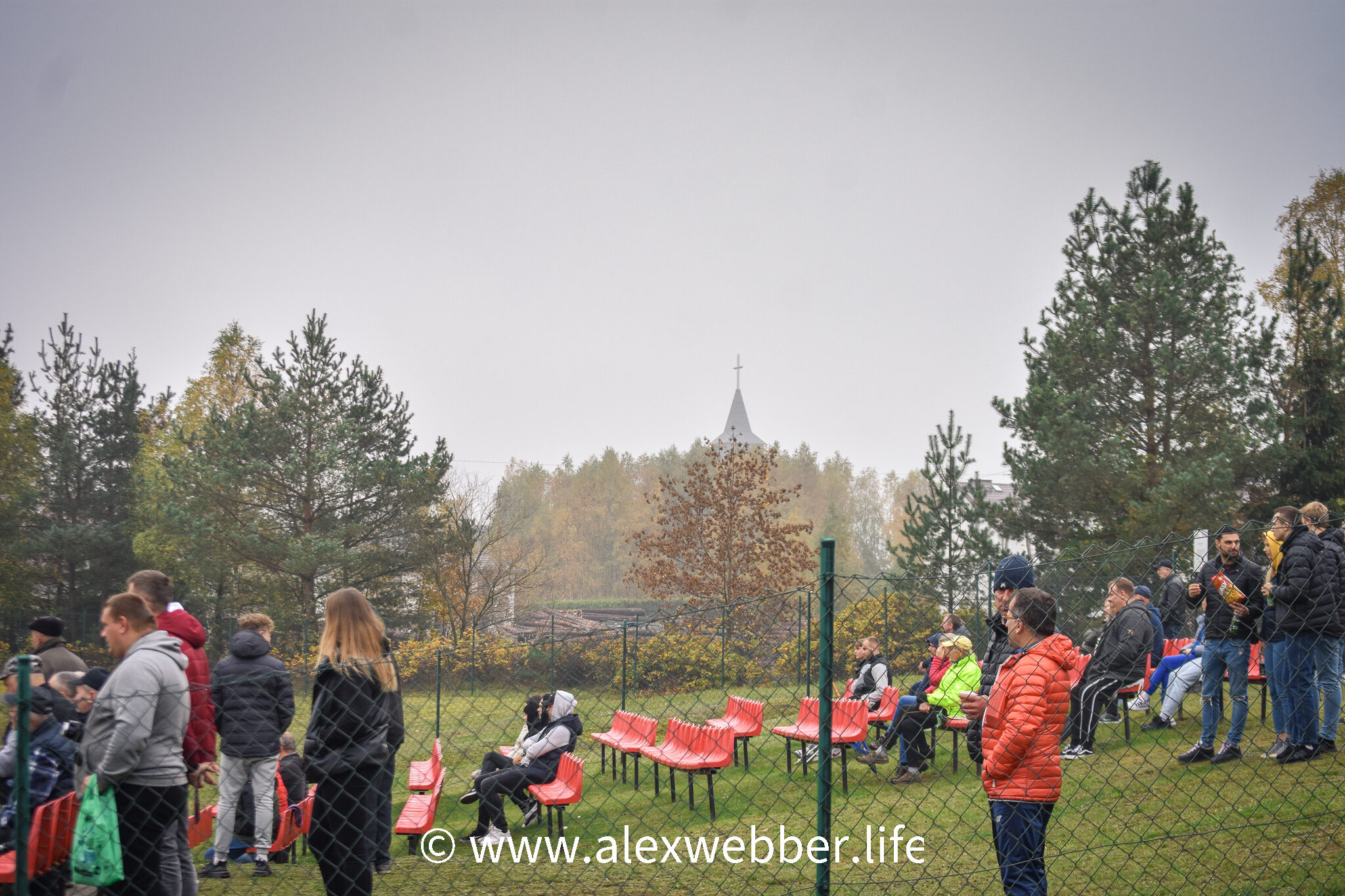 In A Nutshell
I had headed up north to watch Arka Gdynia take on Chojniczanka Chojnice – though widely hyped, I was aware that this fixture had the capacity to flatline (and, as it turns out, it did), so built a groundhopping schedule around it. First call, KTS-K Wiked Luzino, an eccentric ground that ended up knocking me sideways on account of its strange and undiscovered beauty.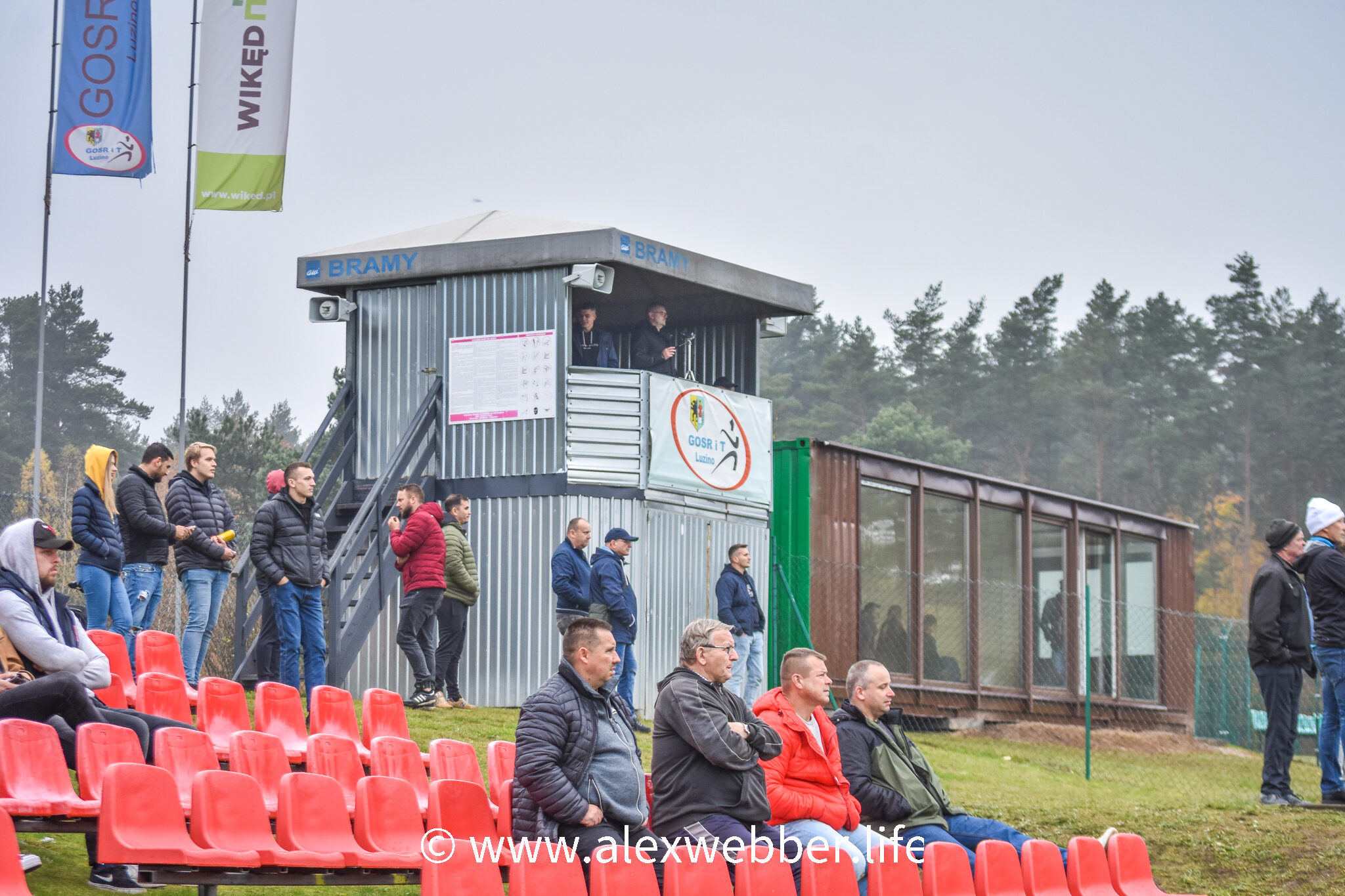 Background
I know nothing about the history of KTS-K Wiked Luzino, and it appears neither does the internet – trying to find even the smallest historical morsel to proffer has failed, so the only thing I can do is explain the Wiked in their name: that's their sponsor, a firm that Wikipedia assures specialises "in the production of steel and aluminium doors, as well as windows and aluminium joinery."
Founded as recently as 2009, already it appears the club are closing in on an unprecedented promotion from the fifth tier – this match, against high-flying Anioly Garczegorze, saw them cement their lead at the top of the table following a comfortable three-nil win.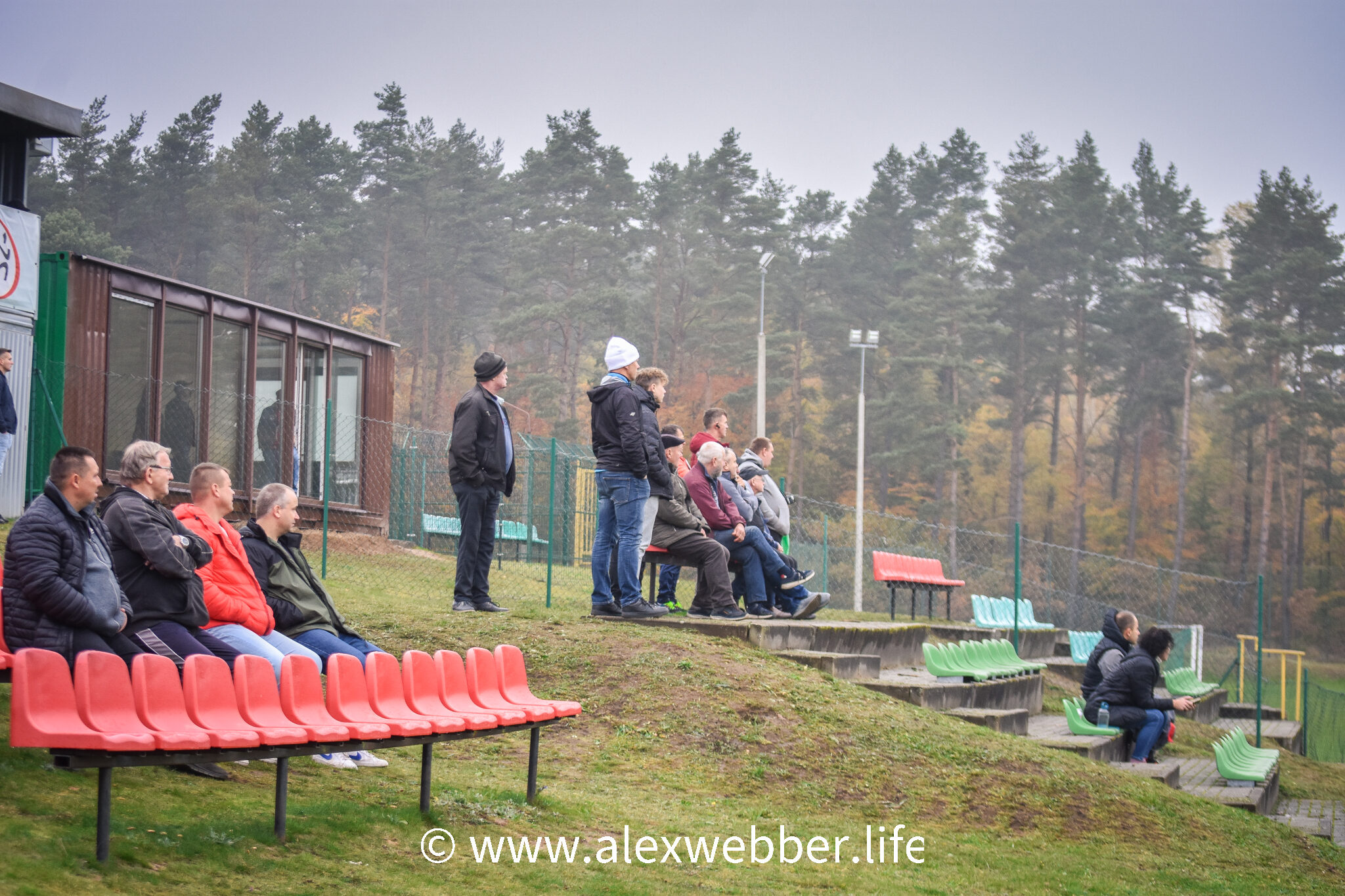 Geography
A town of just 7,500 people, Luzino lies 30 kilometres west of Gdynia and is served by regular regional trains that take anything from 30- to 50-minutes. From the station (which is little more than a potholed platform), the stadium is a 15-minute walk north.
Even in damp, muddy weather, the walk will do you good – I've no idea what the rest of Luzino might be like, but the route up to the ground is a picture of pastoral bliss: smart detached houses with smoke wafting from the chimneys and cats loafing about well-tended flowerbeds. If only it had an Indian restaurant I'd happily retire here.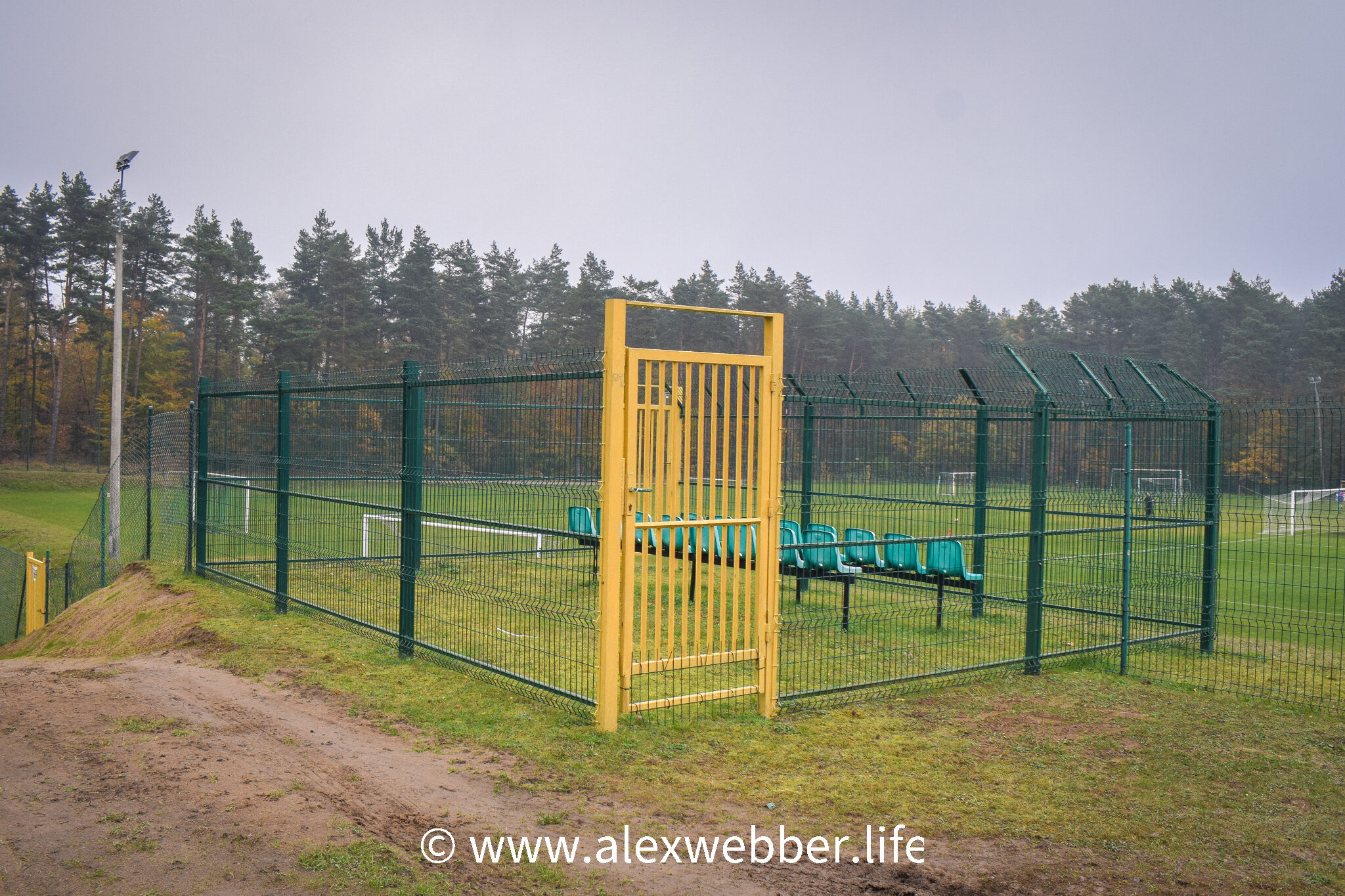 Stadium & Experience
I say trains run regularly, and this they do – just not necessarily at times convenient for the football traveller. With this in mind, I had two choices: either arrive two hours before kick-off or get there in time for the second half. I went for the latter, so reached the ground just as the ref was blowing for the match to resume.
I've had Luzino on my 'to do' list for several months now, but even so it felt like something of a gamble. Absent from Poland's groundhopping blogs, the few pictures I'd seen were of the non-ground specific type offered up by Google Images and the club's own Facebook page – whilst these seemed to suggest this was a stadium worth visiting, I couldn't be sure until I got there in the flesh.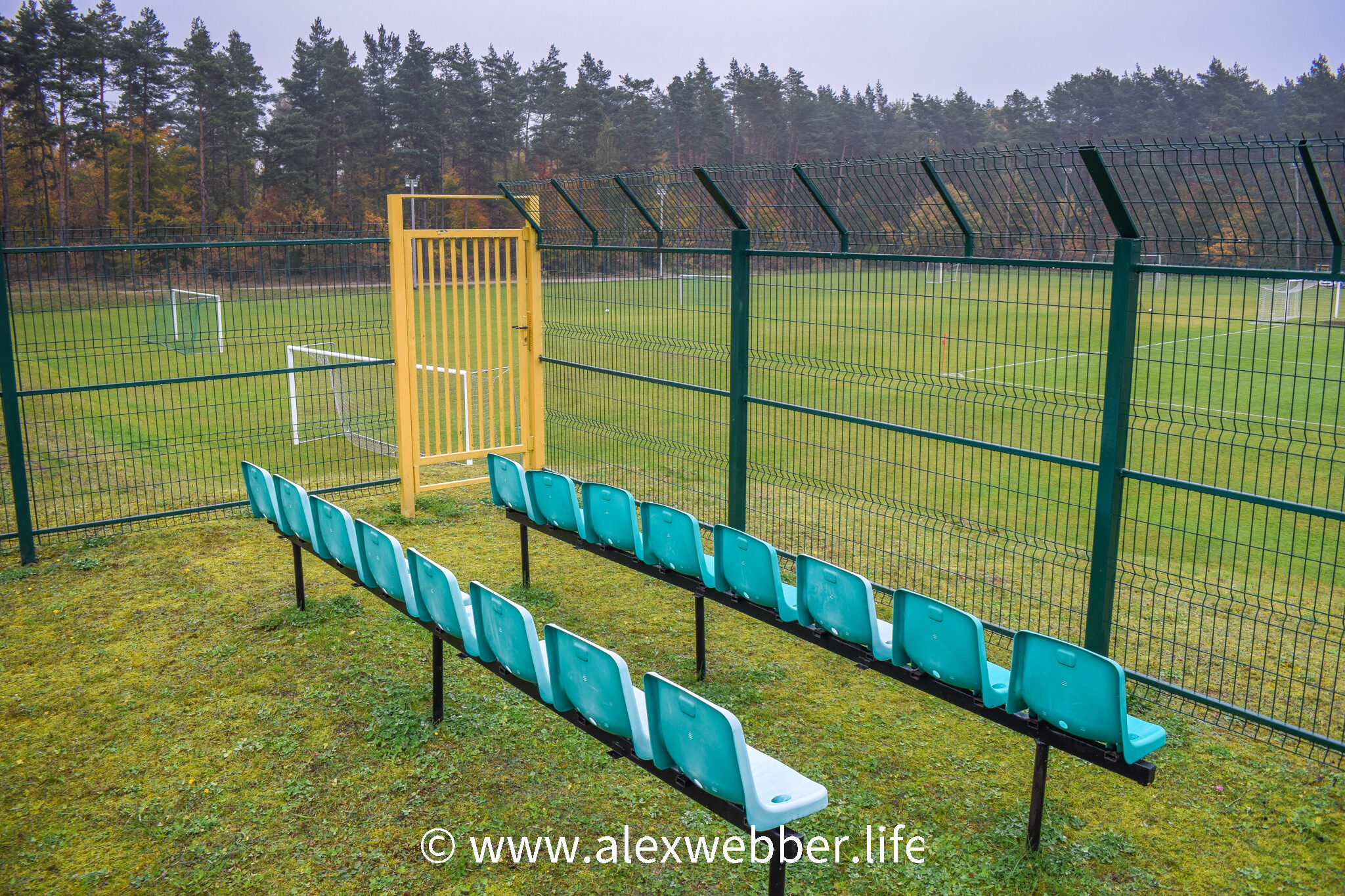 Straight away, I realised that my punt had paid off. Built into a gently rising, grassy slope, find a few blocks of seating positioned on disparate levels – some bolted onto concrete, others just thrust directly into the grass. But as if this wasn't charming enough, there were several other details to appreciate – a sheet metal tower for the local radio station and, flanking it, a cargo container with pine interiors and a glass frontage gazing onto the pitch.
The most literal interpretation I've ever seen of a 'director's box', this stout curiosity was busy with what I assumed to be the club's owners and sponsors – looking utterly bamboozled as to why some foreign stranger had bumbled in with a camera demanding to take pictures (really, I think they'd have been less startled if a space alien had entered), they nonetheless happily obliged before letting me on my way.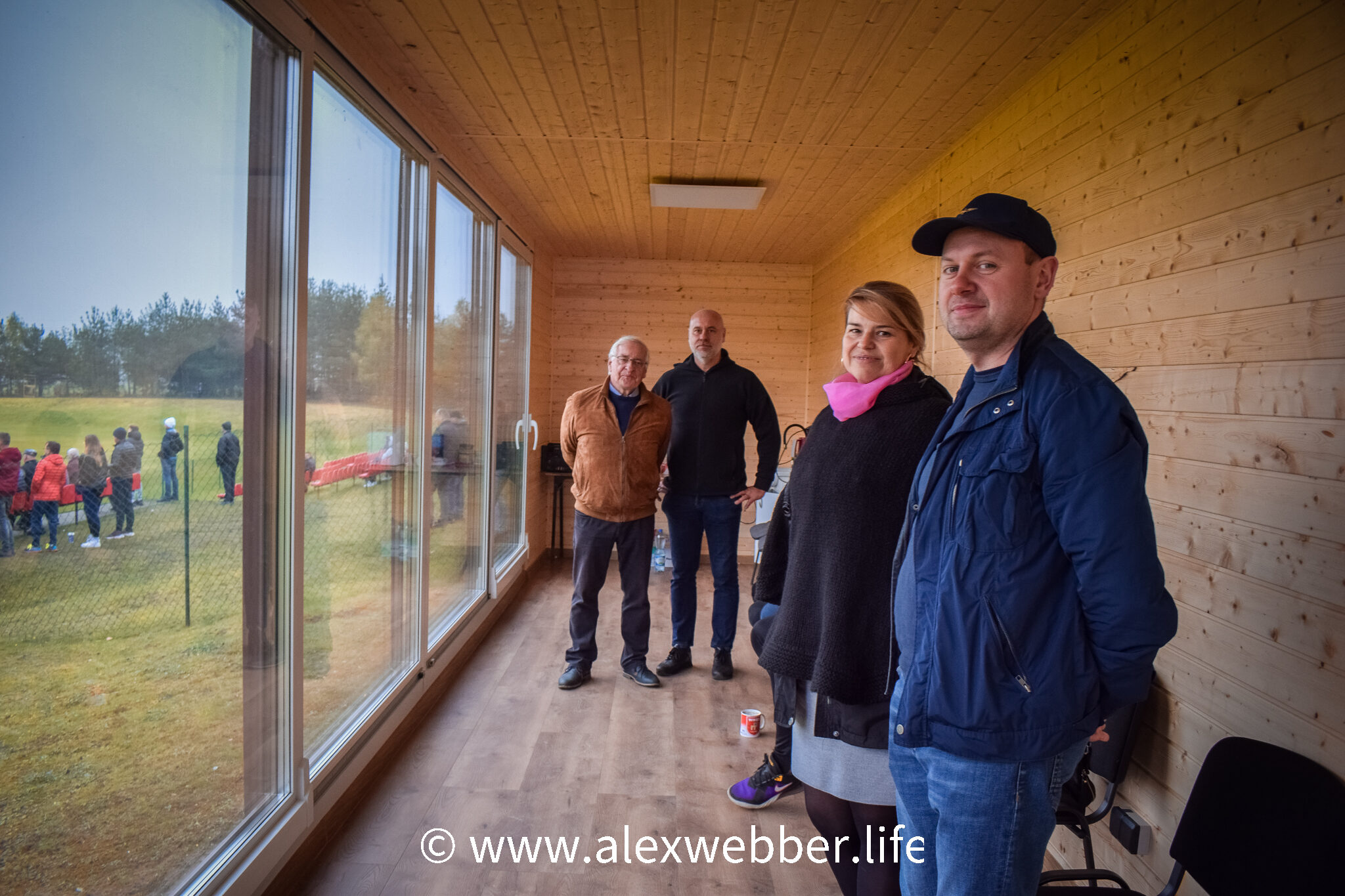 This, though, was not my favourite nook – for that, see the away end, a 20-seater enclosure perched on higher ground and firmly caged off from the locals. So relaxed was the atmosphere, it takes a febrile and almost perverted imagination to see trouble occurring, but this being Polish football I guess you can never be complacent. Played under grey, soggy skies, not even the despondent weather could hinder my mood, and it was difficult not to feel anything but elation at having discovered such a gem.
Smart but full of unexpected quirks, this is a fantastic feel-good ground with a casually friendly vibe – and a great one to add to the groundhopper's bedpost. Thoroughly enjoyable, this is a club that fully deserves the much sought-after Webber stamp of approval!