Date: 15 July 2022 / League: Polish top flight
Final Score: 0-0 / Attendance: 9,890
In A Nutshell
The inaugural game of the top flight provides a night of fire and brimstone within a perfect piece of modern Polish plastic!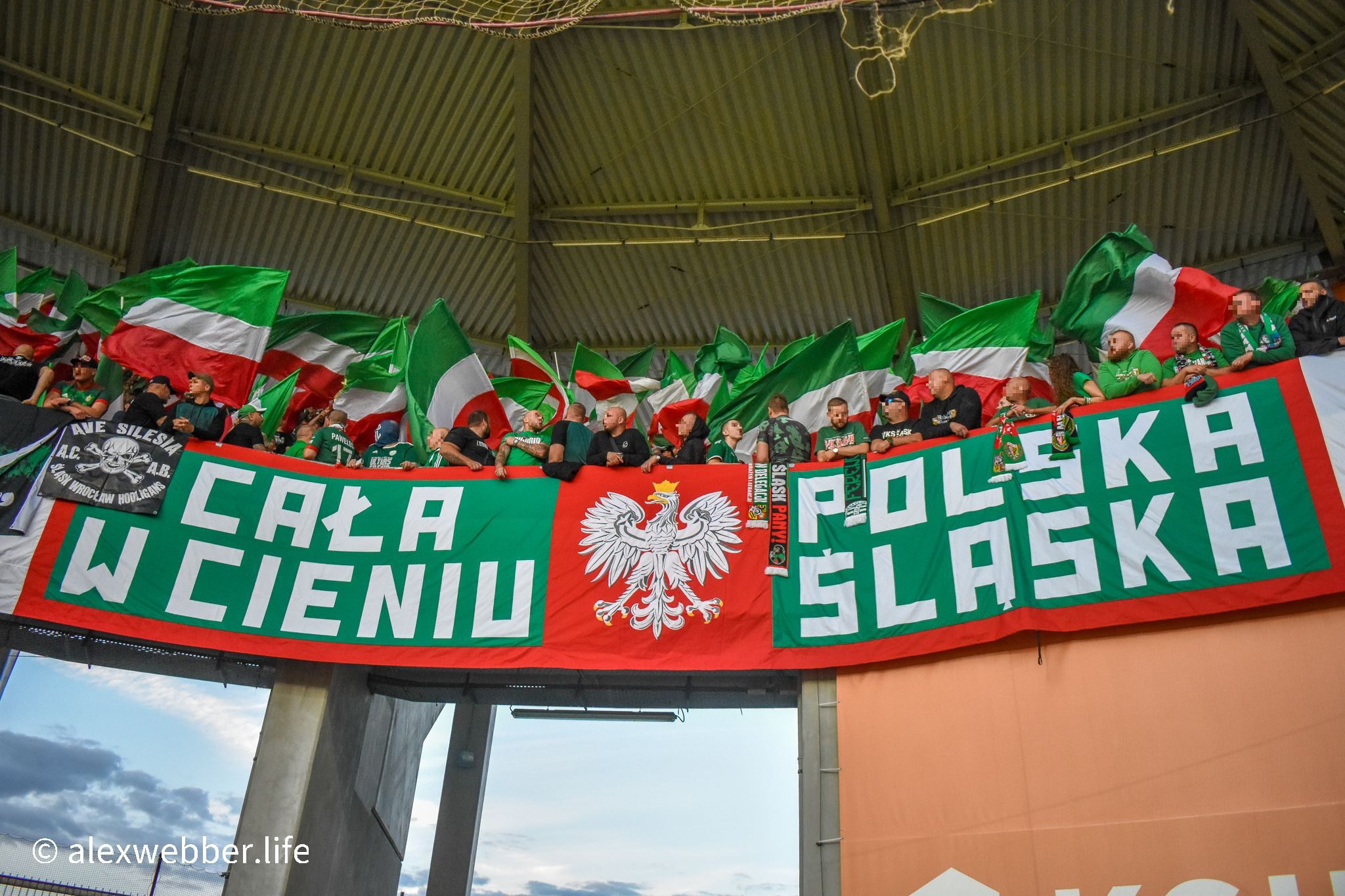 Getting There
For me: a pain. Travelling from Warsaw means a 5-hour train to Wroclaw followed by a one-hour connection to Lubin Stadion station. Featuring just one platform, this station is around an eight-minute walk from the ground, though do pen in an extra quarter of an hour lest you get disoriented (hi there!) – you'll know you're on the right track once you pass the giant cock.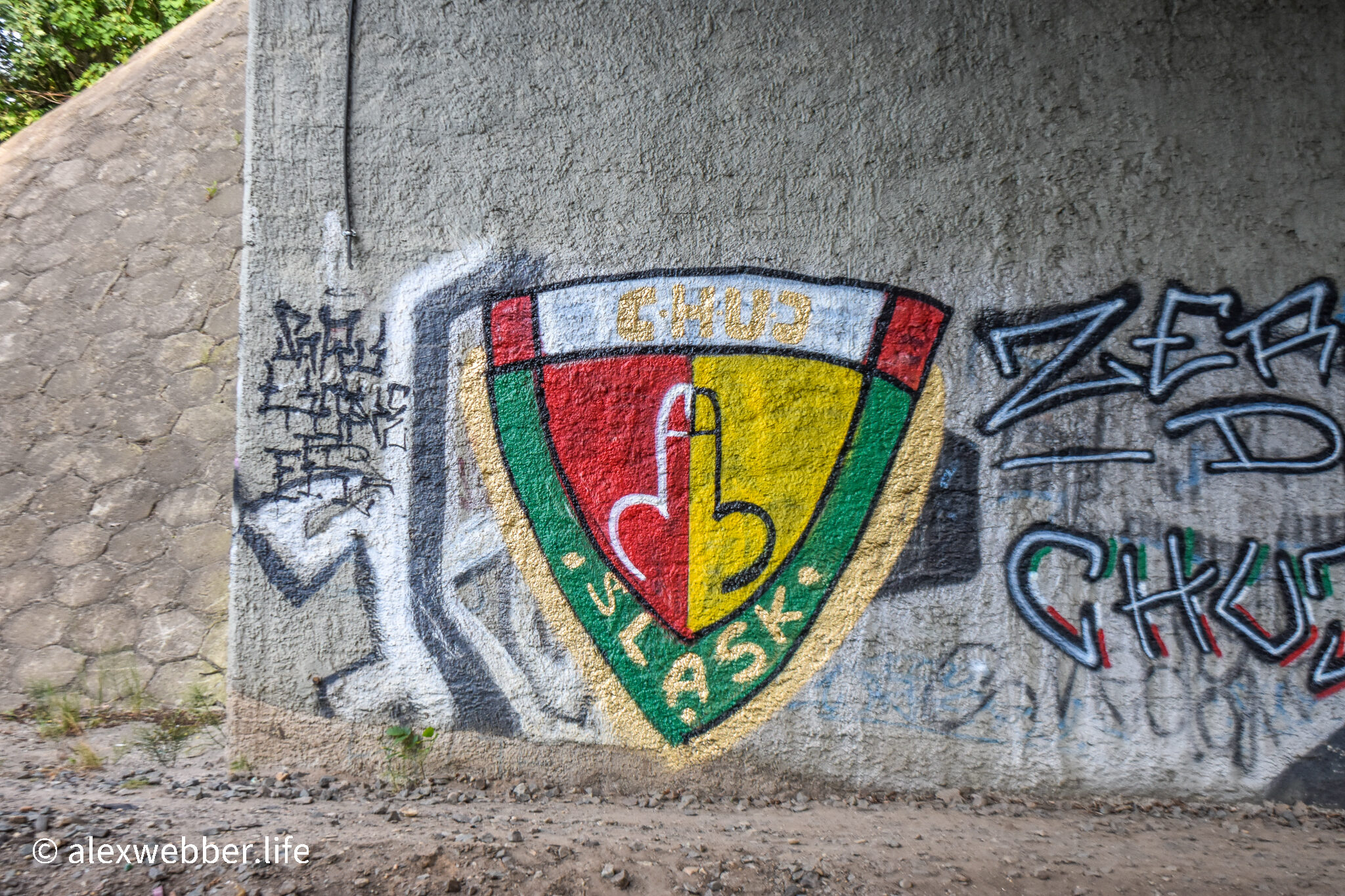 This being an evening kick-off, I had little choice but to make it an over-nighter. With Wroclaw's hotels experiencing an alarming surge in price, that meant a stay in Legnica, a mid-size town 20 or so minutes from Lubin.
Background
For followers of Polish football, Slask Wroclaw, the visitors, require little introduction. Twice champions (most recently in 2012), and twice winners of the Polish Cup, they're one of Poland's larger sides and have a fan group that reflects that – they have been known to be a naughty bunch!
Lubin have traditionally lived in their shadow, but despite being considered a smaller side by many, they too have scored some big triumphs – a brace of league titles (1991 and 2007) and a trio of cup final appearances in this millennium.
For both, this match is the closest they have to a local derby, and much had been made that this fixture was welcoming away fans for the first time in five-years – that time, the game had been marred by drama in the stands with both sets shooting fireworks at each other for a prolonged amount of time.
Stadium
Lubin (not to be confused with Lublin) once played in what can be described as a perfect piece of Communist sporting concrete (a web discovered pic below) – since 2009, however, they've plied their trade inside a free market era plastic box the likes of which you'll find repeated across the country with depressing regularity.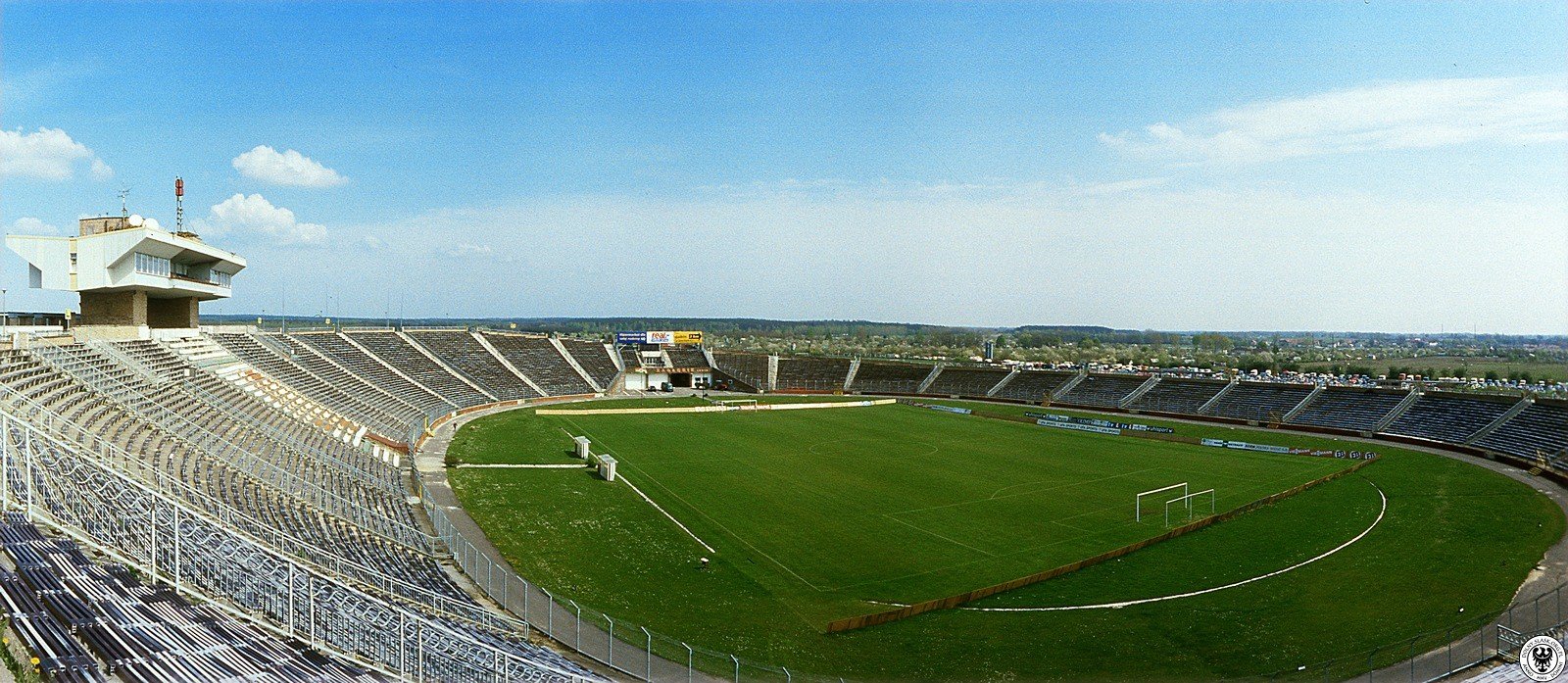 For a time, the new ground found itself semi-enclosed within a chunk of the old stadium (again, for reference I've added an old pic I've found online), but most evidence of this ex-ground has now disappeared aside from the former toilets (covered in an AMF mural) and a few abandoned ticket booths and exit points. And of course, there's the nearby remains of another – smaller – stadium that they played in as well (for that, click HERE!).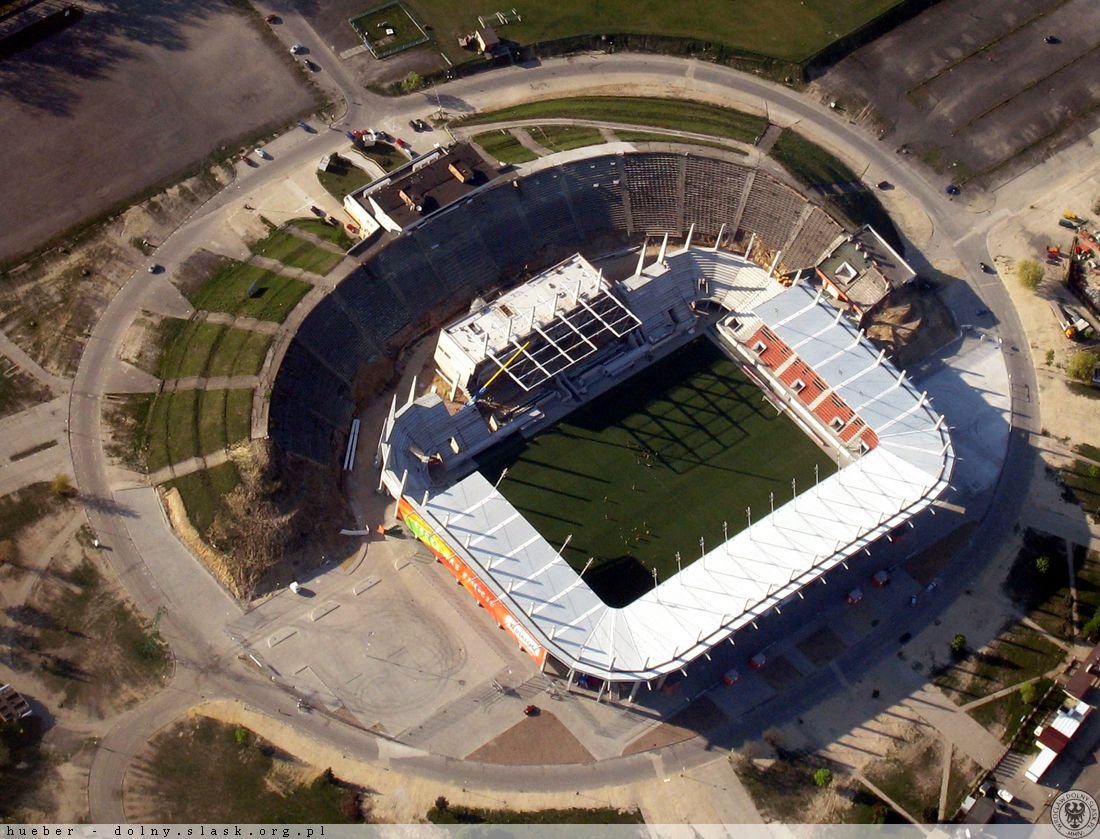 The new place fails to capture the imagination, but even so I do like the zany orange and green building slapped onto the side of this ground, and I cannot fault the acoustics found within.
Experience
I've had naps that have lasted longer than Poland's summer break, but even so, I could barely contain my excitement to be boarding a train again for the opening match of the country's top division.
Despite the crushing anonymity of this new ground, the atmosphere was banging from the start – and with away fans present for this match for the first time since 2017, you could taste the anticipation in the air. Selling out their 1,100 allocation, Slask's following including varying numbers of allies from Ferencvaros, Motor Lublin, Miedz Legnica and Lechia Gdansk, whilst the home side, meanwhile, could count on representatives from Arka Gdynia, Zawisza Bydgoszcz and Polonia Bytom.
Lively from the off, the match featured a banner display from the away contingent, a few flares and a brief kerfuffle towards the back when Slask went for the fences – that was suppressed quickly enough thanks to a well-aimed volley of tear gas: now piss off and don't try that again!
In the home end, things were also heating up, and that's especially true of a second half that involved a flag drop, pyro show and a ceremonial burning of captured Slask goodies. Given all that, imagine my surprise when I got threatened with a fine for having a sneaky smoke in the corner of the ground – "are you f***ing kidding me," I said to the steward whilst pointing to the burning debris lapping at my trainers.
Anyhow, a night of decent drama in front of a bumper crowd of 10,000 or so. Not the best I'll see all season, but by the same marker, it will not be the worst. As a curtain raiser, this was one to savour and enjoy.