Date: 24 September 2022 / League: Polish 5th tier
Final Score: 1-2 / Attendance: 1,000
In A Nutshell
With both these rivals just thirty minutes apart, this was a Pomeranian regional derby delivered with a punch (almost literally!).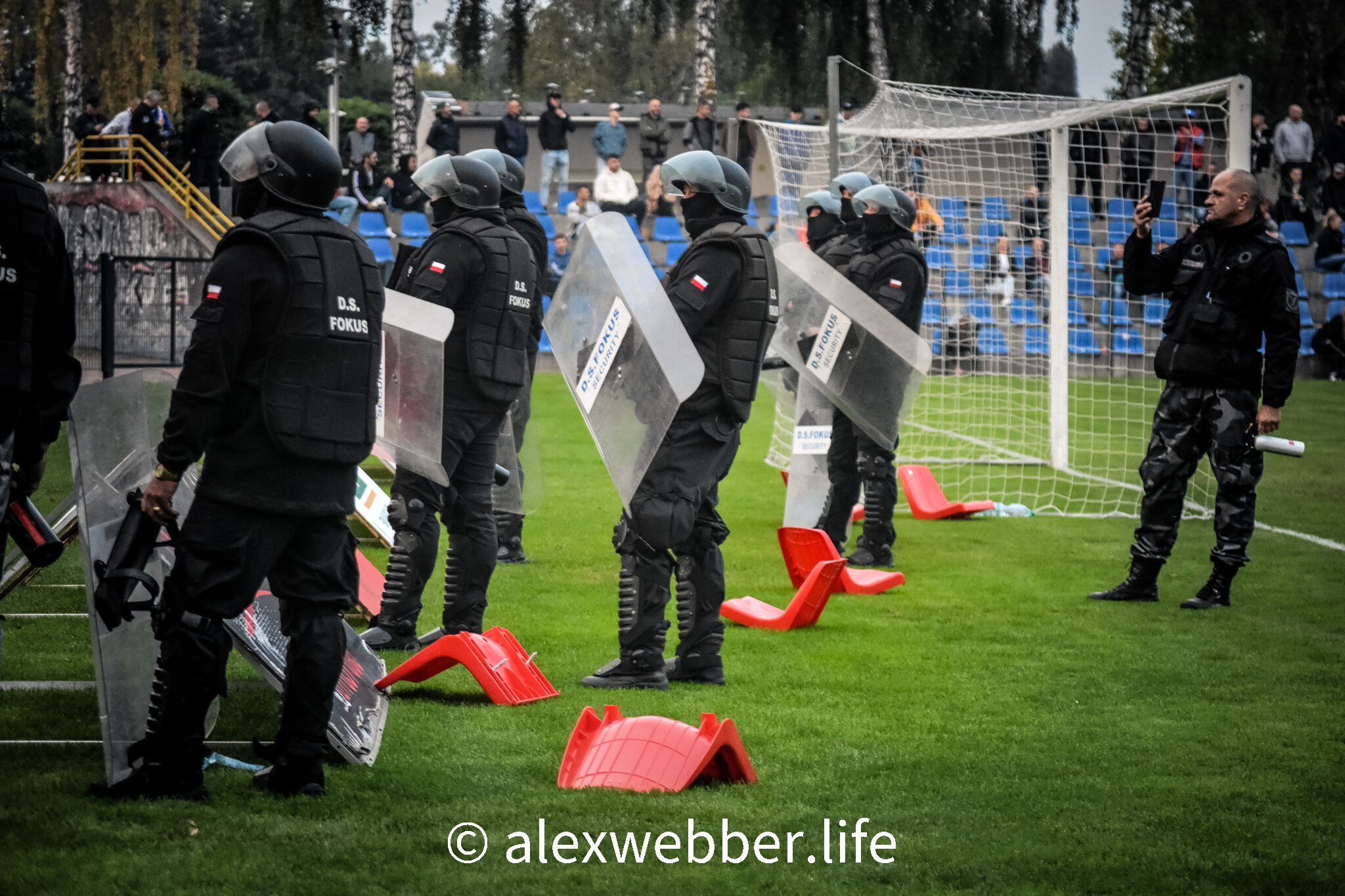 Background
I'd done this fixture before, back in 2021 when Poland was taking its first baby steps out of its second lockdown. That time, events took a bit of a volcanic twist – and that was without away fans even allowed in (for more on that, CLICK ME!). This time, Pogon's support had been issued 120 tickets and had been fervently mobilising their fans in the weeks leading up.
That said, with my train tickets booked and my hotel paid for, the night before I received startling news when I got in touch with Pogon on their Facebook. "We're taking over 200," I was told, "so there's probably no chance we'll get in – most likely, we'll just stand outside like last time." Gargh!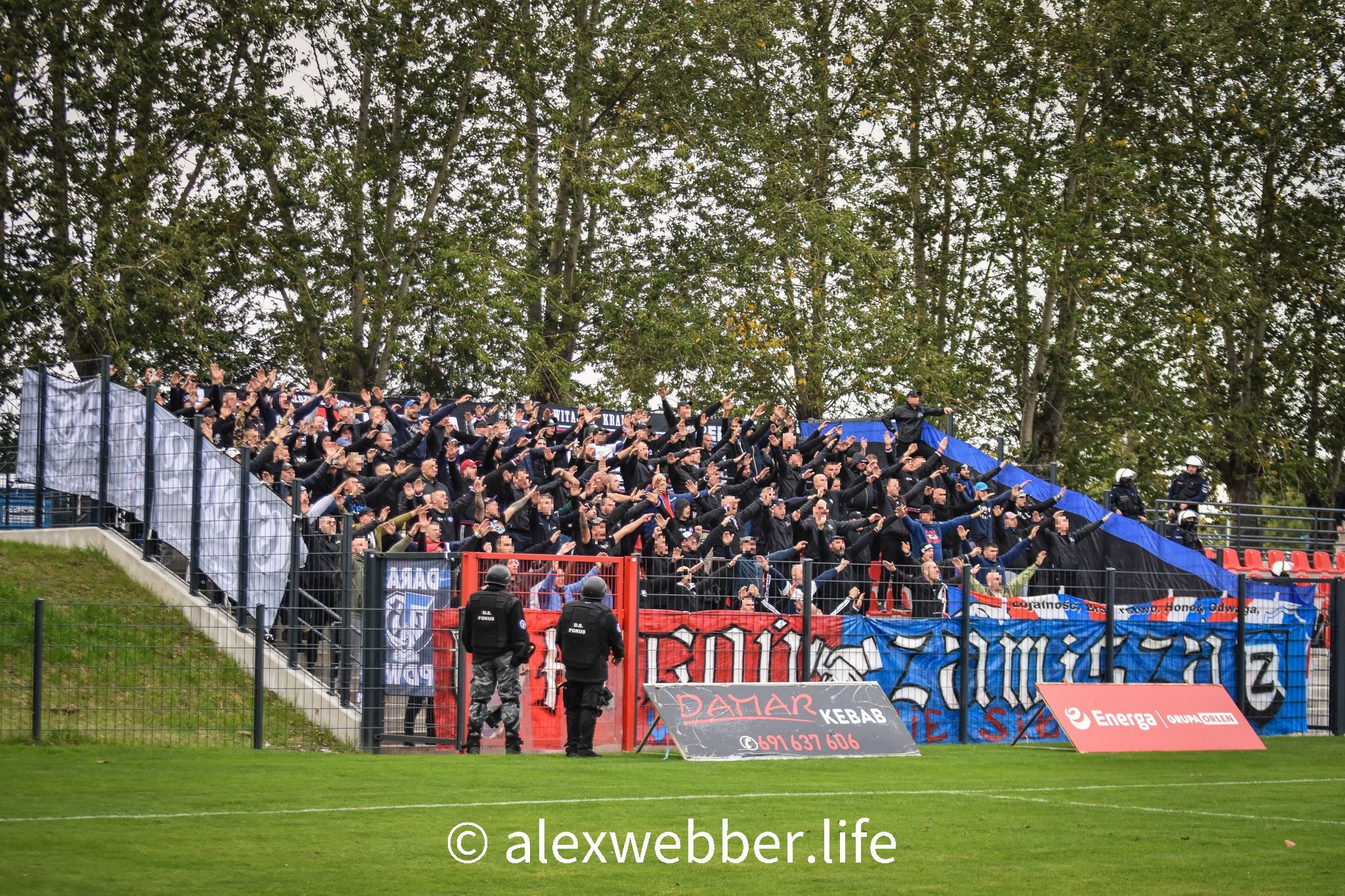 On the plus side, I was told that they would be mobbing up in Lebork before departure, and that would be a photogenic exercise with plenty of banners and pyro. "Do you mind if I drop by and shoot some pictures," I asked. Not a problem came the answer.
Of course, as per usual, nothing went to plan – so determined was I to make this pre-match meet that I got up extra early, meaning I was so shattered on the train that I was most likely snoring as the train chuntered into Lebork. I woke up in Slupsk. Still, that wasn't a bad thing, and gave me a few hours to knock around the town in the lead-up to the match. I'd never volunteer to live there, but it's a pleasant enough place to explore for a few hours before kick-off.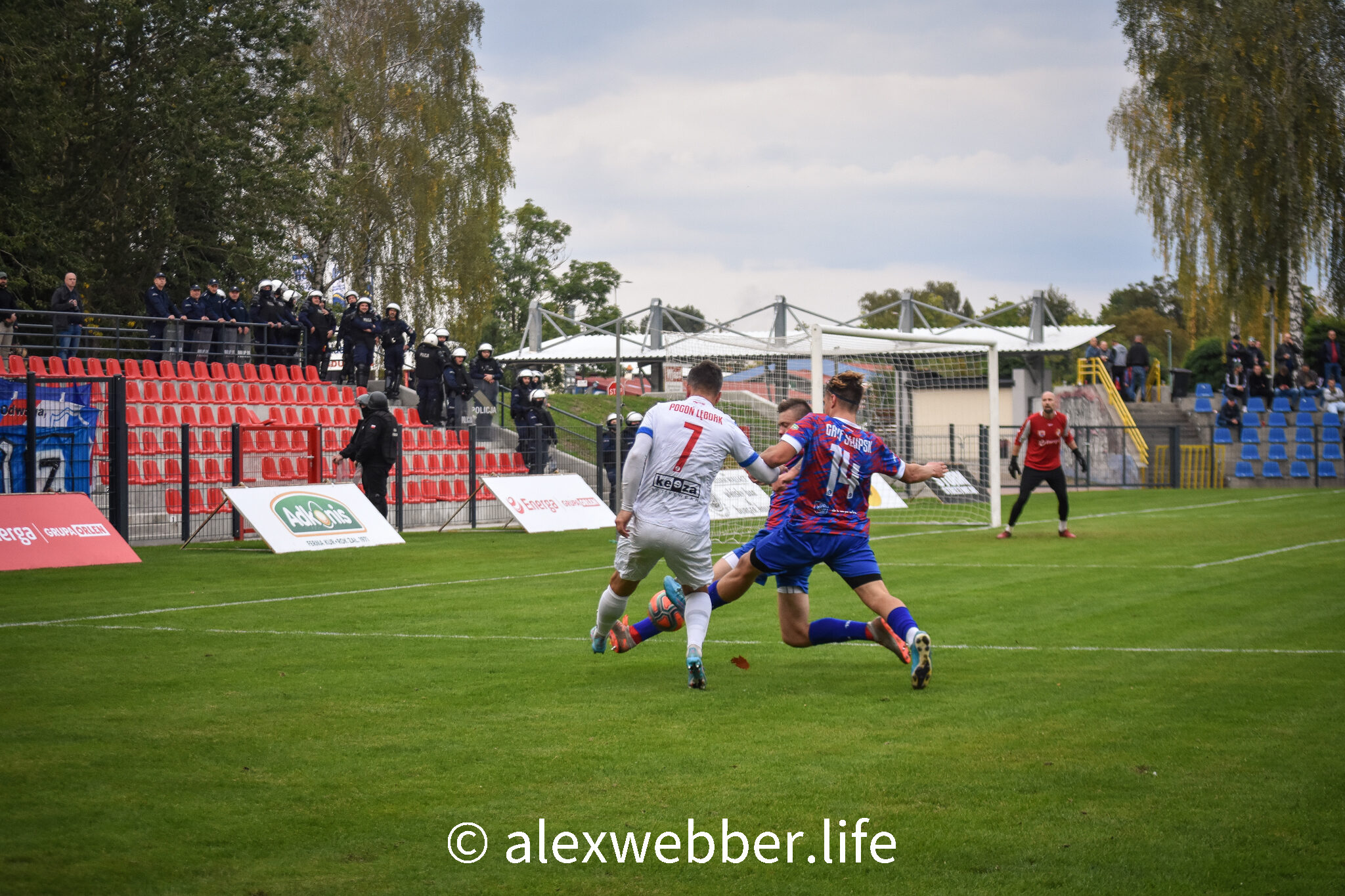 Stadium
Surprisingly, much had changed since my last visit 15-months previous – then, the ground had been bookended by grassy, crescent-shaped ends: one containing a home stand, and the other, a tiny away pen in its furthest recess.
In the time since, these had been demolished and a pair of new stands built to bring fans closer to the pitch – one end for the home lot, and the other, a smaller end designated for away followings.
Anchoring it all together, the main tribune running down the side has seemingly remained much the same – an anonymous work typical of Poland's multisport, municipal-owned grounds. Quite brilliantly though, I did notice that the seats in the centre (marked for VIPs), had been covered in little padded pullovers to aid spectator comfort – not quite the Etihad, but a lovely, enthusiastic touch I thought.
As for the facilities, these too remained the same: a caravan selling beers and hotdogs, as well as a 'club shop' in a marquee outside the home end. Worth checking out, you'll find everything the ardent Gryf fan could ever wish for: some scary stickers, lanyards, scarves and balaclavas. Try as I might, I just can't ever see the Bristol City Mega Store following suit and stocking up on masks – you know, just in case anyone fancies having a crack at QPR or sparking out a steward.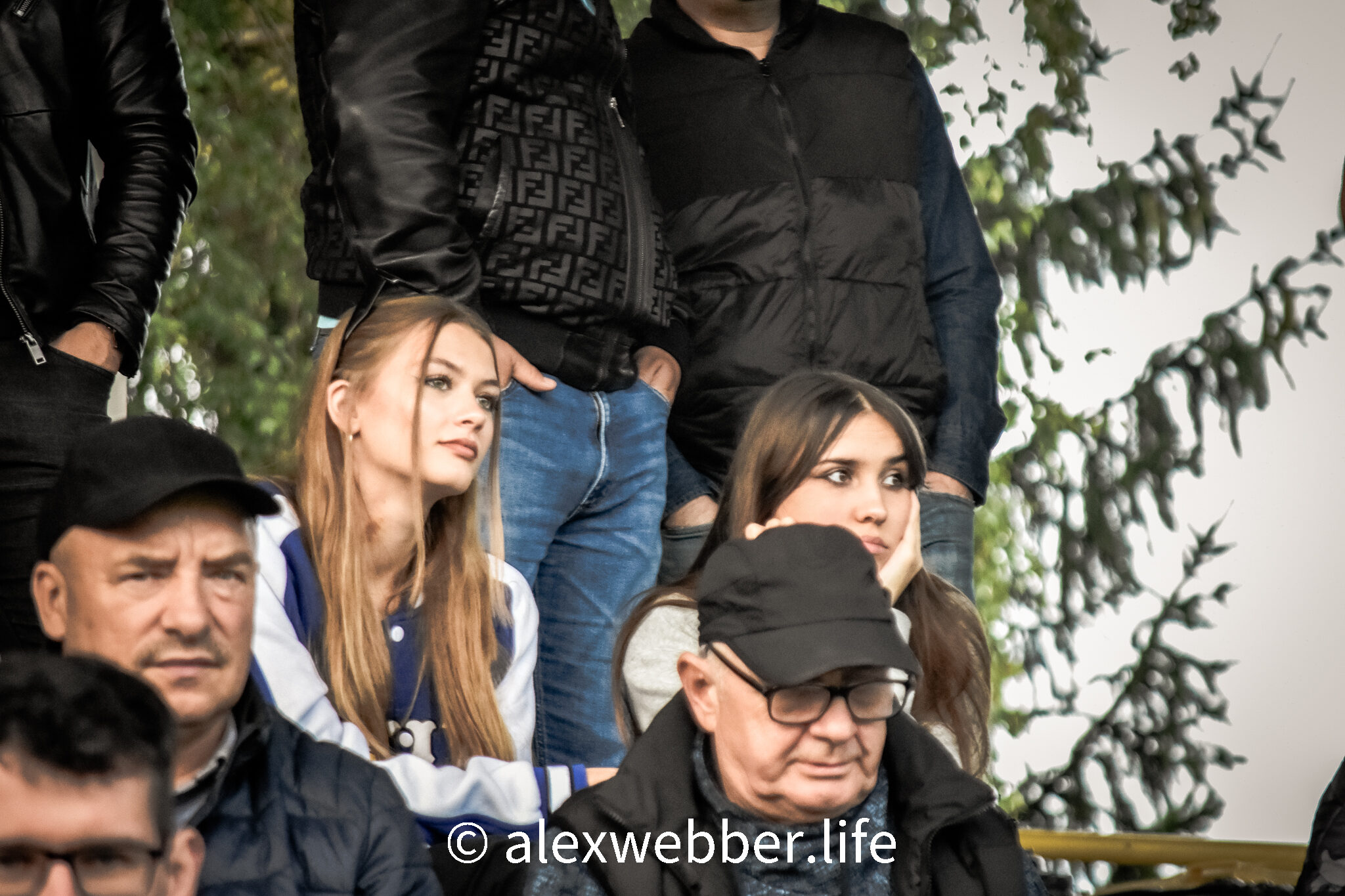 Experience
I'd had high hopes for this clash until being told by Pogon that it was unlikely they'd get in. With that, my appetite for the match evaporated – I ended up going there only because it was essentially way too late to plot a Plan D.
But straight away, getting to the ground you could feel the needle in the air: riot police swarming everywhere, and in the corner closest to the away section, a group of nefarious-looking locals lurking with ill intent. And then came the early Christmas present I've often dreamed of getting: Pogon arrived and were swiftly shepherded inside the ground.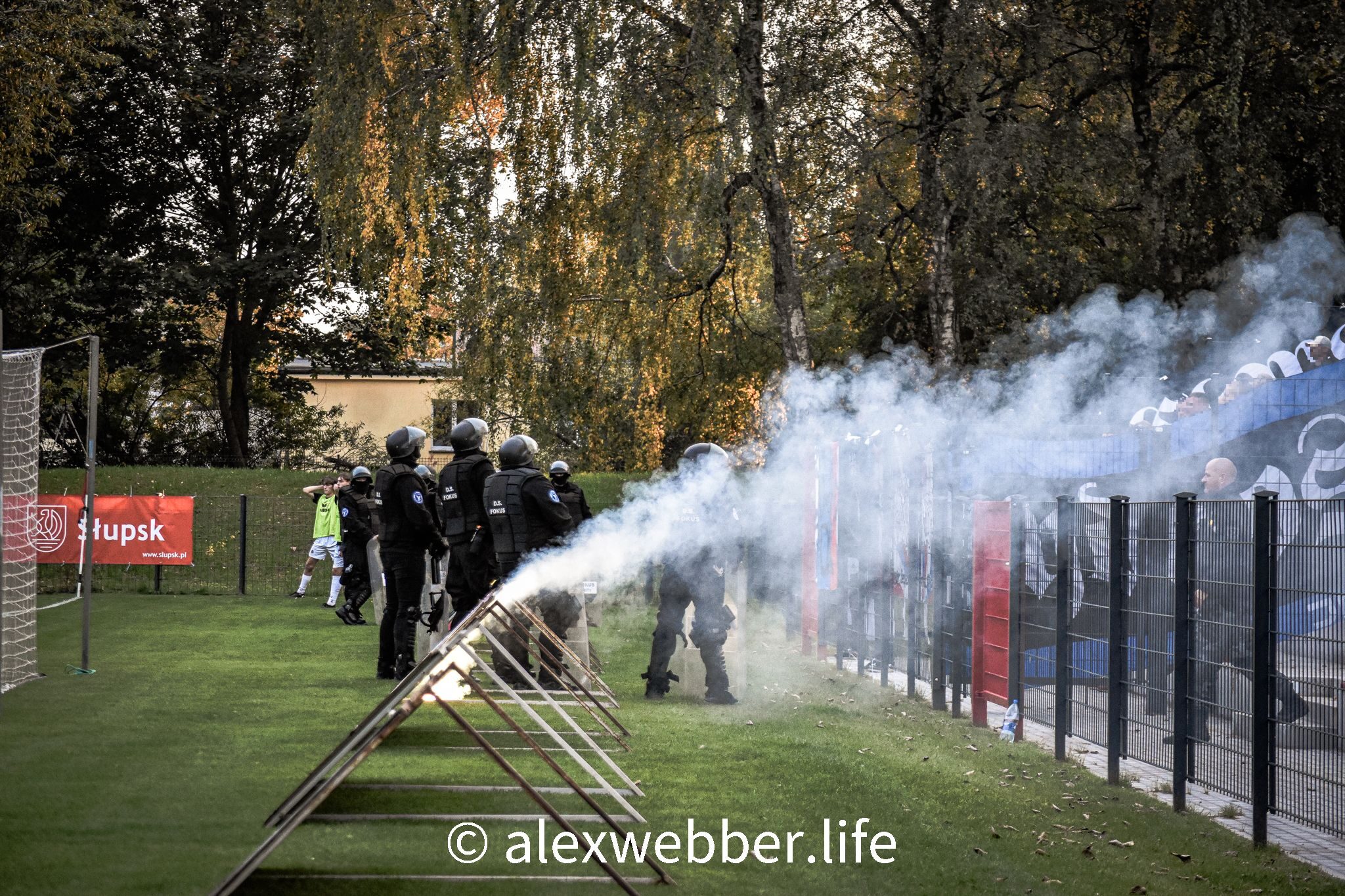 Immediately, the tone was set and catcalls made between the two groups of fans – for a Brit it's hard to comprehend, but this trading of insults is never seen as banter or posturing, rather instead a ritualistic declaration of war. From the moment the first slurs are hurled, things only escalate from there.
So it proved once more with the ensuing atmosphere defined by its dark undercurrent – from Lebork's end, a constant stream of firecrackers landing on the pitch. In the home end, pyro shows and flag displays culminating in the burning of Lebork banner taken from its owners back in 2014.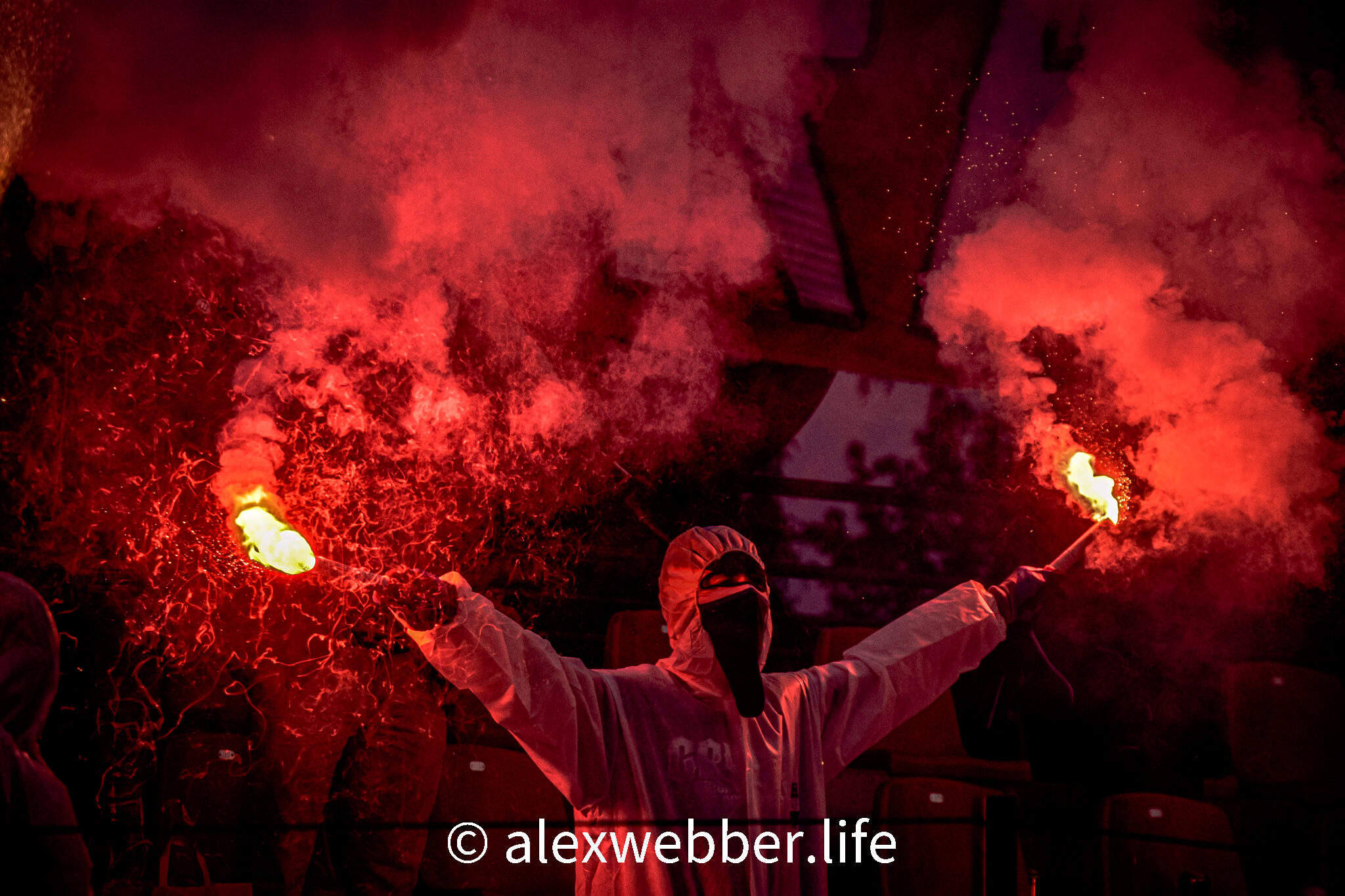 Acting as the final spark, it was this that provoked Pogon (who were accompanied by a large number of Zawisza Bydgoszcz fans) into attempting to storm the gates: cue flying seats and bursts of pepper gas. At the other end, Gryf's gloating fans (backed also by numbers from Lechia Gdansk, Chojniczanka Chojnice and Starograd Gdanski) continued to revel in their iconoclasm, some spilling onto the pitch in the spirit of the mood that prevailed.
Of course, I appreciate that this sort of skullduggery has a limited appeal to most normal people, but to them I can offer only these pearls of wisdom: perhaps just make yourself comfortable on the sofa, order a Dominos, and then veg in front of PSG on Pay TV. Moreover, I really need to make it clear, that for all the stormy action that this match presented, not once did it impact those sat on the side – in fact, it was actually quite surreal to see the more moderate fans applauding the sight of Slupsk's oldest cheerleading troupe performing on the pitch whilst, just out of eyeshot, Gryf and Pogon's military factions went about the day-to-day business of wreaking havoc.
Afters
As a self-confessed football 'storm-chaser', this was the kind of match that I love and live for. But the football is just one element of a wider whole, and in the case of this weekend practically everything else fell neatly into place. Rushing to make my train back to Gdynia – my base for the night – I made it with a second to spare. Though hardly the equivalent of getting the last chopper out of Saigon, it was nice to know that I would actually sleep in the hotel I'd paid for.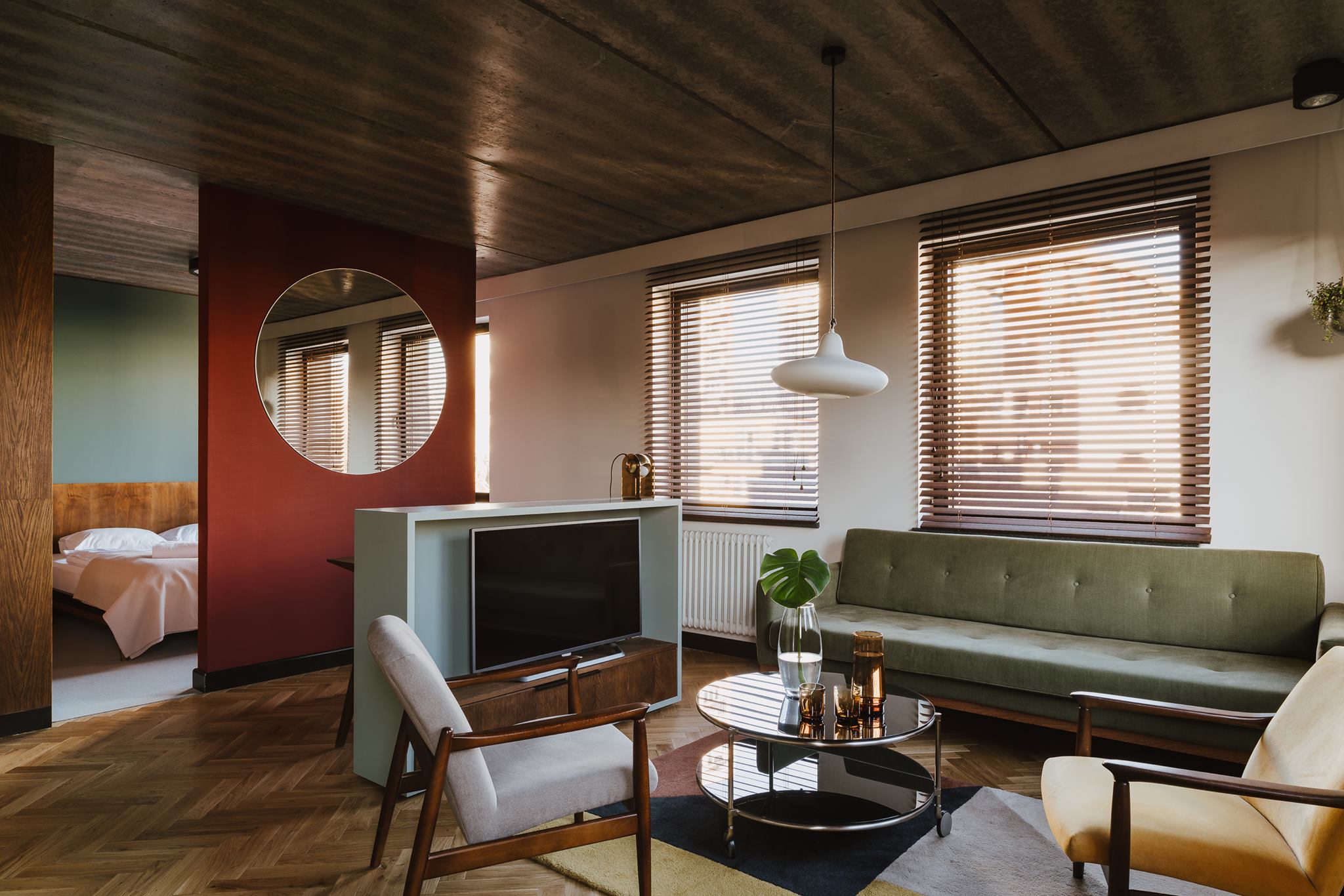 And yeah, a decent place it was. A darling of Poland's lifestyle press, Willa Wincent is a boutique stay designed to evoke the funky design ethos of the 1950s – more importantly though, it's got a bloody good cocktail bar in the basement that would prove the perfect HQ for the rest of the evening.
Waking up the next day, a further bonus was to be had with the realisation that Arka Gdynia's former ground lay just down the road – though largely knocked down and replaced by a tennis club, their legendary home end has been preserved to this day (more on that in a separate post coming soon).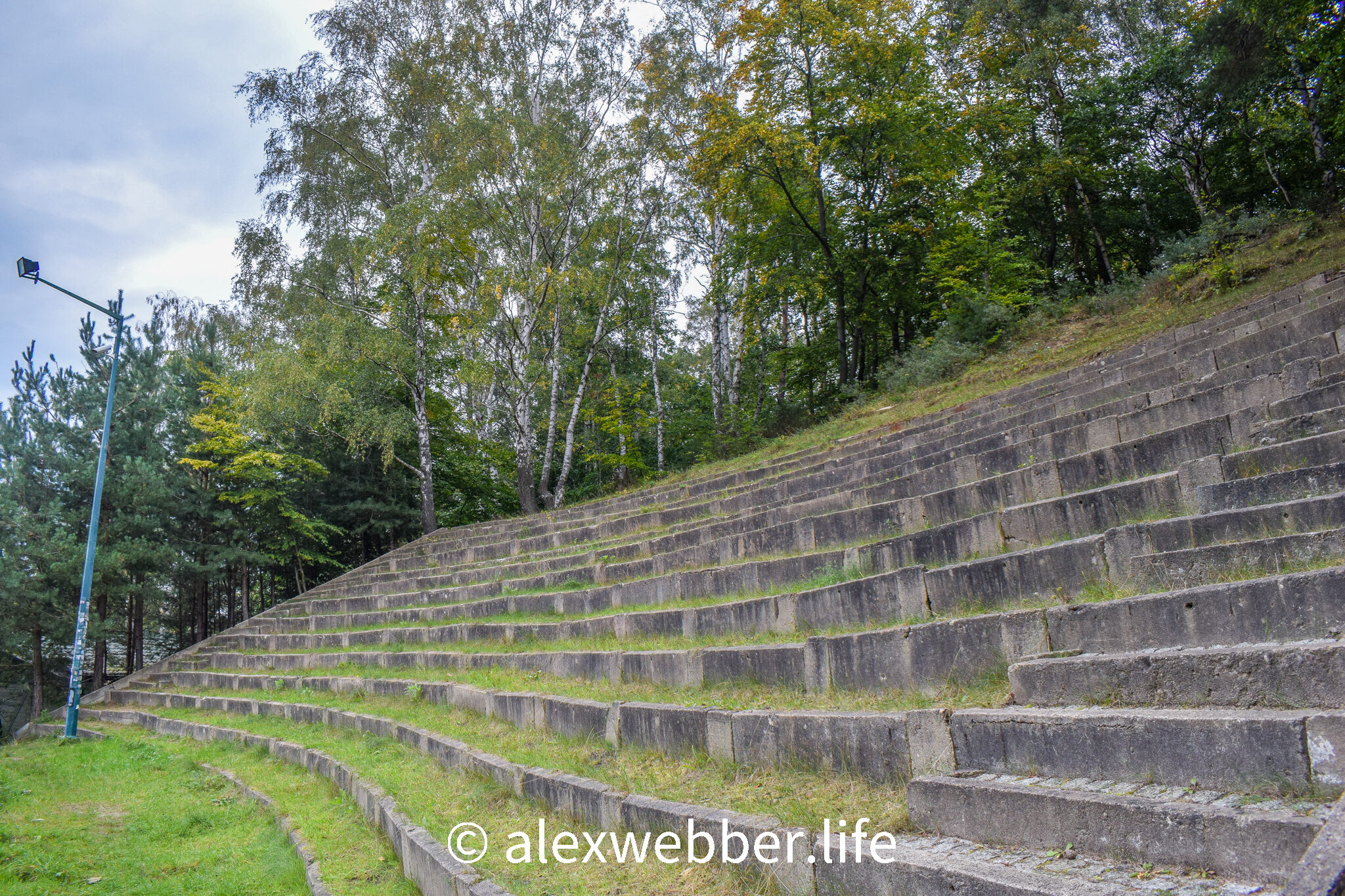 POSTSCRIPT
In a class touch, I did later get a message from a Pogon lad apologising for 'the action with the seats'. "Oh," I responded, "I hadn't realised that there had been one meant for me." Apparently, yes, he told me – I'd been mistaken for a copper during one of the melees towards the end of the match!