With the curtain now dropped on 2022 (good riddance you bastard!), and no football for another month, my downtime has been spent organising the FIRST ever Webber Awards – a comprehensive rundown of all the special grounds and moments that presented themselves over the course of the preceding twelve months. Split over two posts, I'm delighted to bring you the first batch of winners below – drums please!
Best Lost Ground
Wloclavia Wloclawek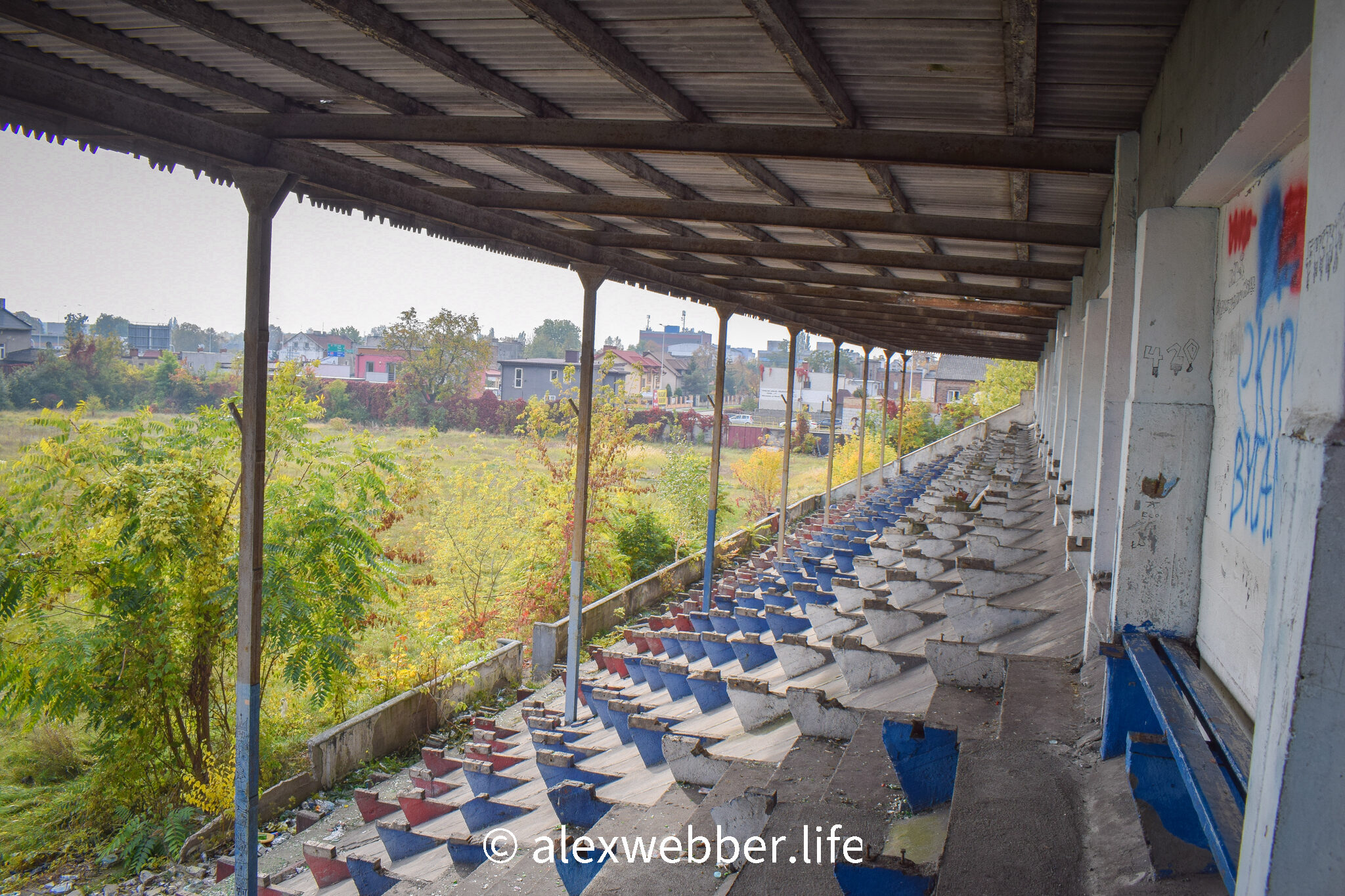 Hands down, that prize goes to Wloclawek, a broken, shattered space accessed by squeezing through a gap behind a bus stop. Despite being scared off by suspicious noises emanating from the cavern-like darkness, this is an irresistible relic that should be visited by all.
For more on this ground, CLICK ME!
---
Best Tifo
Motor Lublin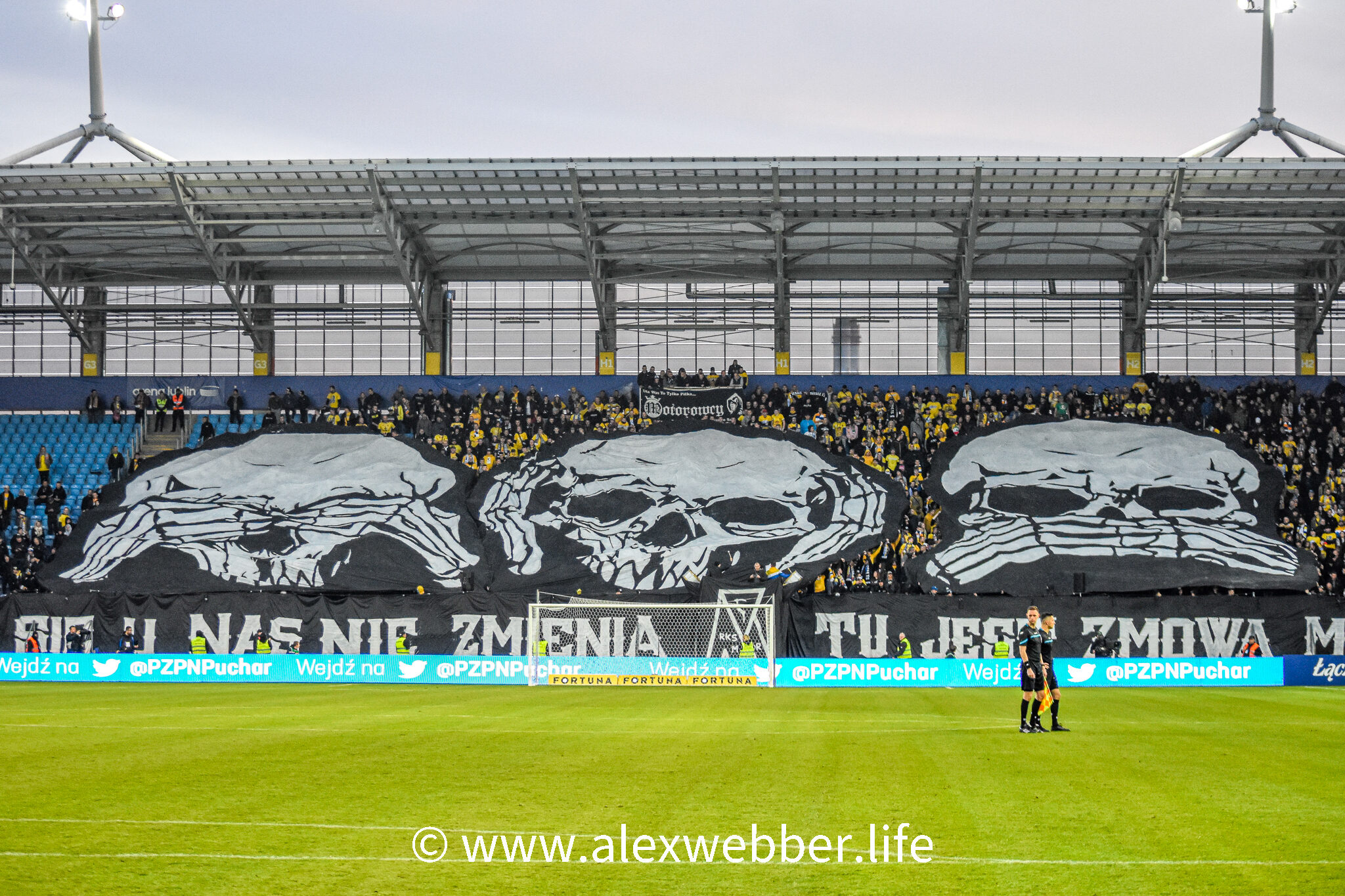 Motor's cup match against Wisla Krakow – bitter rivals that they had not entertained at home for 27-years – was eagerly awaited by all associated with Poland's fan scene, and even the bizarre decision to hold the match on Wednesday afternoon did little to dampen the volatile atmosphere. Anyone watching Polish football for the first time would have been blown away by this match and the care assigned to the stunning second half tifo display.
For more on this match, CLICK ME!
---
Best All-Rounder
Gryf Slupsk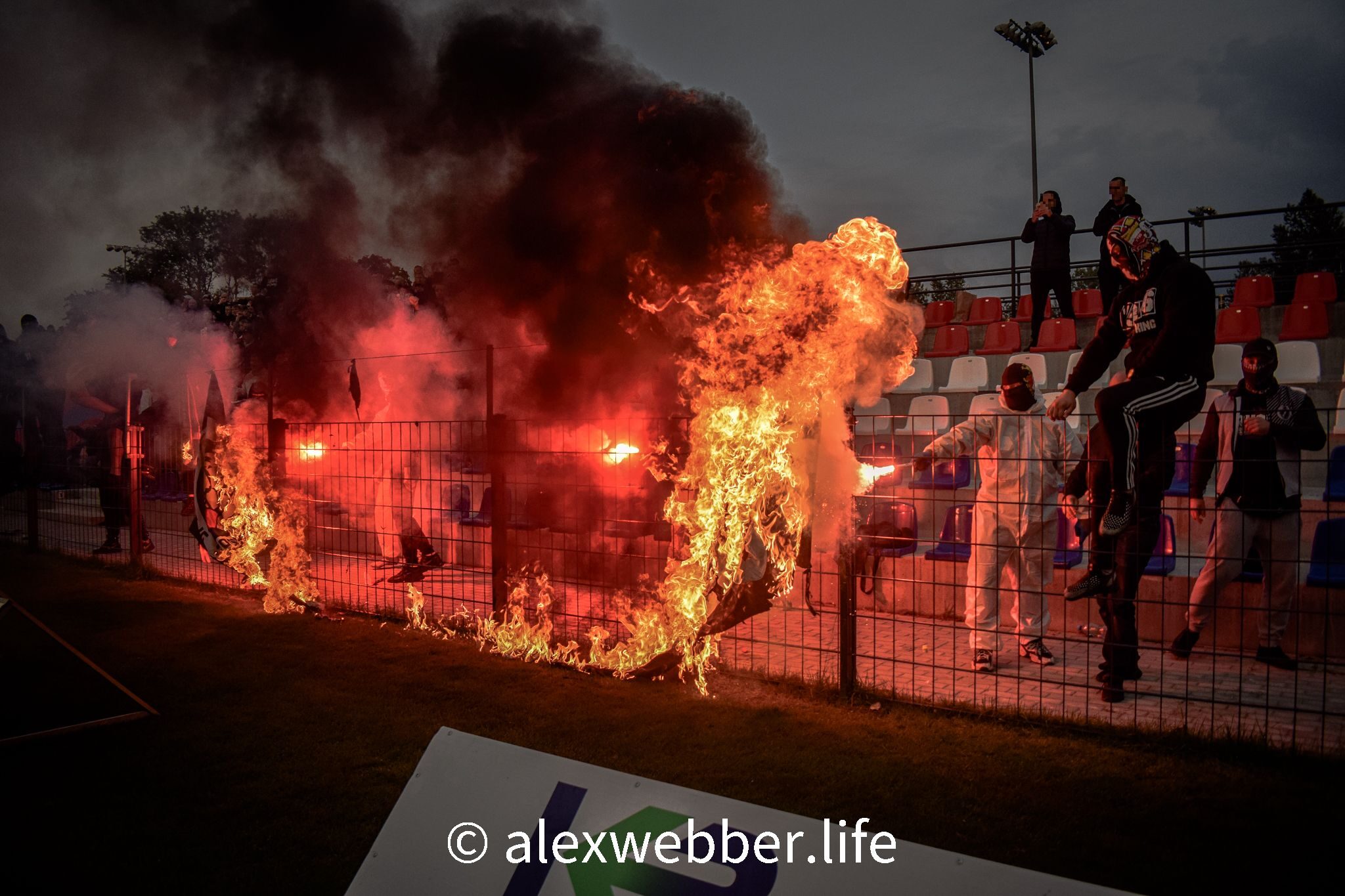 Call it luck, but whenever I visit Slupsk it goes a little mad. October's derby against Pogon Lebork had it all for the storm-chasing football photographer, presenting as it did a crazy day of burning flags and flying seats. That this occurred within an attractive, pocket-sized ground with a fantastically tight away pen made this something of a highlight of 2022.
For more on this match, CLICK ME!
---
The Thunberg Gong For Environmental Awareness
Tramwaj Krakow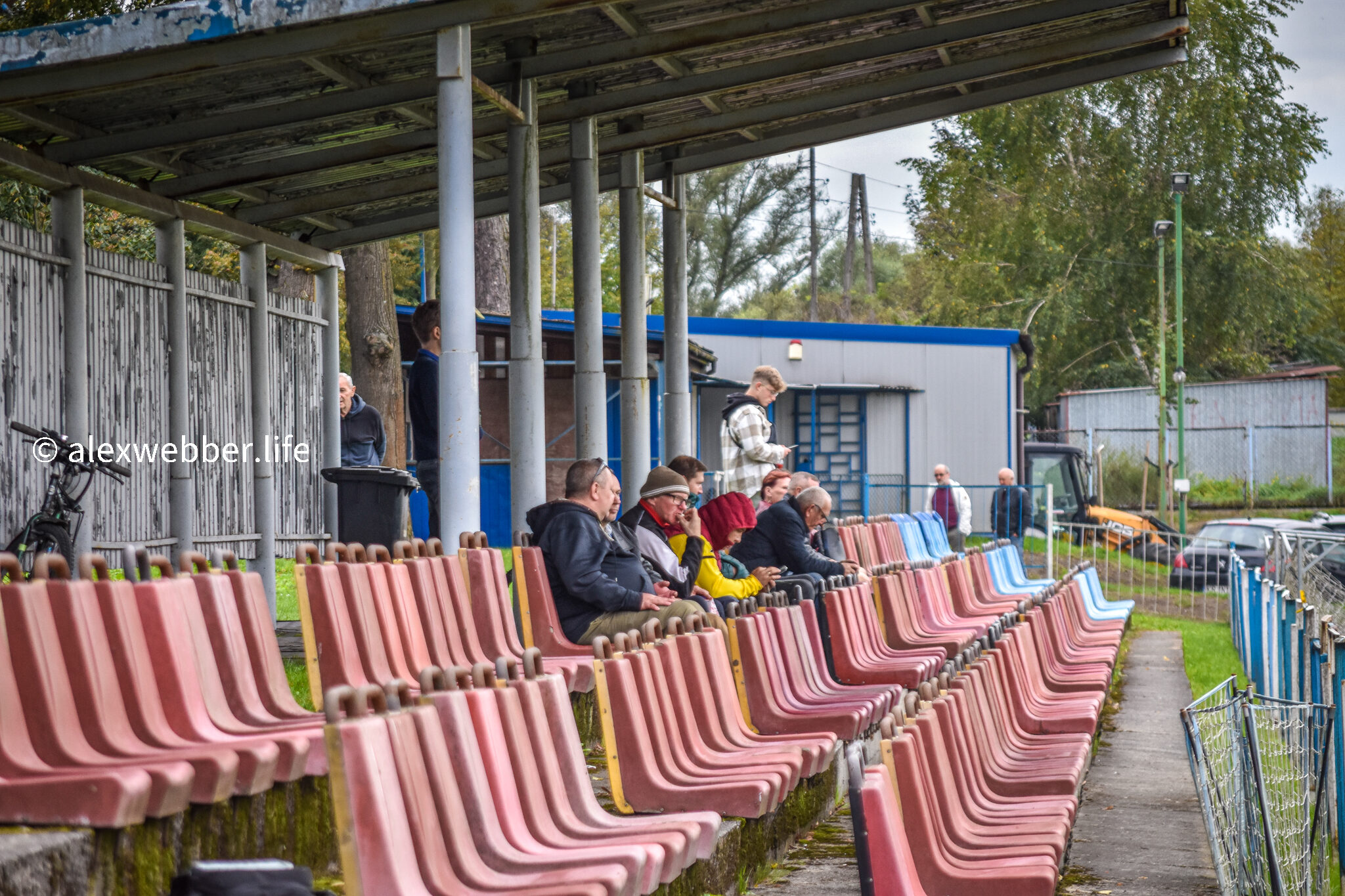 What a treasure this ground is – though touting just one side to speak of, Greta and I appreciated this club's commitment to the environment. By upcycling old tram seats, Tramwaj have gone beyond the call of duty to create a stand built from rejected public transport materials.
For more on this match, CLICK ME!
---
Biggest Surprise
Zaglebie Lubin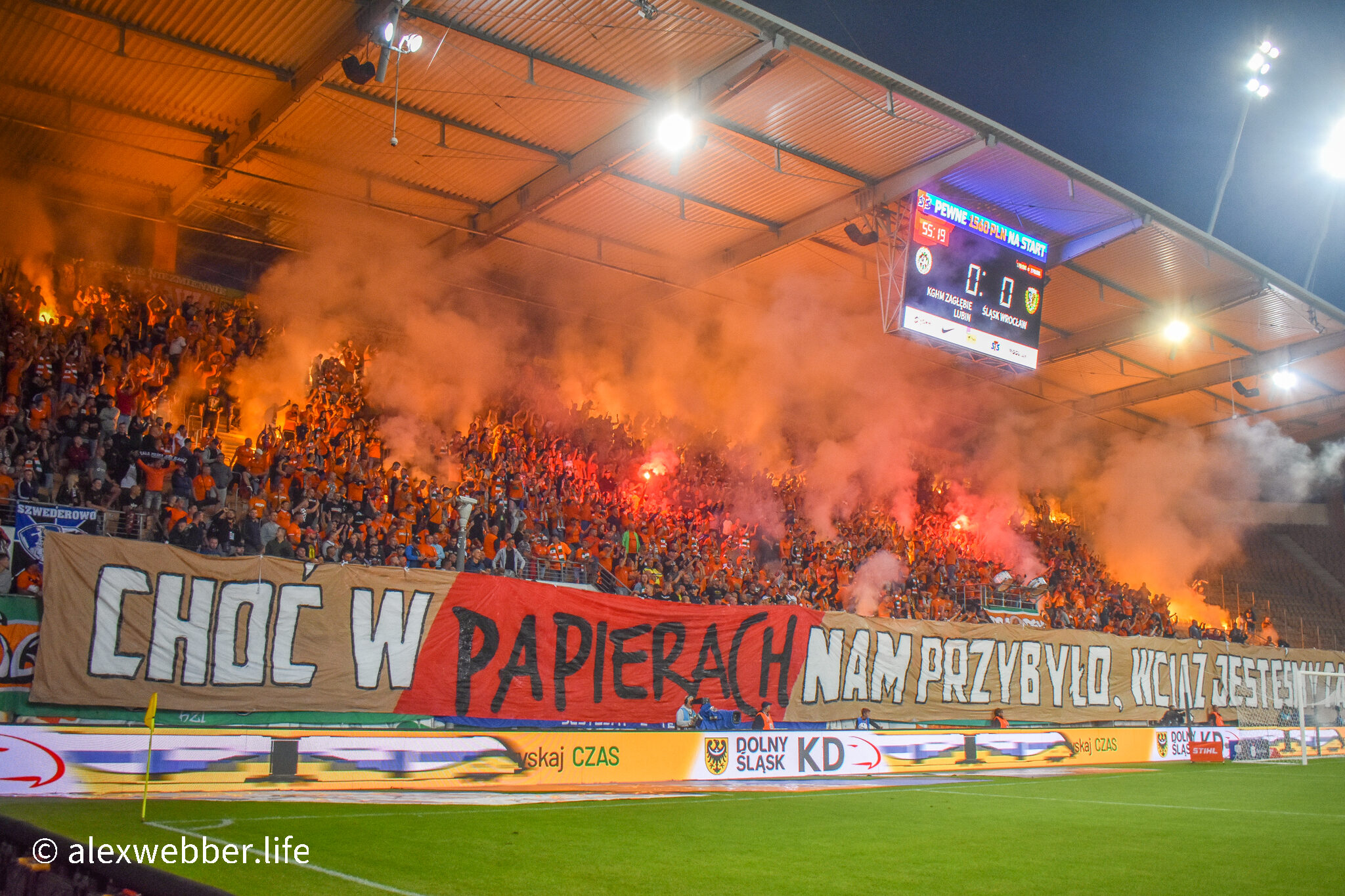 Zaglebie's stadium is one of those modern flatpack affairs that, from the outside, looks more like a logistics warehouse on a brownfield site. Despite that, their derby against Slask Wroclaw was a fabulous way to start the 22/23 season, filled as it was with pyro, flag drops and angry posturing. Immensely enjoyable, this was further proof that anonymous, modern stadiums are more than capable of generating a red hot atmosphere.
For more on this match, CLICK ME!
---
Best Stand
KKS Koluszki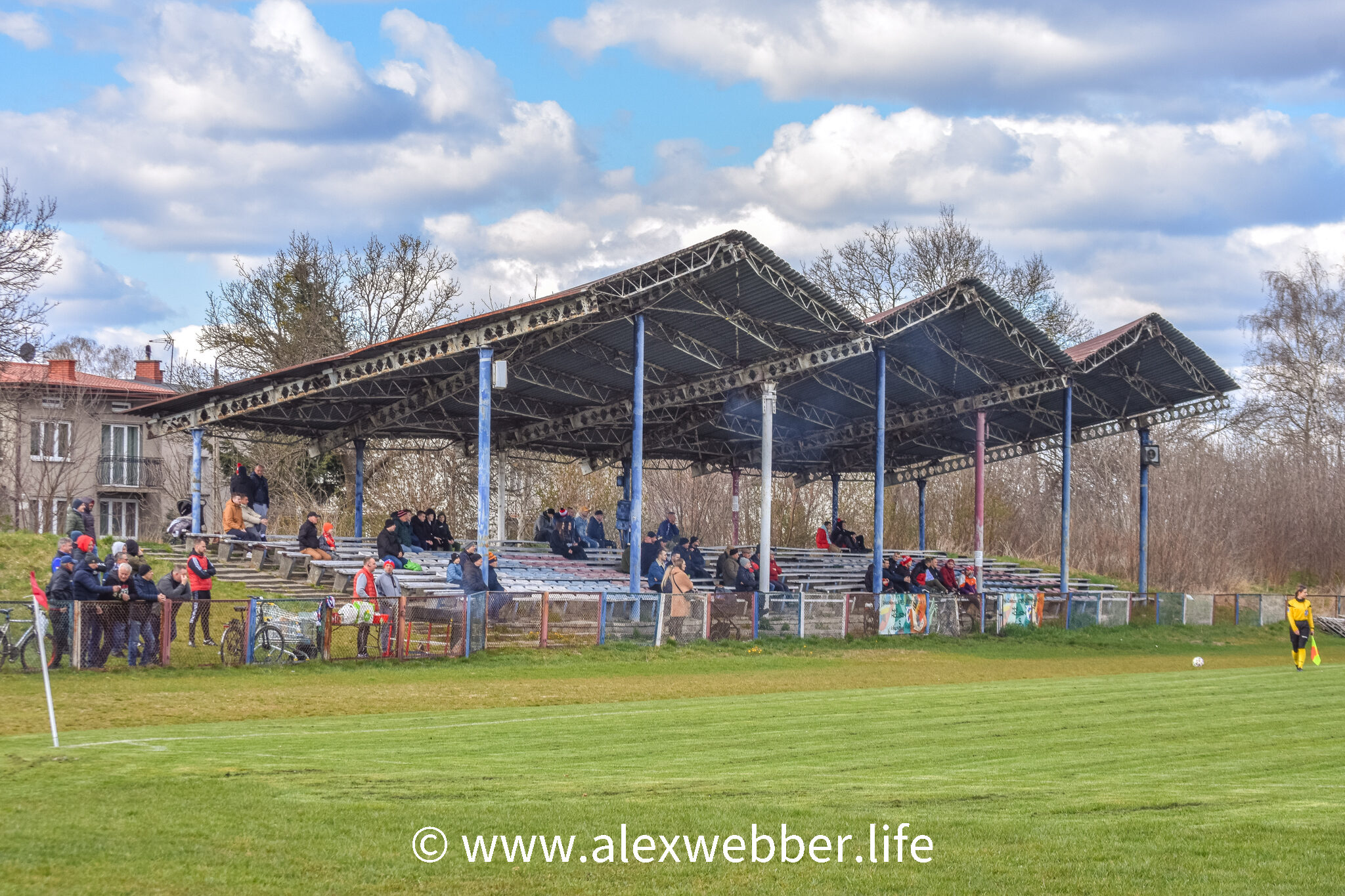 On a day that offered little else of interest around Poland, I took a punt on the short journey to Koluszki and discovered a truly spectacular stand constructed entirely of rust and splintered wood. Though I imagine it to be highly hazardous in windy weather, for me this was the definition of lower league romance.
For more on this match, CLICK ME!
---
Best City Derby
LKS Lodz v Widzew Lodz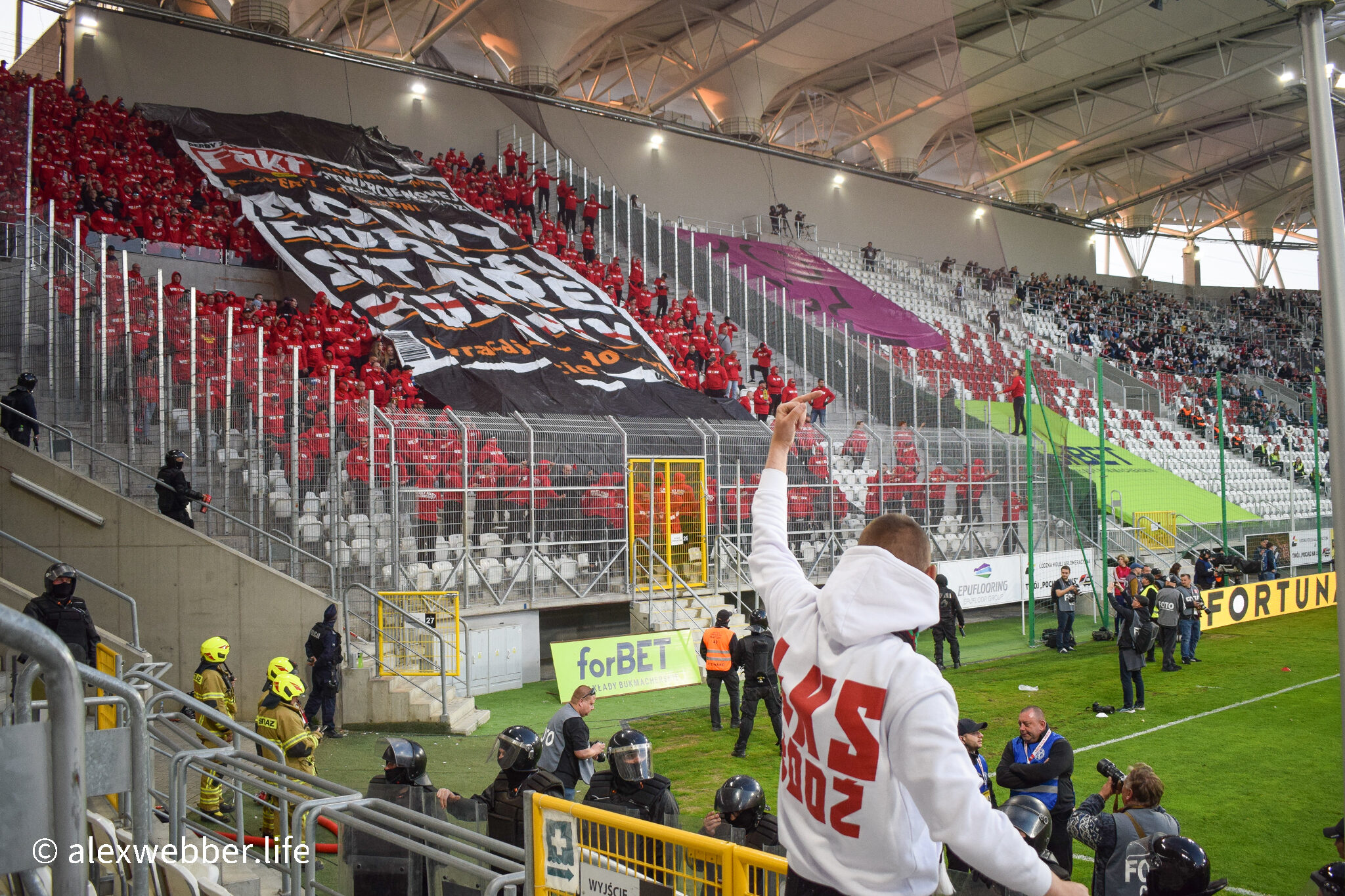 I did a stack of Polish derbies in 2022, but I think the Lodz one edges it over the others for the sheer amount of drama it offered through the day. Reaching the city in time to catch Widzew's escort, this was a lively trip from the off with the new stadium proving anything but hooli-proof. Featuring plenty of mayhem, this was every bit as feisty as I had anticipated – and a little bit more.
For more on this match, CLICK ME!
---
David Attenborough Award For Football In Nature
AP Sopot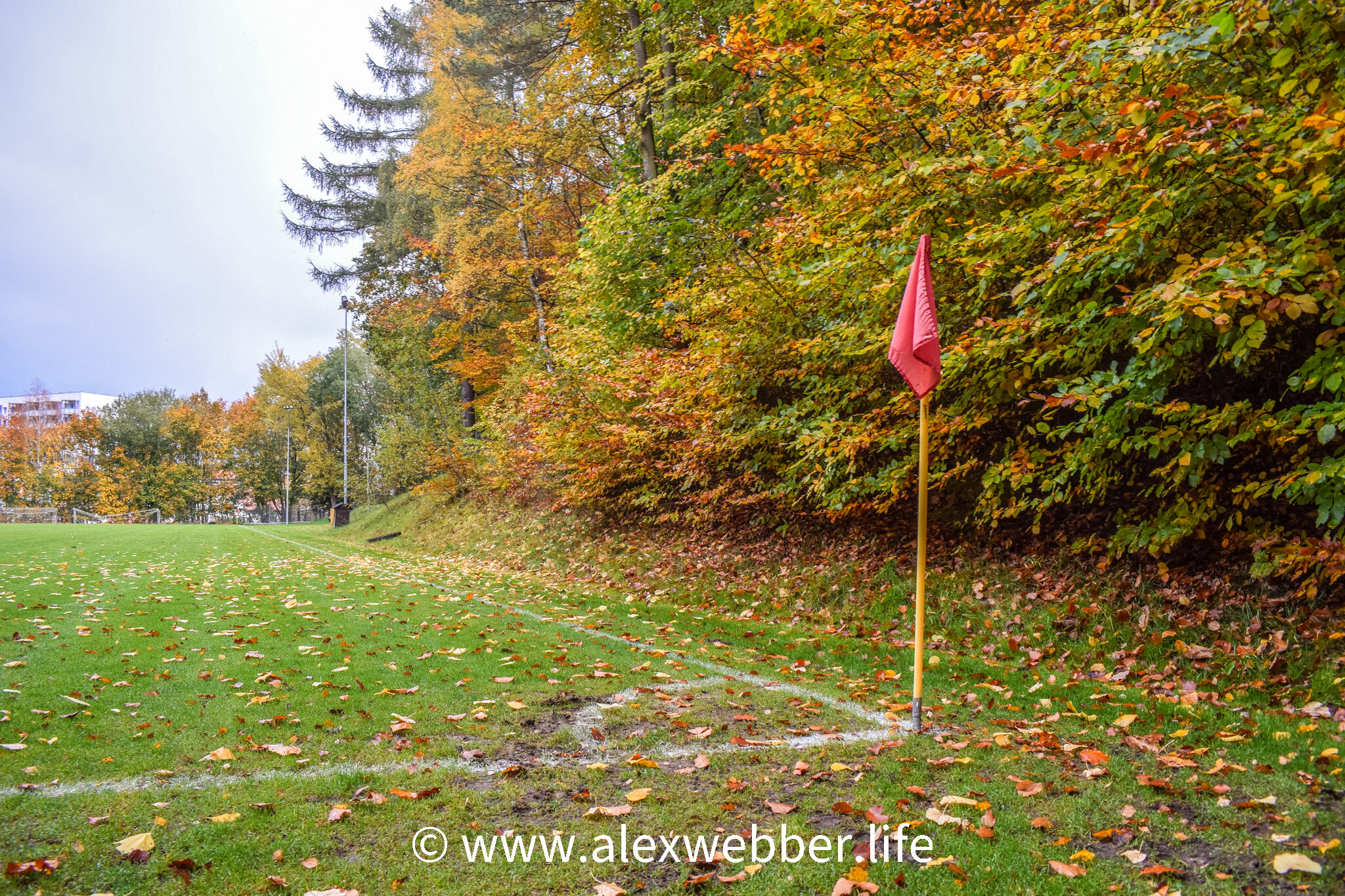 Half-buried inside a forest, this superb nugget emerges from the woodland to present a tractor, changing rooms that look more like something from Hansel & Gretel, and a blinding little stand lopped at an angle on a sloping hill.
For more on this match, CLICK ME!
---
Best Old School Experience
Ruch Chorzow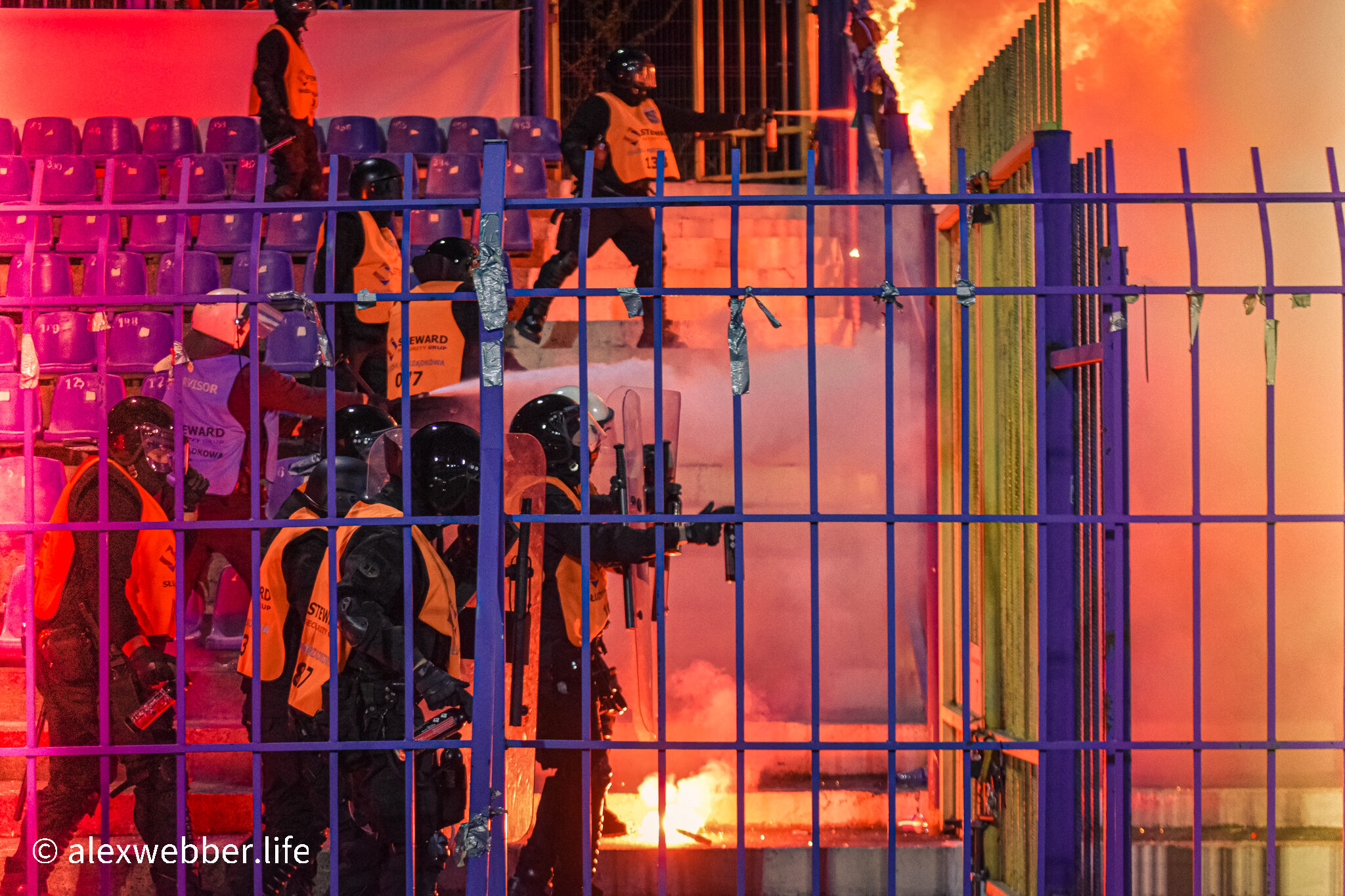 I visited Ruch five times I think last year, making it my most-visited ground of 2022 – each time was a joy, and whilst their fans are campaigning vigorously for a new stadium, I'm more than happy to see them remain at their Cicha street lodgings. Looking rusty and decrepit, it reveals much that their club shop is in a cabin, toilets are of the grim and leaky sort more associated with Glastonbury, and catering facilities are found in a tent.
But for all that, the feeling of history is entrenched in its DNA, and that's evidenced further by the extraordinary passion of Ruch's vociferous following – this came to a head at their cup derby against Gornik Zabrze, a wild night that's up there with my all-times faves!
For more on this match, CLICK ME!
---
Best View
Huragan Pobiedziska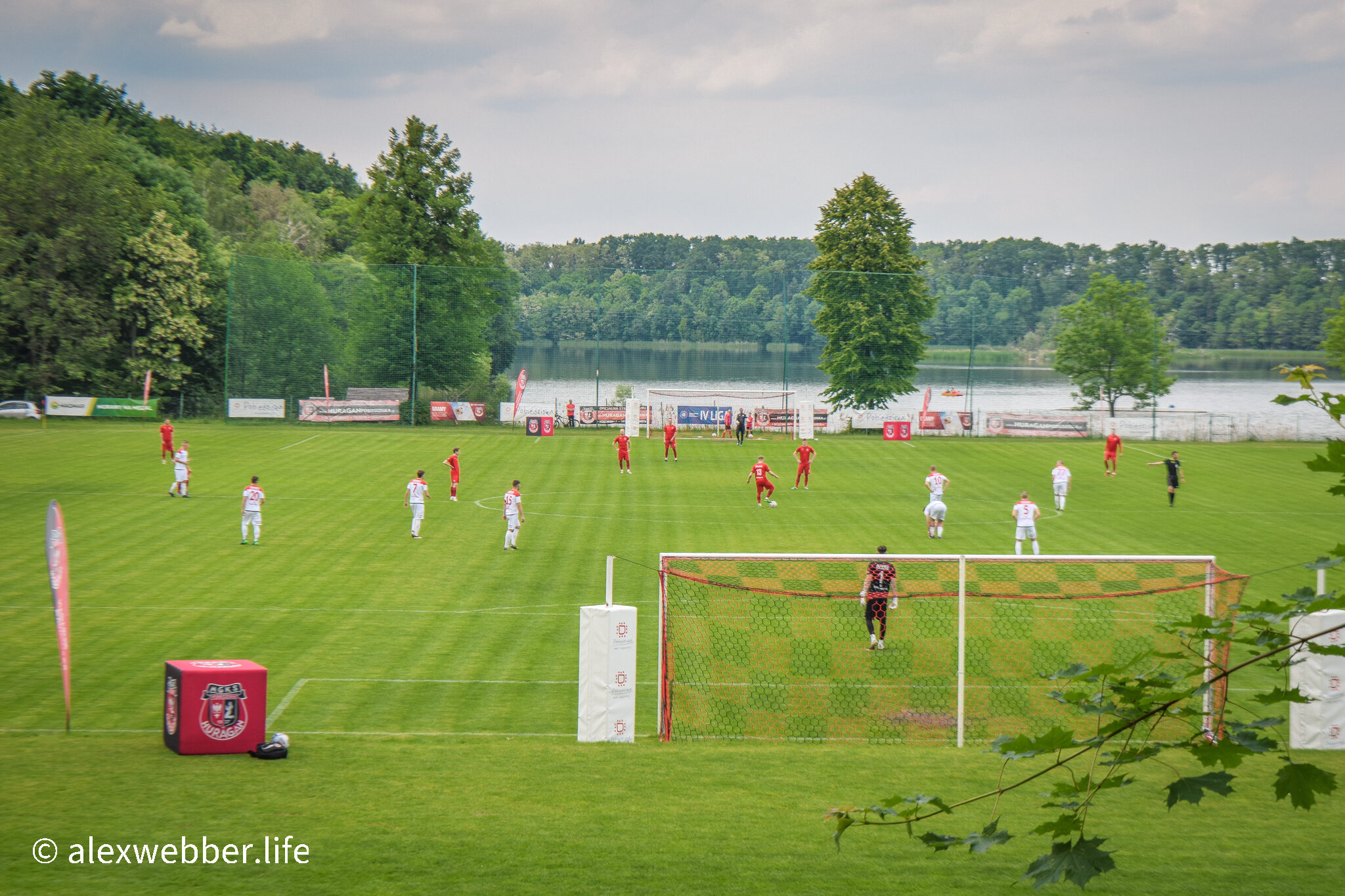 Who doesn't love watching football in idyllic surrounds? For me, Huragan delivered just that courtesy of a stadium located so close to a lake that you could hear the local fishermen wading in the waters.
For more on this match, CLICK ME!
---
Angriest Away End
Moto Jelcz Olawa v Gornik Walbrzych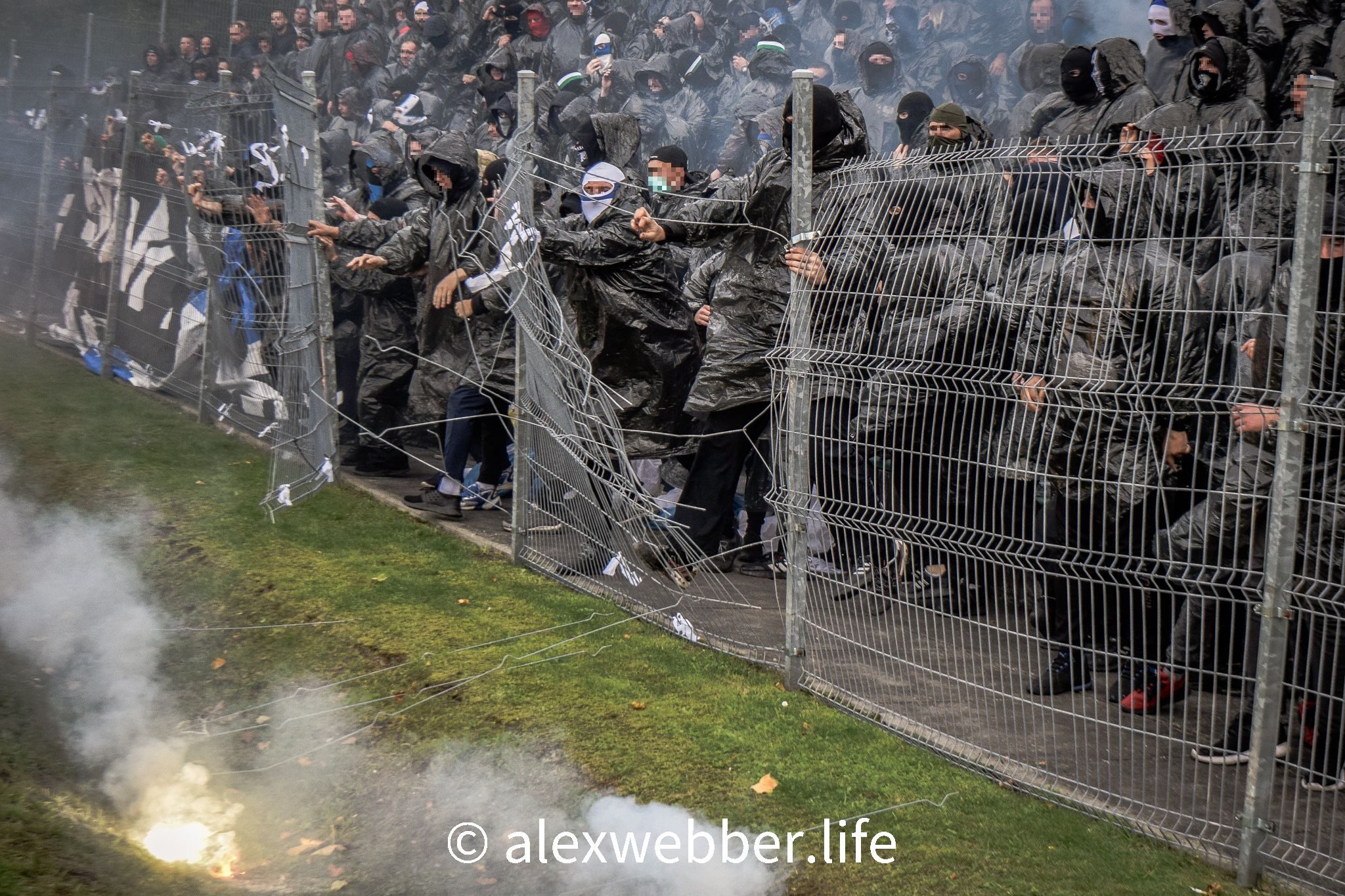 So concerned were Gornik's fans by the sub-standard structural integrity of Olawa's away pen, that they lodged a physical protest that involved demolishing it in the space of three minutes. An absolutely mental match, this fixture was called off before the half-hour mark with much of the stadium submerged in clouds of tear gas. In hooligan circles at least, this has gone down as one of the year's big classics.
For more on this match, CLICK ME!
---
Top Away End
Korona II Kielce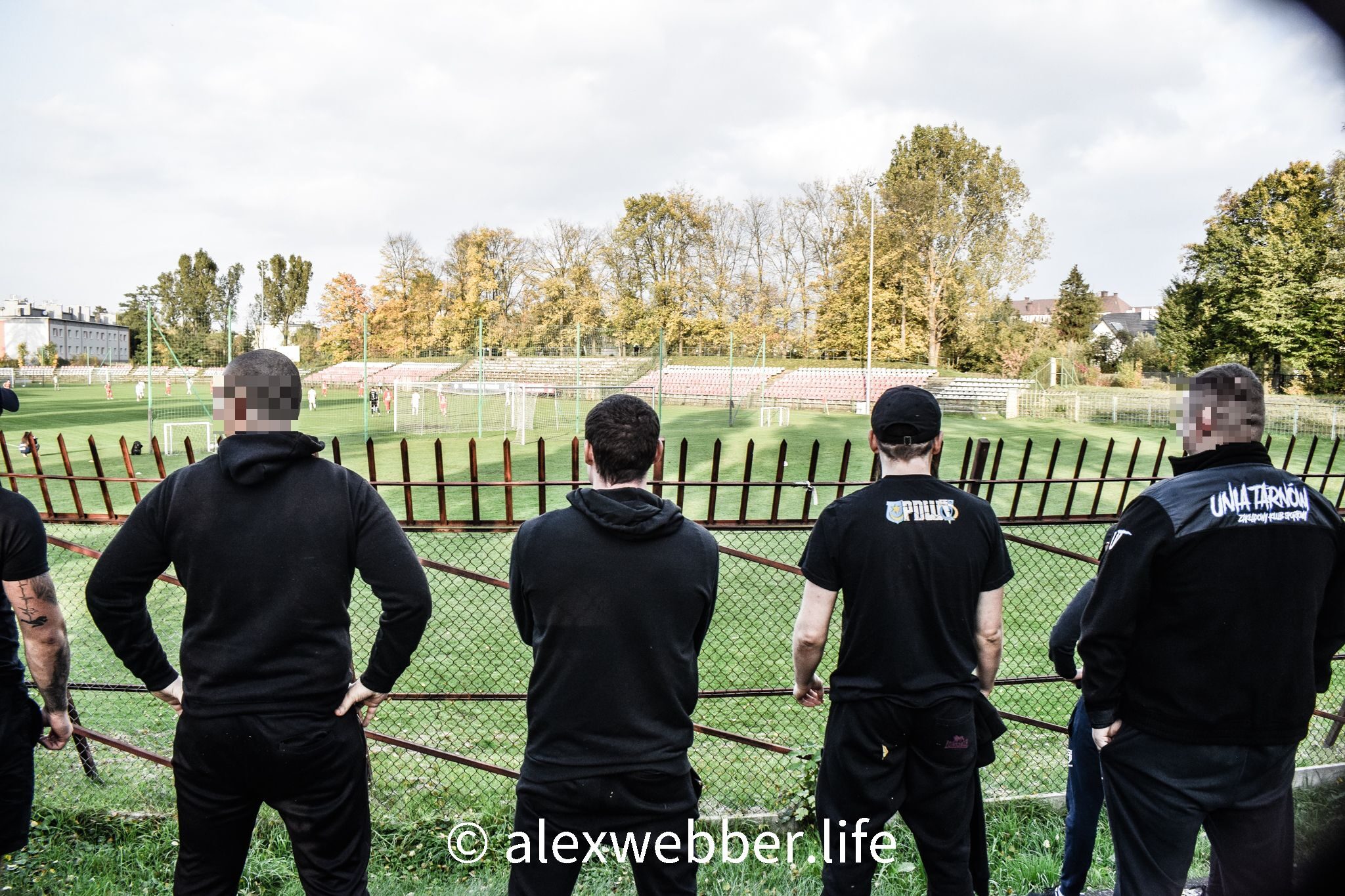 The ancient home of Korona Kielce still survives and now serves as the HQ of their reserve team, a side plying its trade in the fifth tier of Polish football. Nothing less than a beautiful piece of footballing wreckage, I adored this ground to pieces – even more so for having a battered away cage that opened to host a travelling contingent of ten Unia Tarnow. I have an obsession with Poland's lower league away ends, but for the lion's share of the time these often stand locked and empty. To see a band of lads inside one was a joy in itself.
For more on this match, CLICK ME!
---
Best Pint
Kabel Krakow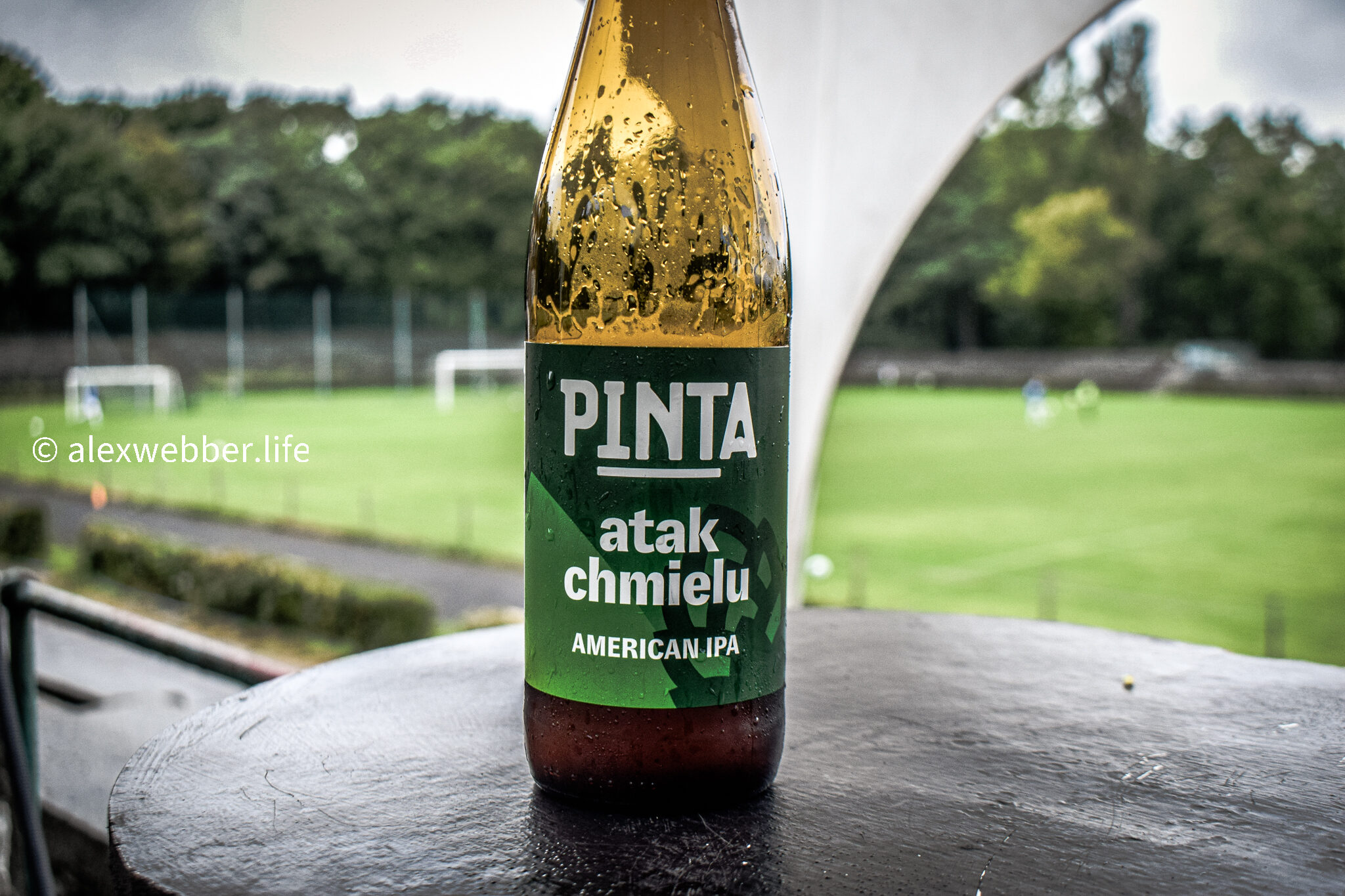 Speaking generally, refreshment at Poland's higher-level clubs usually involve glugging back plastic pints of fizzy yellow piss. Kabel Krakow, on the other hand, has a small little hut selling local craft sips that you can either take onto the shattered horseshoe-shaped terrace, or imbibe inside a warm wooden cabin. Just the mere mention of this ground gives me a buzz.
For more on this match, CLICK ME!
---
Best Blast To The Past
Start Otwock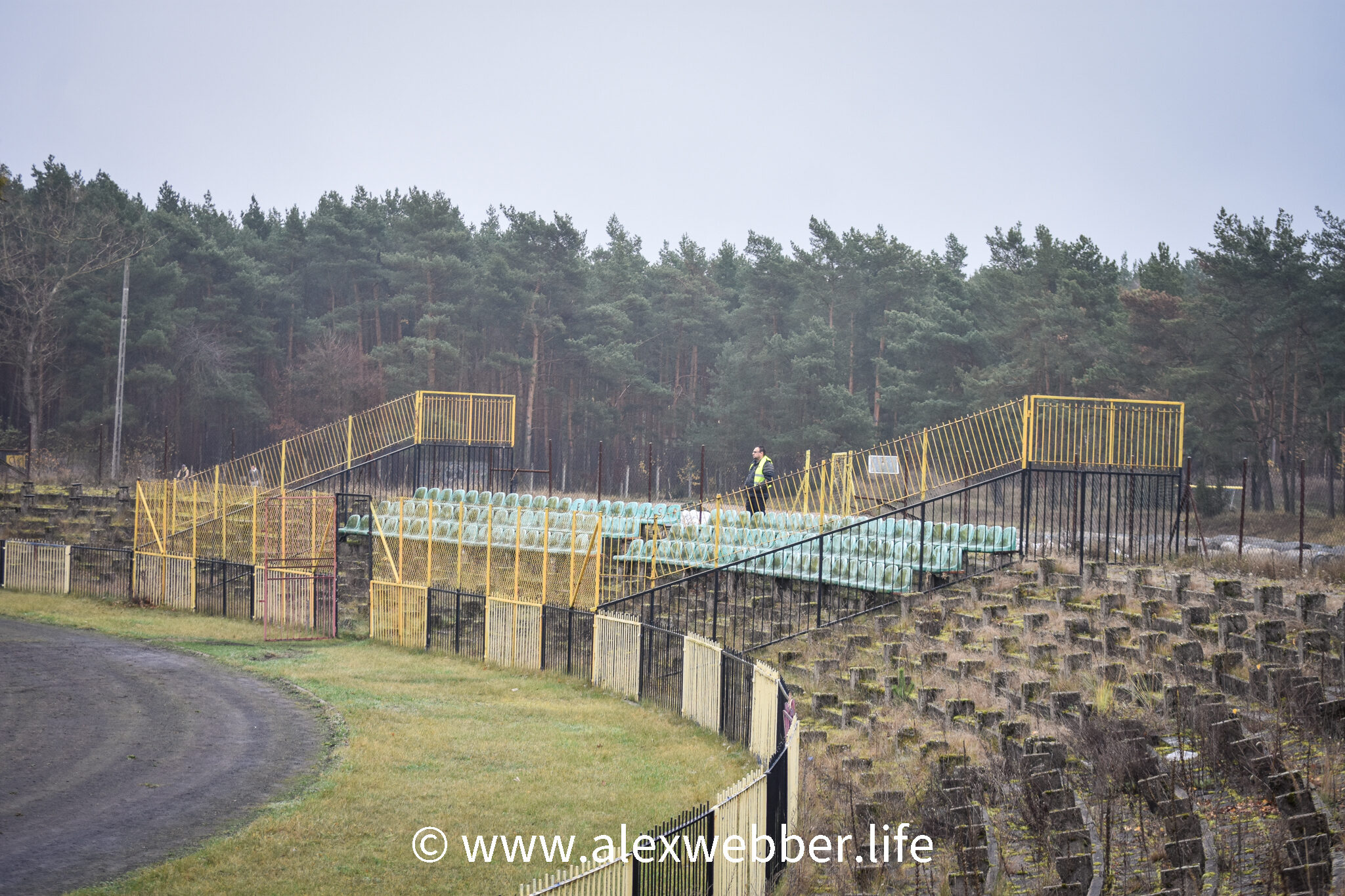 Broken and rickety, this ground is a must if you're in the Warsaw area – brilliant as it is regardless, I lucked out and had the good fortune to see a pyro show conducted by a group of youthful ultras that just about reached my waist.
For more on this match, CLICK ME!
---
Happiest Birthday
Cracovia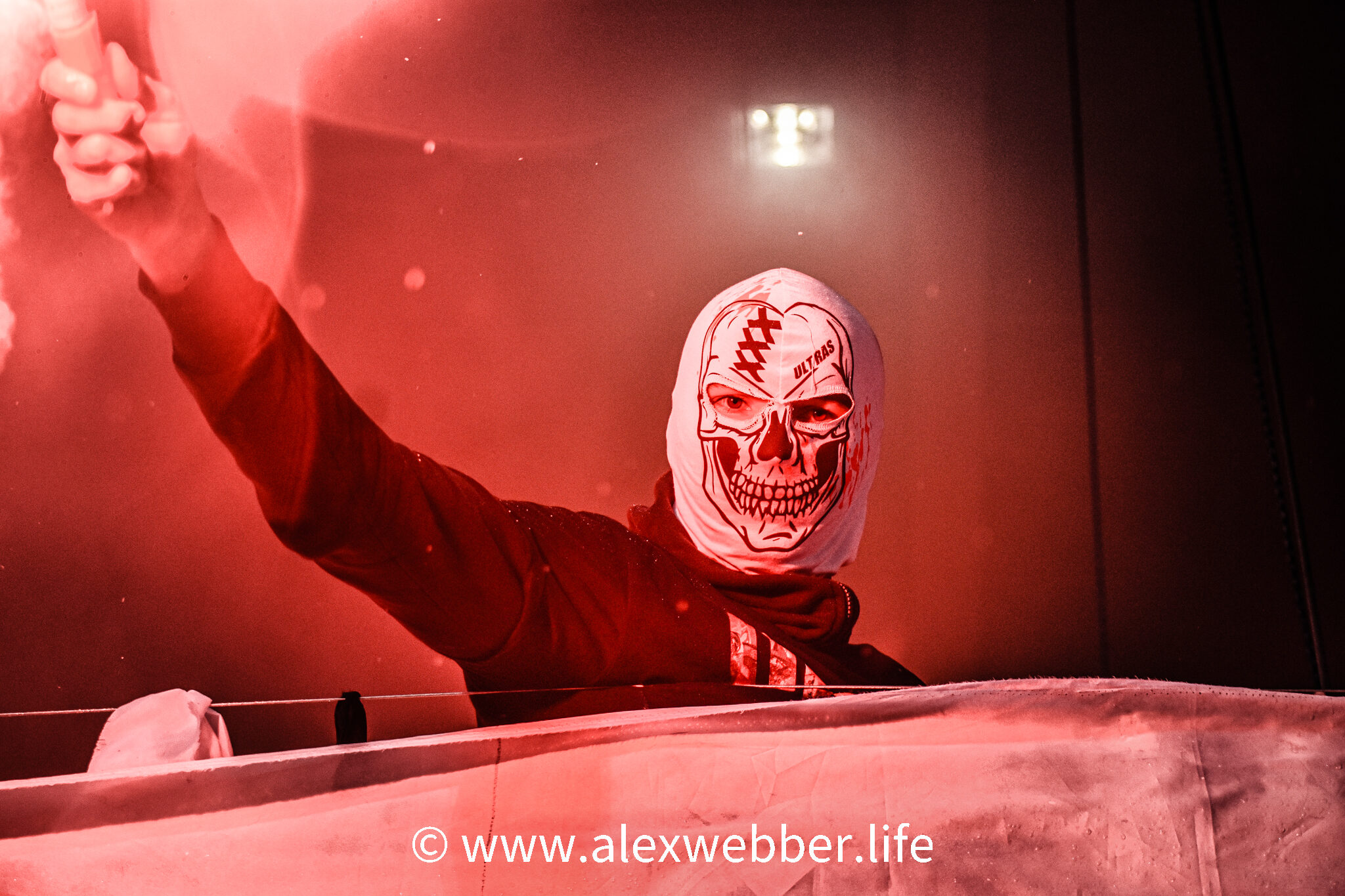 Polish fans need no excuse for a knees-up, but even with that in mind the celebrations that marked the 20th anniversary of Cracovia's fan group were spectacular – this wasn't a pyro show, more an unrelenting blaze that engulfed the ground. Hat's off to the visitors, as well. Eager to steal the spotlight from the home fans, Jaga's following was among the loudest I've heard all year. A great advert for Polish football, I can't believe that a mate of mine, visiting Poland for the first time, chose a trip to the salt mine instead of this – not sure he can ever be forgiven.
For more on this match, CLICK ME!
---
Best VIP Facilities
KTS-K Wiked Luzino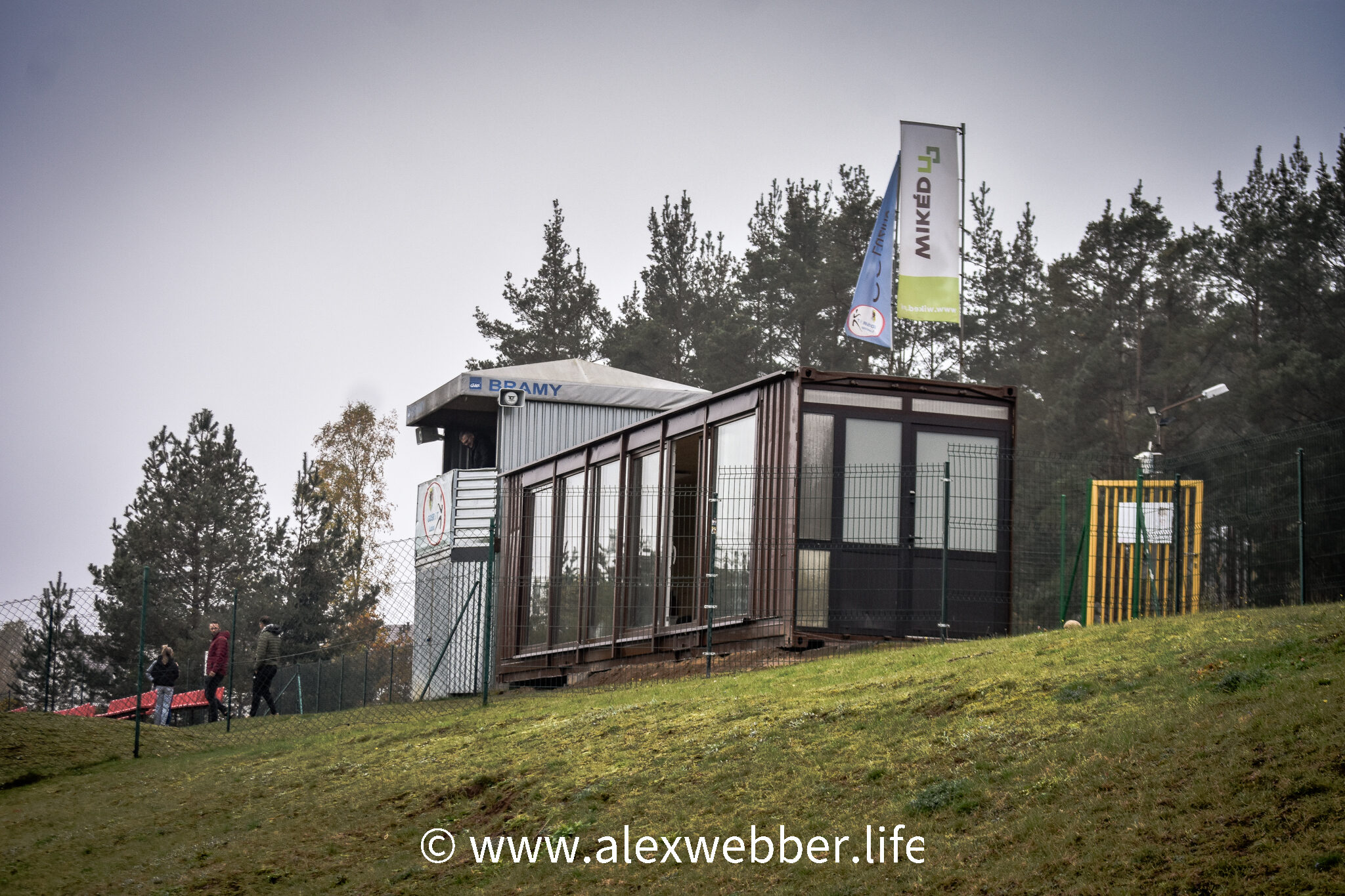 As much as I enjoyed being royally entertained (read: getting blind drunk) at elite clubs such as Legia and Wisla, my favourite VIP box of 2022 was, quite literally, a box: constructed from a disused cargo container, it made for a superb bonus in a stadium already teeming with brilliantly bonkers touches. Without fail, this is one of the best lower league grounds I've had the privilege to visit.
For more on this stadium, CLICK ME!