Date: 16 April 2022 / League: Polish 7th tier
Final Score: 4-0 / Attendance: approx. 100–150
In A Nutshell
Poland's lower leagues serve up a stunner with a rusting beast of a stand supplemented by a world class BBQ and hilarious football…
Getting There
Koluszki is just over an hour by train from Warsaw and even closer to Lodz – about 15-minutes by commuter train. From the station, which itself is a remarkable bit of communist era brutalism, the stadium is a simple 15-minute walk.
Background
There is nothing to say about Koluszki's football club – I'm not being flippant here, even their website has a blank page under 'history'. So yeah, other than telling you they were founded in 1925 I can offer nothing more.
Stadium & Matchday Experience
After a couple of months of intense travel I made use of an uninspiring set of fixtures on this weekend to stay closer to home and visit the kind of place that would have me back inside a Warsaw pub by 7 p.m. Koluszki fitted the bill, and it rewarded me with what I reckon on being one of the most glorious (and dangerous) stands I've ever clapped eyes on.
Notable for its weird, zig-zag roof, this hulking, rusty steel beast looms over a sea of broken benches to cast an ominous shadow. Through this darkness, you'll decipher a giant cock drawn onto one of the benches underneath, a horde of smashed bottles, prowling local wildlife and some burnt-out seats that suggest livelier times at this dinosaur of a ground.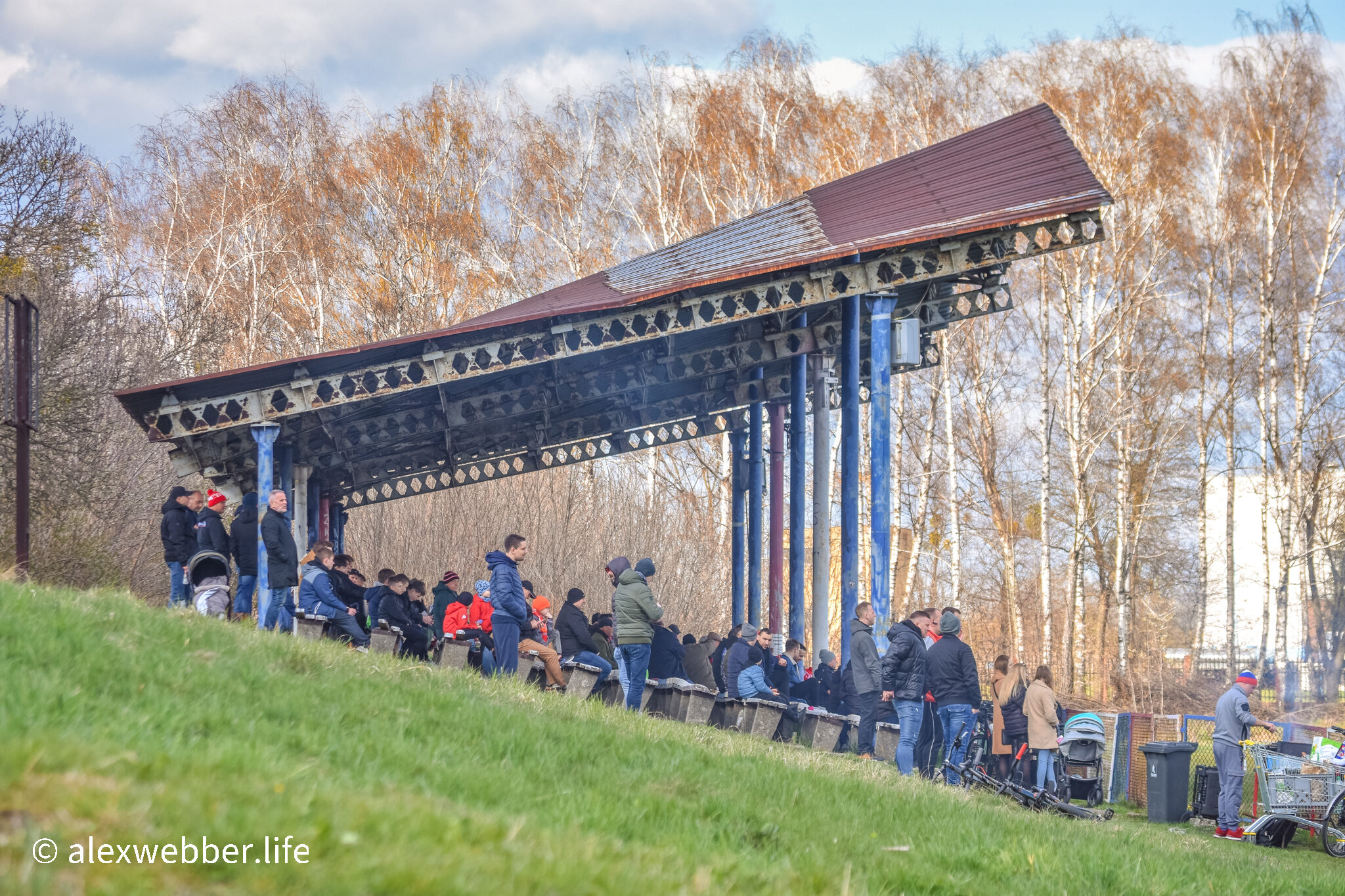 With just one stand to speak of (though fans do also gather on the turf behind the team dugouts), what this place lacks in size it makes up for in sheer, unfathomable oddness. Not short on risk, ways to die here include being stabbed by rusty nails or being impaled on giant shards of glass. More likely, however, I imagine the whole stand one day blowing down during a particularly stiff breeze – to say it looks fragile is an understatement.
This is not, though, the only point of note. Voted in a few years ago, one of the pledges that got the current board elected was the promise of a BBQ at every match – now not only have they delivered on that, but I'm pleased to say that the scran served at Koluszki is just about the best food I've had at football anywhere in the world. Praise indeed.
Crowd-wise, I'd guess there were about 100 to 150 people present, including a hardcore of about a dozen young lads wearing the colours of their main team: Widzew Lodz. From what I've seen, when friendlies are played against Widzew, the atmosphere can seriously ramp up into pyromaniacal madness.
On this occasion, there was no danger of that with the match played out to the half-sedated murmurs of the gathered audience. Still, that did not prevent me from getting one of the biggest bollockings of my life after an old geezer spotted me taking a picture of his beers. Jesus, the bloke exploded into something most would describe as apoplectic fury. For a moment, I really thought I would get a kicking – yep, having survived some of the most evil fixtures Poland can throw, I nearly came a cropper at a Tier Seven match…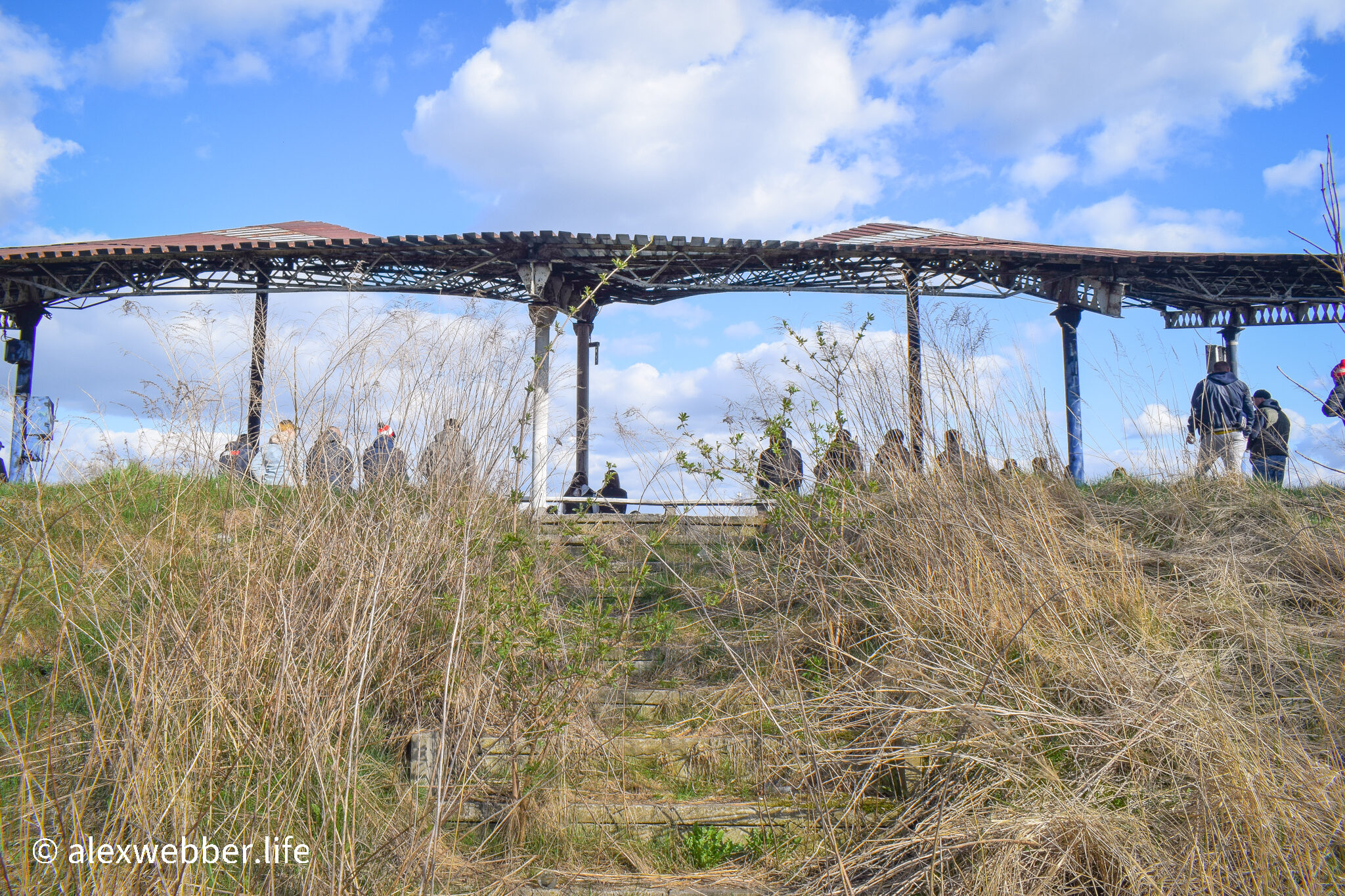 Oh, and the match itself deserves a quick write-up. The result sent the home side top, but if I were the manager I would be seething that more goals weren't scored – no shitting you, the opposition goalie was the worst I have seen in my 45-years living on Planet Earth. Plodding around like a grazing Diplodocus, such was his cack-handed incompetence I would swear that the away side would have done better playing no-one in goal and just adding an extra outfield player to their line-up.
Terrified as I am of these words falling into his hands, such was the level of his performance I fear he's not held many things in his mitts before – only kidding. Joke as I do, this was one of those lower league matches where you respect everyone involved: from players to fans to coaches and management.
And speaking of which, what a joy to see one of Huragan's staff swigging a beer on the touchline – a sight topped only by hearing the manager roasting one of the players: "and don't you dare fucking text me in the morning," he screamed as the poor bloke trudged off.
Hugely fun, the only downer I can report is that the club (or the weather) appear to have dismantled a camera platform that was once made from crates (I include a web-found picture of this towards the end of the set). Had that been there, I'm pretty sure this would rate as one of my favourite little lower league excursions – but even without it, what a day to add to the diary.