Date: 18 September 2021 / League: Polish 6th tier
Final Score: 1-1 / Attendance: at a guess, 100, maybe a few more
In A Nutshell
Lower league drudgery served up inside a ground blessed with an assortment of unexpected theatrical flourishes: an away cage befitting of a dungeon, a Neo Baroque façade, and dramatic church views to round it all off.
Getting There
The nearest town of note is Radom which itself is an easy daytrip from Warsaw: trains are frequent and take around 75 to 90-minutes. From there, Pionki lies 25-kilometres to the north-east. A regional train will get you to there in 20-minutes and after, you'll be walking the rest – with Google Maps on side, it's an easy 15-minute find from the station.
Background
I can't offer any meaningful insights about either team, though I do know that the home side was founded in 1926 and was for years bankrolled by the local gunpowder factory. They have risen to the higher leagues on a few occasions, and last turned out in the third flight in the 90s – but on that point, my history trail runs cold.
As for the town itself, aside from producing gunpowder it's also famous for vinyl records – which explains why you'll find a record-shaped monument standing just outside the station. There might be more to see, but with the drizzle getting stronger I went straight to the match.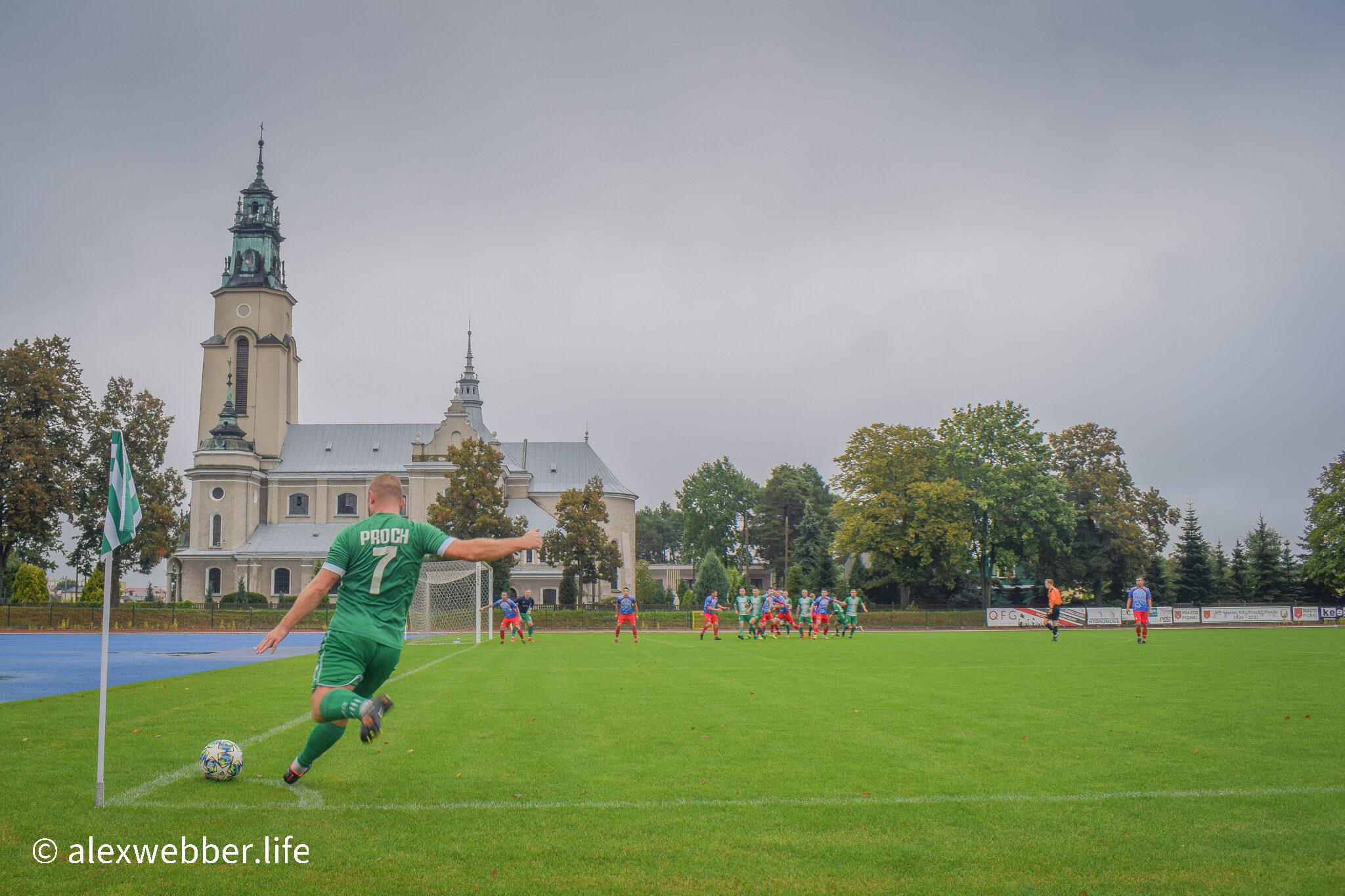 Stadium & Matchday Experience
I do not like modern stadiums, but that's because for the most part so many are bloody boring – template designs that are the architectural equivalent of ordering chicken korma. But every now and again you do find something mad… something like Pionki.
From what I've gleaned, they knocked down their main wooden stand in the 80s, but whilst that would usually be a cause for heartbreak they've ended up replacing it with something even better. A seemingly recent-ish work, the exterior of the stand follows the aesthetics favoured by Poland's nouveau riche to rise like some Neo-Baroque palace built for a villainous gypsy king: some Vera Duckworth stone cladding; a coat of arms embedded onto the façade; and a curving Dutch gable crowing the top. Delicious!
Up a set of stairs, you enter to find a stand outfitted with smart green seating only a section of which is covered by a low, cantilevered roof – with the weather grey and damp, it was brilliant to see a healthy scattering of fans choosing to sit glumly in the rain rather than under any shelter – Against Modern Football, and all that.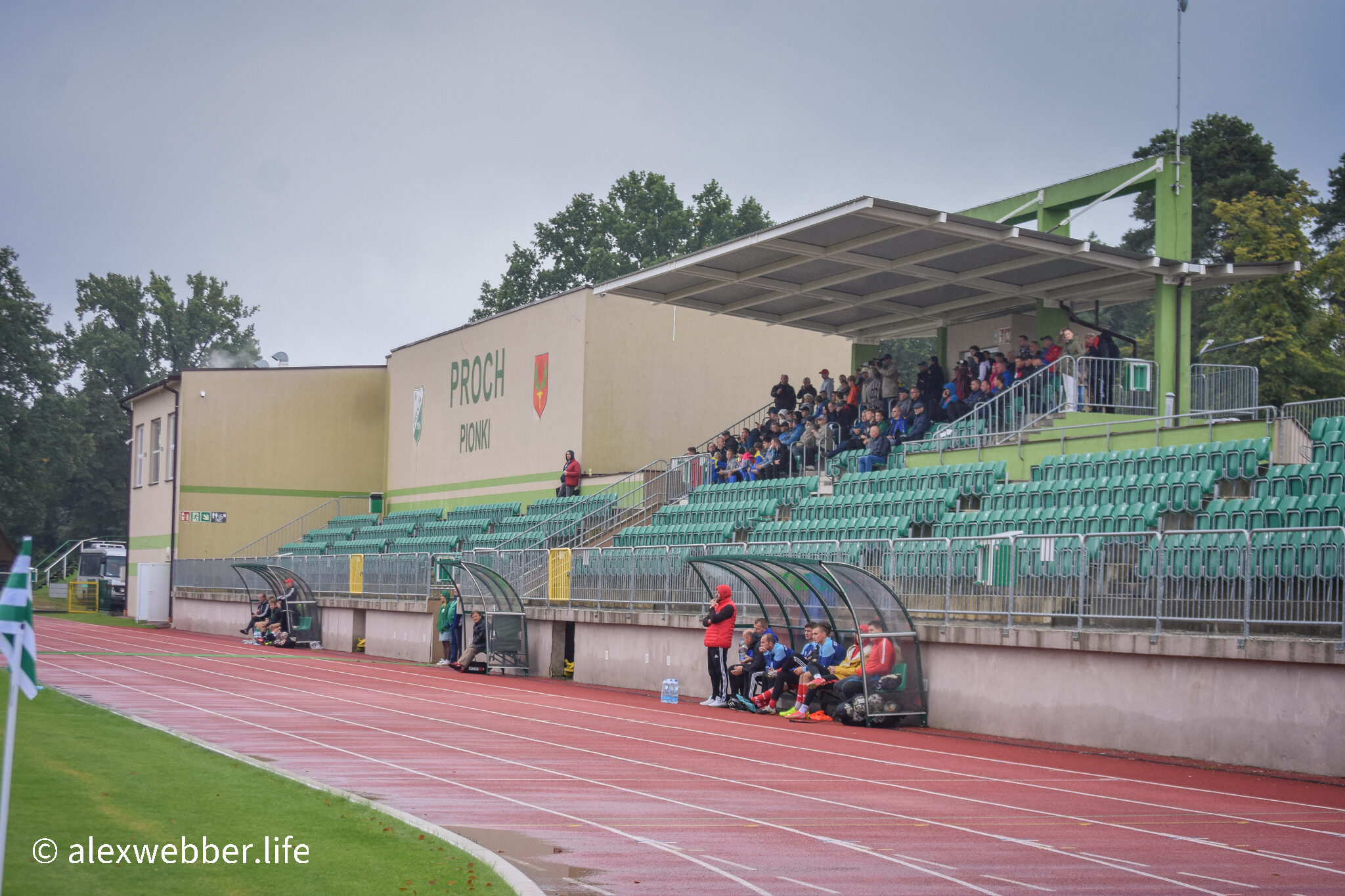 As for the view, that's grand indeed – forget looking at the pitch, instead feast your eyes on St. Barbara's, an awe-inspiring church that's actually not even 100-years old. Fashioned in Neo-Baroque, it was completed in the 1920s and despite being plundered by the Nazis has retained much of its original majesty.
And for contrast, head to an away end that's a classic of Polish football. Set in the far corner of the ground, I found this 64-seater cage conveniently left unlocked and spent much of the match simply pacing around it merrily singing Bristol City songs at the top of my voice.
Additional points – if any were needed – should be awarded for a training pitch just beyond featuring some wonky wooden benches sat on a muddy hill and a bizarre temporary stand hiding behind the main tribune that has more in common with a tennis umpire's high chair.
Just as bizarrely, was the fact that this match had a small police presence of about six or so coppers – really, I think a domesticated cat could have done their job. Yet though lacking anything in the form of atmosphere, it's a trip I'll definitely recommend if you're in the region of Radom.