Date: 12 September 2021 / League: Polish 6th tier
Final Score: 2-0 / Attendance: approx. 100
In A Nutshell
A last-minute random selection rewards with a gloriously wacky stadium…
Background
Zabierzow were formed in 1936 as an offshoot project by Wisla Krakow – later splitting in 1946 from their parent club due to the 'lack of interest' displayed by Wisla, Zabierzow added Kmita to their name in a nod to a local 14th century nobleman. Though generally inconsequential, the club did rise as high as Poland's second tier at the start of the millennium, but even then local enthusiasm remained somewhat limited: from what I can gather, their record league attendance was recorded in this era and saw 1,300 spectators attend a match against GKS Katowice.
Holding 2,000 fans in all, I've also found info that 1,500 turned up a few years later for a friendly played against Wisla Krakow to mark the club's 70th anniversary – a little bizarrely, I've read that the first-half finished early after paratroopers landed on the pitch (one presumes as part of the club's birthday celebrations, but the truth is you just never know with Poland).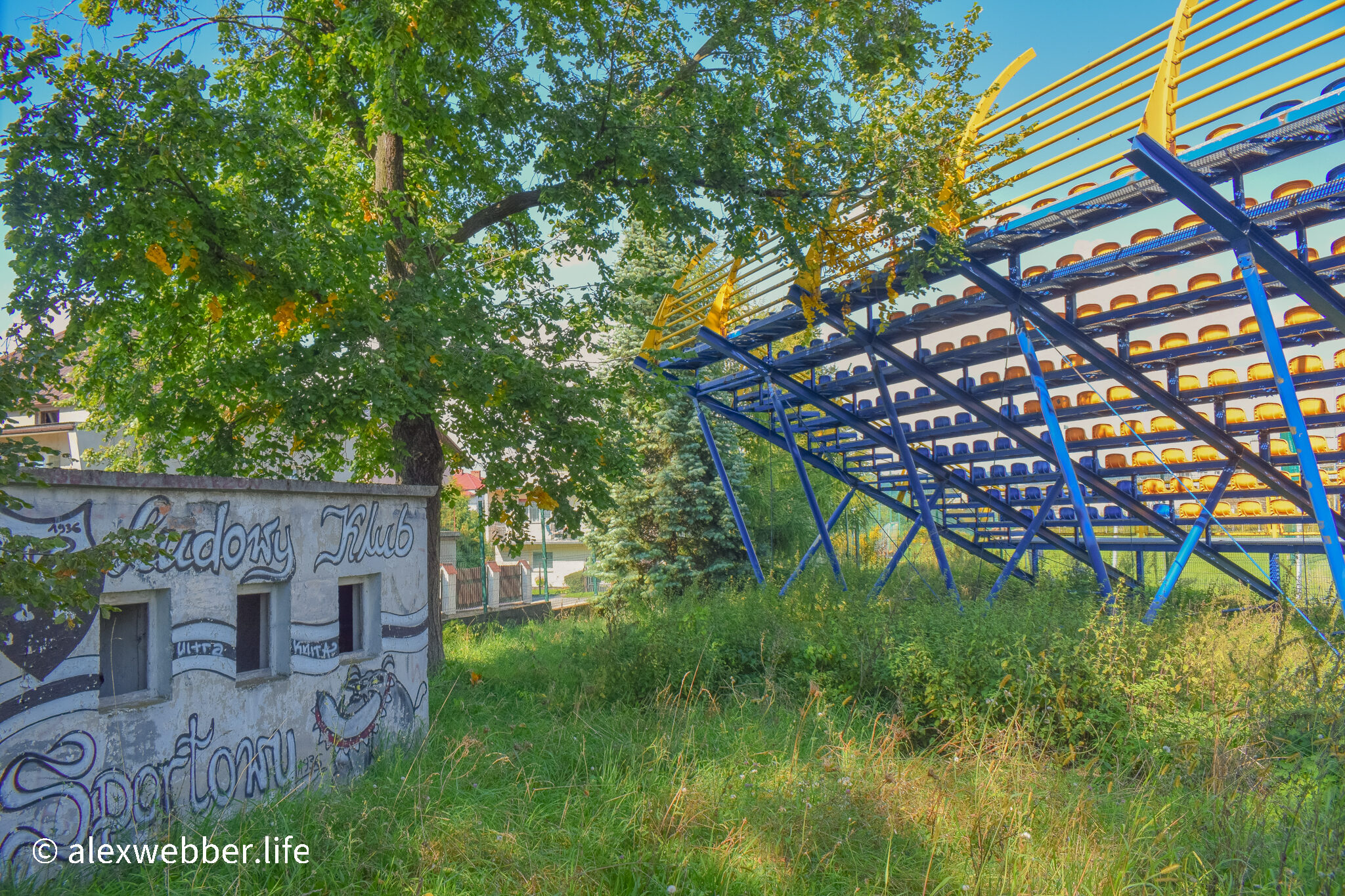 The Ground
The stadium is bonkers, pure and simple. Of the oddities, there's the most modern toilet facility I've seen in the lower leagues (complete with a bench outside so that you can watch the match while waiting for the person ahead of you to do his or her business), a weird TV camera tower that looks more like a child's climbing frame, a smoking shed / cabin, and a marvellous away end positioned at a haphazard angle in the corner of the ground – judging by the Triffid-style plants that have been allowed to accumulate unmolested in the away end, I'm going to guess that travelling fans are a rarity.
The main stand is the principal talking point though and it's a marvel: think lots of varying levels, pointed stanchions and curvy steel finishes wrapped in creeping plants. Adding to the visual element, the whole ground has been painted in jolly daffodil and navy colours. Generally-speaking I hate modern stadiums, but this is proof of what can be achieved on a next-to-nothing budget. An assembly of different odds-and-ends that somehow actually feel coherent, it was fabulous to find a new-ish ground that has done something a little alternative rather than plonking for the square back and sides approach adopted by most stadium architects.
Matchday Experience
This match was part of an epic weekend that had started in Lodz, then curved down to Debica before – so the plan had been – culminating at Elana Torun for a derby match that everyone had been talking about. Due to the plonker at Elana's press department refusing to acknowledge my string of emails, messages and calls, I never realized this final leg of my crusade, so instead found myself in Krakow on the Sunday with the trip having totally unravelled by that stage.
For some reason all I had left Warsaw with on Friday was a toothbrush and my camera kit, so by Sunday my lack of spare pants was really starting to effect morale, a situation made all the worse by the ferocity of summer's final swansong. And just to really kick me in the nuts, I then turned up to my hotel on Sunday morning – a fancy boutique job that I was super excited to be staying at – only to be told that the reservation I had made was actually for October 12th not September 12th. I could have fucking screamed (and in fact, I think I actually did).
But life isn't all bad, and having settled in front of my laptop with a noon pint I got chatting online to my mate Zbigniew. Informed that my plan to get to Elana had fallen through, and aware that I was looking for some Sunday football to fill my diary, he piped up with, "well have you considered Zabierzow?"
Well of course I fucking haven't, I wanted to answer. Who the hell would. Who even are they? Anyway, having quickly googled the ground I realized he wasn't being facetious and it was a place was worth seeing. TAXI!
To say I was pleased would be an understatement. A brilliant place to poke around, Kmita Zabierzow saved my weekend despite offering nothing in the way of atmosphere or organized fan backing – but just exploring this place was a pleasure in itself, one made all the brighter by news filtering through from Elana that the much-hyped derby had proven a disappointment.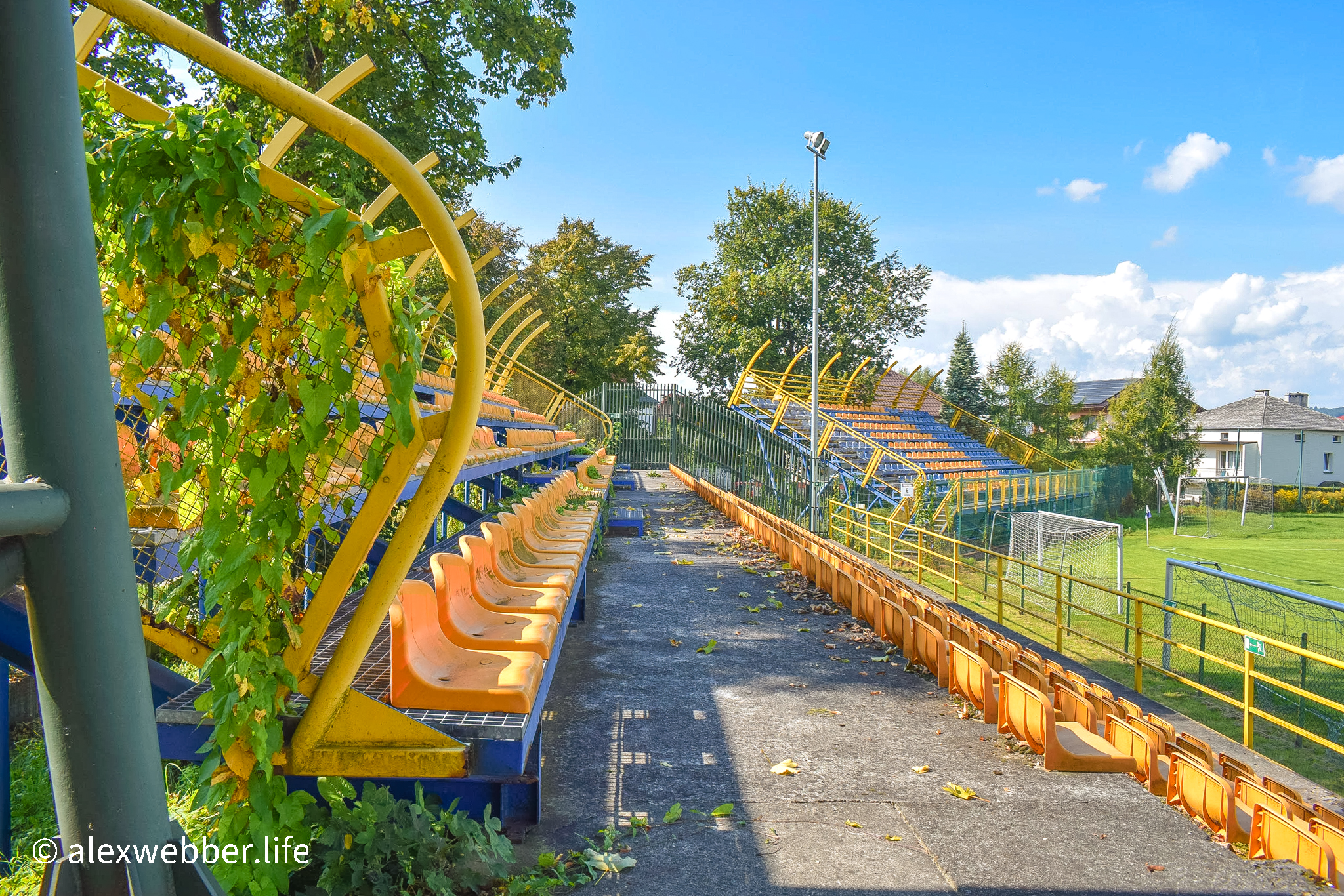 Getting There
Zabierzow lies around 15 kilometres north-west of central Krakow, and although regional trains run regularly (Zabierzow station is just across the tracks from the ground), Uber is more convenient. From downtown Krakow, I paid PLN 40 (GBP 8) to get there in around 20-minutes.