Date: 3 May 2022 / League: Polish 2nd tier
Final Score: 0-1 / Attendance: 16,000
In A Nutshell
One of Poland's biggest derbies delivers a banger inside a brand new wraparound – a night to remember!
Getting There
Lodz does have an airport, but for a city of its size its connections are limited – most likely you will need to go via Warsaw, but that really ain't a problem: doing so is around an hour by train. I live in Warsaw, and it's actually often faster to reach Lodz than it is to go from my flat to the other side of the capital. Anyway, once in Lodz, the LKS ground isn't quite in walking distance (unless you've arrived at Kaliska station), but taxis are cheap and plentiful: by Uber, you'll be looking at around GBP 5-8 from the city centre.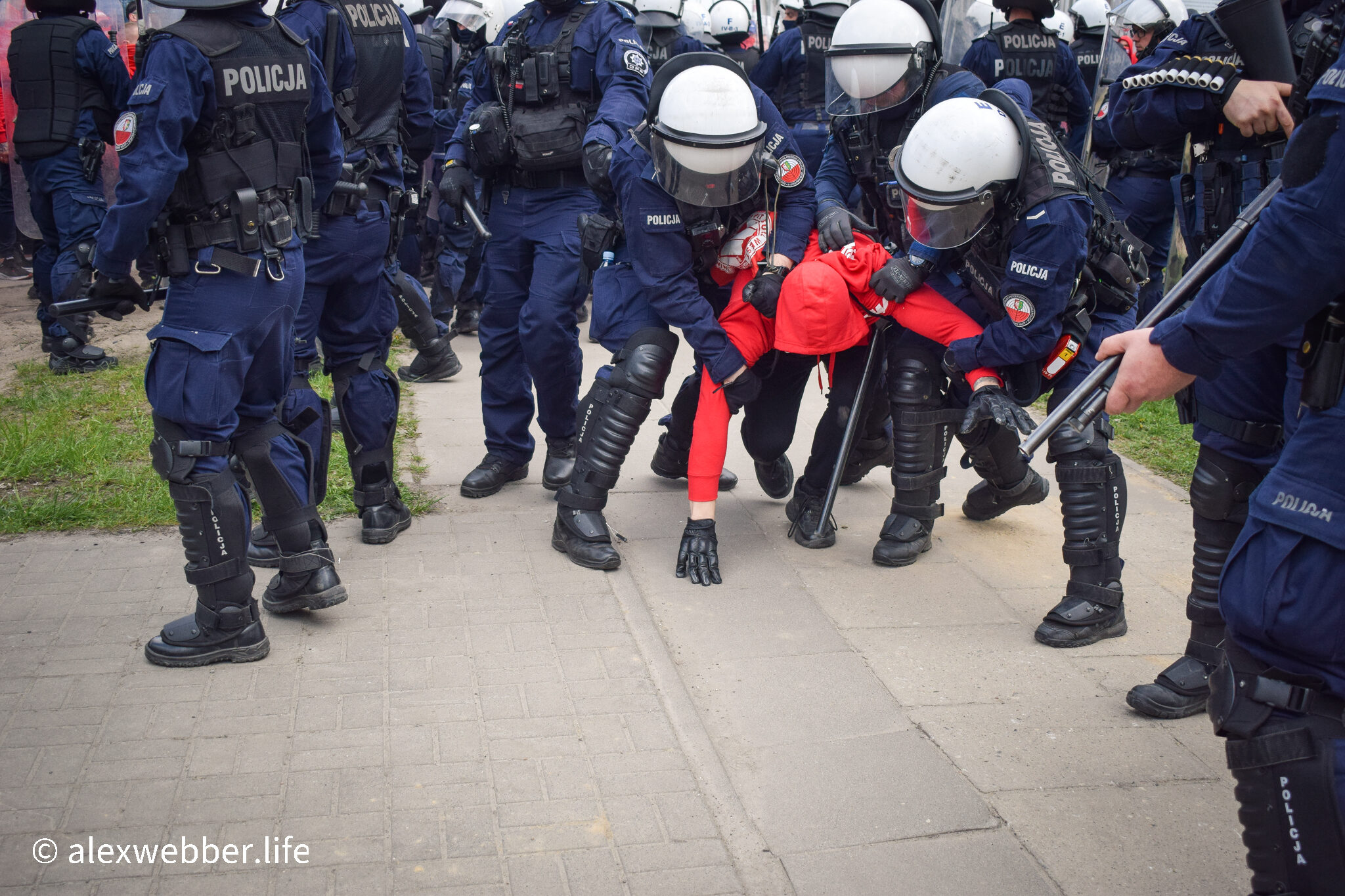 Background
Absolutely no way can I sum up the history of either of these two clubs in a paragraph or two, so I shall not even bother: just google and you'll find all you need to know. These teams are BIG! In terms of trophies and fanbase, Widzew win out (as they do against most clubs in Poland), but LKS should not be dismissed – they too are a club with a proud past and a similarly passionate fanbase (albeit not so spread around the nation).
Back to my point: this is a proper derby in a proper city, and everyone in Poland knows that. In recent times though, both clubs have experienced dramatic downfalls due to dark financial prattery, and that's seen the pair of them zapped to the dungeons of Polish football before having to work their respective ways back up. Of the two, LKS did that faster, and had managed to return to the top flight the season before – but too much, too soon: they were relegated swiftly.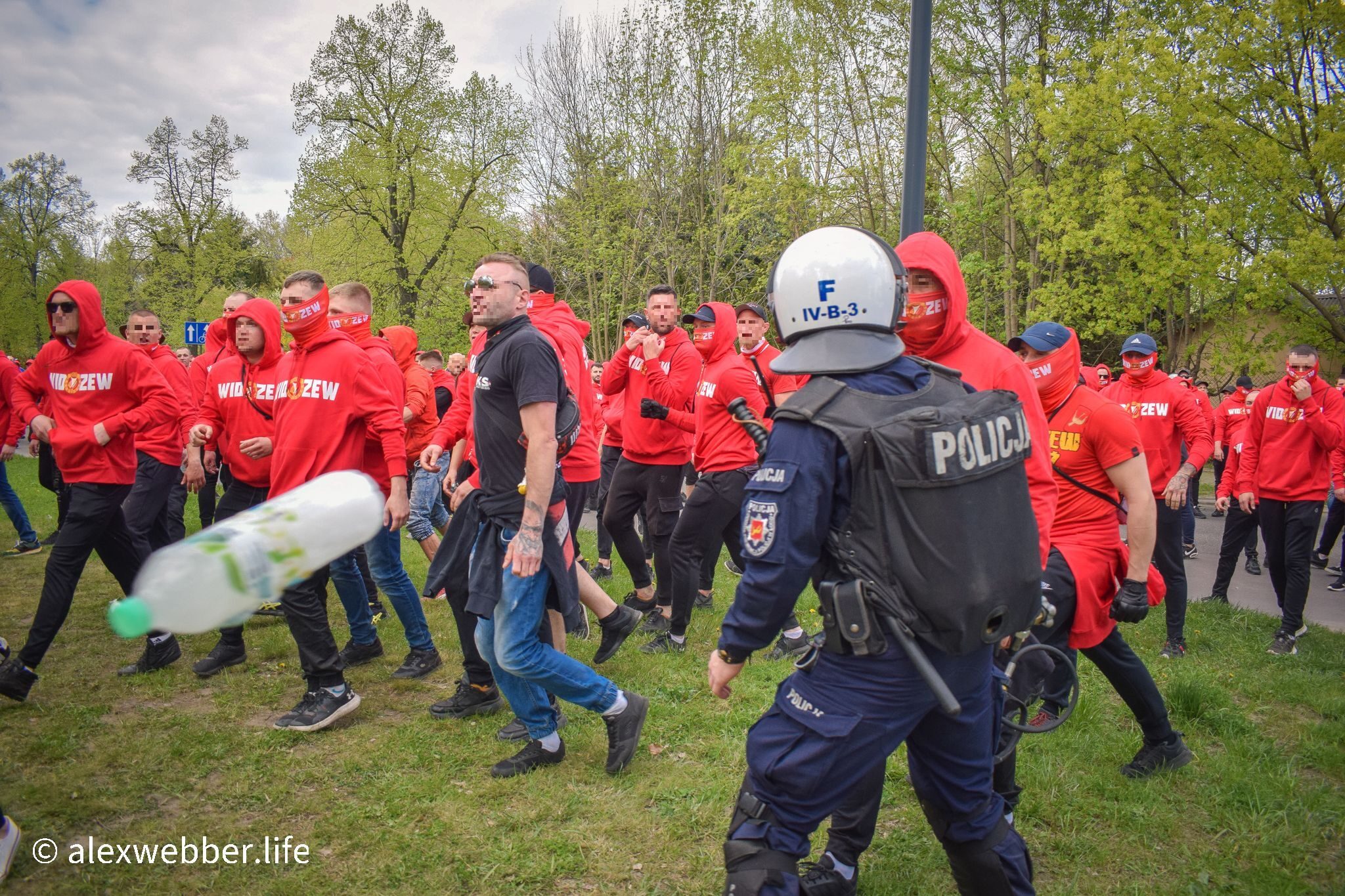 To this game: having slayed all before them earlier in the season, Widzew's side had suddenly experienced vertigo – draws, losses, panic, etc. In the space of a couple of months they'd gone from promotion certs to bottle jobs. If I'm right, they needed to win this to get back into the automatic promotion spots. LKS, on the other hand, were lurking dangerously in the play-off places. Local pride aside, this was a six-pointer in football terms.
Other factors, too, were at play. Spending the last few years playing in a one-sided stadium, LKS had inaugurated their fully rebuilt arena just one game before. This game was a celebration for their fans, a statement that their club had returned from the abyss.
Stadium
A boring flatpack: see Derby, Boro, Leicester… Walking around, you could as easily be prowling an Aldi branch or a minor airport terminal – as a football ground it just does not hit the mark for me. Curiously, for years this stadium had only one side (and a tiny steel away cage), and if I'm totally truthful, I far preferred that incomplete version to the final edition. At least before it felt quirky and unique. Now, it's just a repeat of everything you've seen before.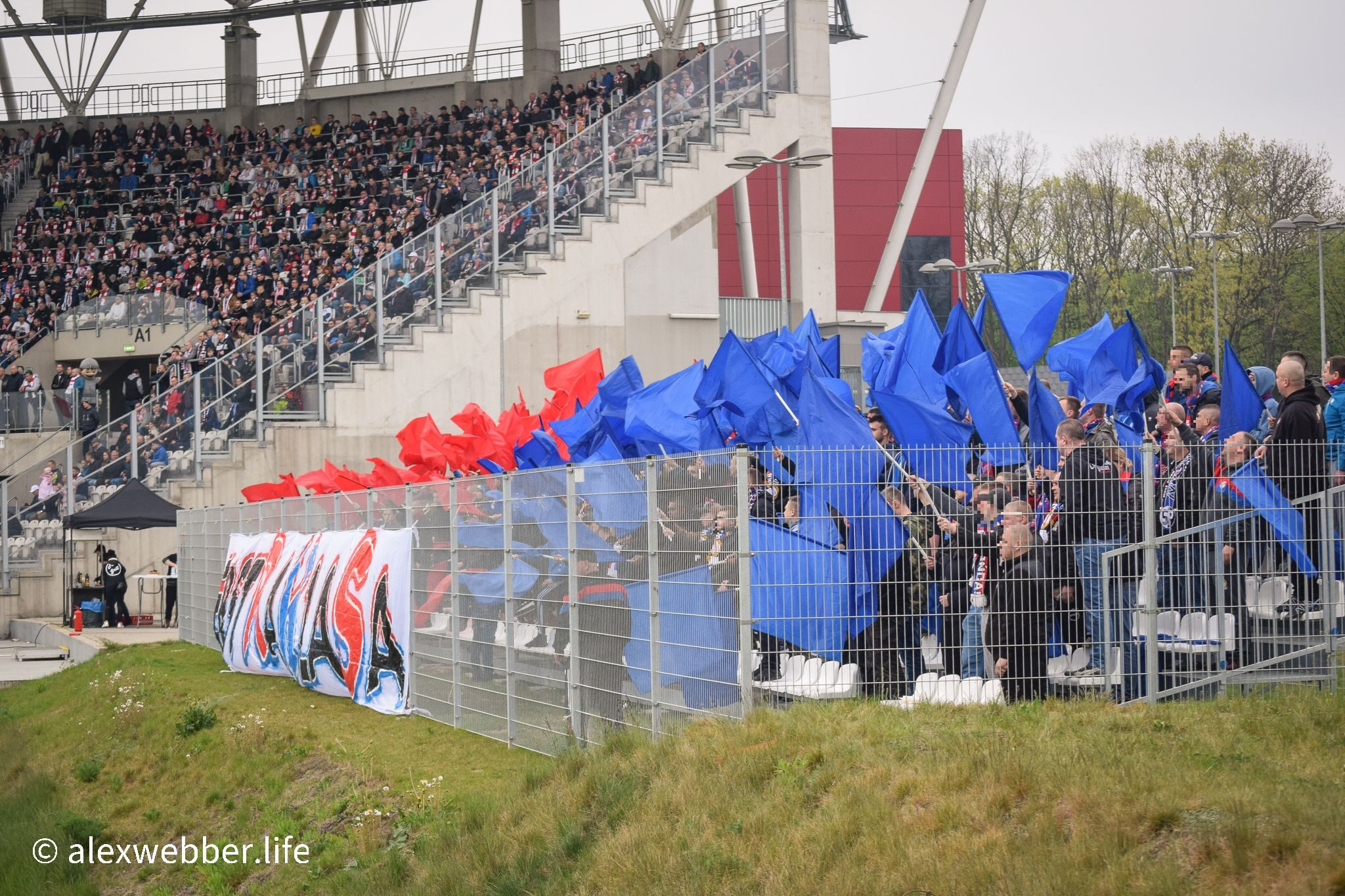 Lead-Up
Rumour had it that, despite being a 7 p.m. kick-off, LKS would be mobbing up outside the ground at 2.30 p.m. so as to greet Widzew. With that in mind, I got to Lodz early, early enough for a cracking curry and a couple of pints in the legendary Football Pub (run by a former Widzew player, but recognized by both sets of fans as 'neutral' territory) – a great place, and made all the greater for the two Bristol City scarves that hang from the walls amid much other football ephemera.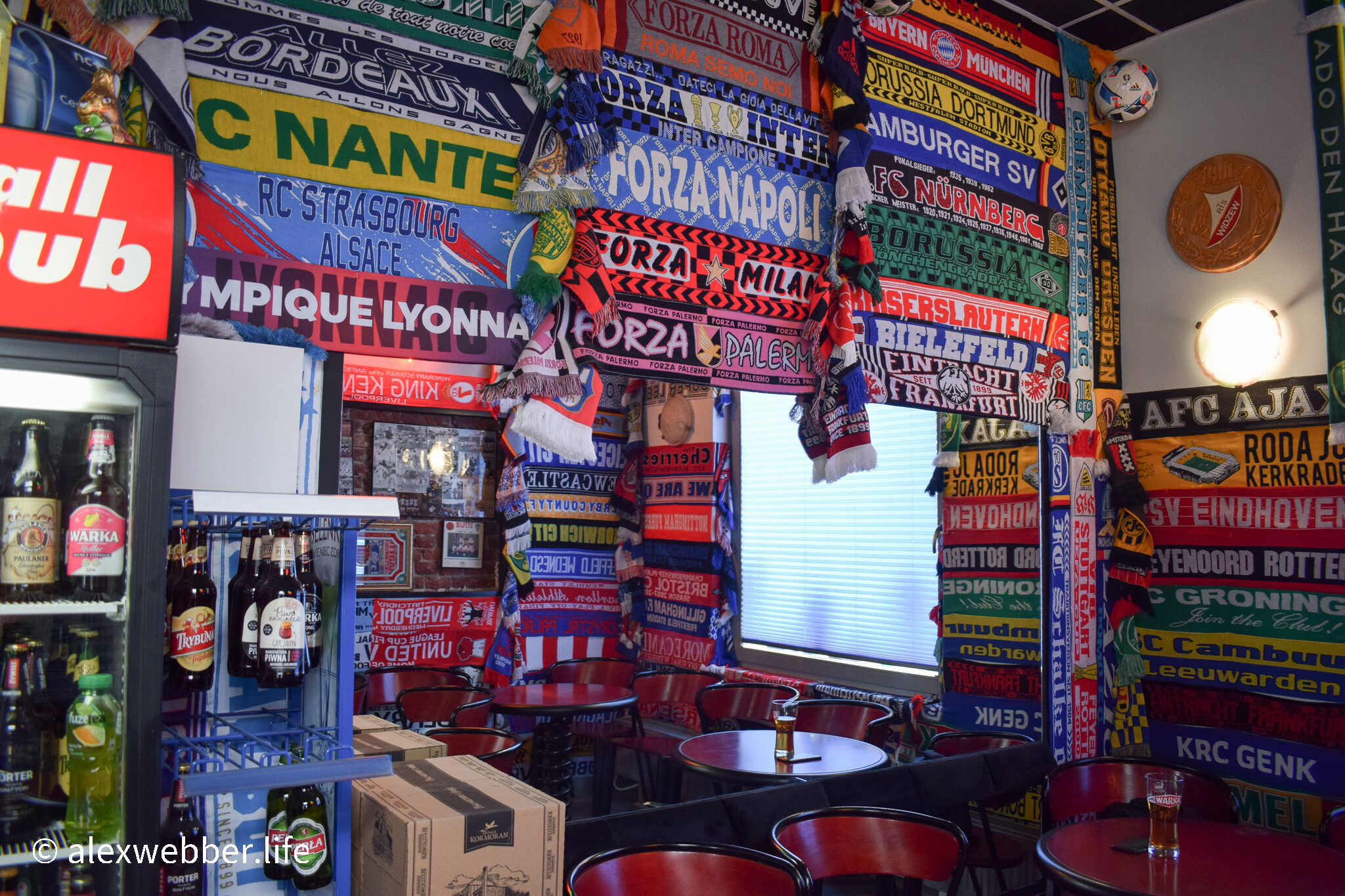 Pints chugged back, I got to the ground around 3ish and, yes, LKS were already there and being boisterous – but also wrapped up by hundreds of police. Thinking I'd be spending the next few hours chain smoking in bushes, I was surprised to find Widzew marching into view not long after, however, and this was a proper escort – helicopters, horses, dogs, everything apart from the Royal Artillery.
A sea of red, and the closer they got to the stadium, the more unruly they became: scuffles with the police; some flying bottles; firecrackers thrown; galloping horses; a couple of baton thwacks; that moment when everyone is, like, "come on then". Nothing mad, but enough to know that the temperature was rising.
Next
The thing with photographing Polish football, for the higher divisions the cut-off time for applications (and replies) runs all the way up to about 24-hours before the match. That makes planning travel / hotels pretty damn tricky.
In this instance, though, I was quietly confident. I'd seen VIP tickets still available about three days prior, and figured if LKS denied me photography access I'd just shell out for the hospitality section. They'd never rejected me before though, so why would they this time.
Sod's law, they did this time. Gargh. Okay, don't panic, I thought. Get back to their website and just buy a VIP seat. There were, after all, plenty left a few days before. SOLD OUT. F**k.
At this point, Plan Z came into play – I mailed the press rep at LKS and pleaded my case. Surprisingly, he folded, but only to the extent of handing me access for the reporters gallery on the highest tier ("sorry," he wrote, "but we've just had too many apply for photography and this is the best I can offer."). Very polite and kind response, though I was still obviously a little miffed to be excluded from the action zone pitch-side.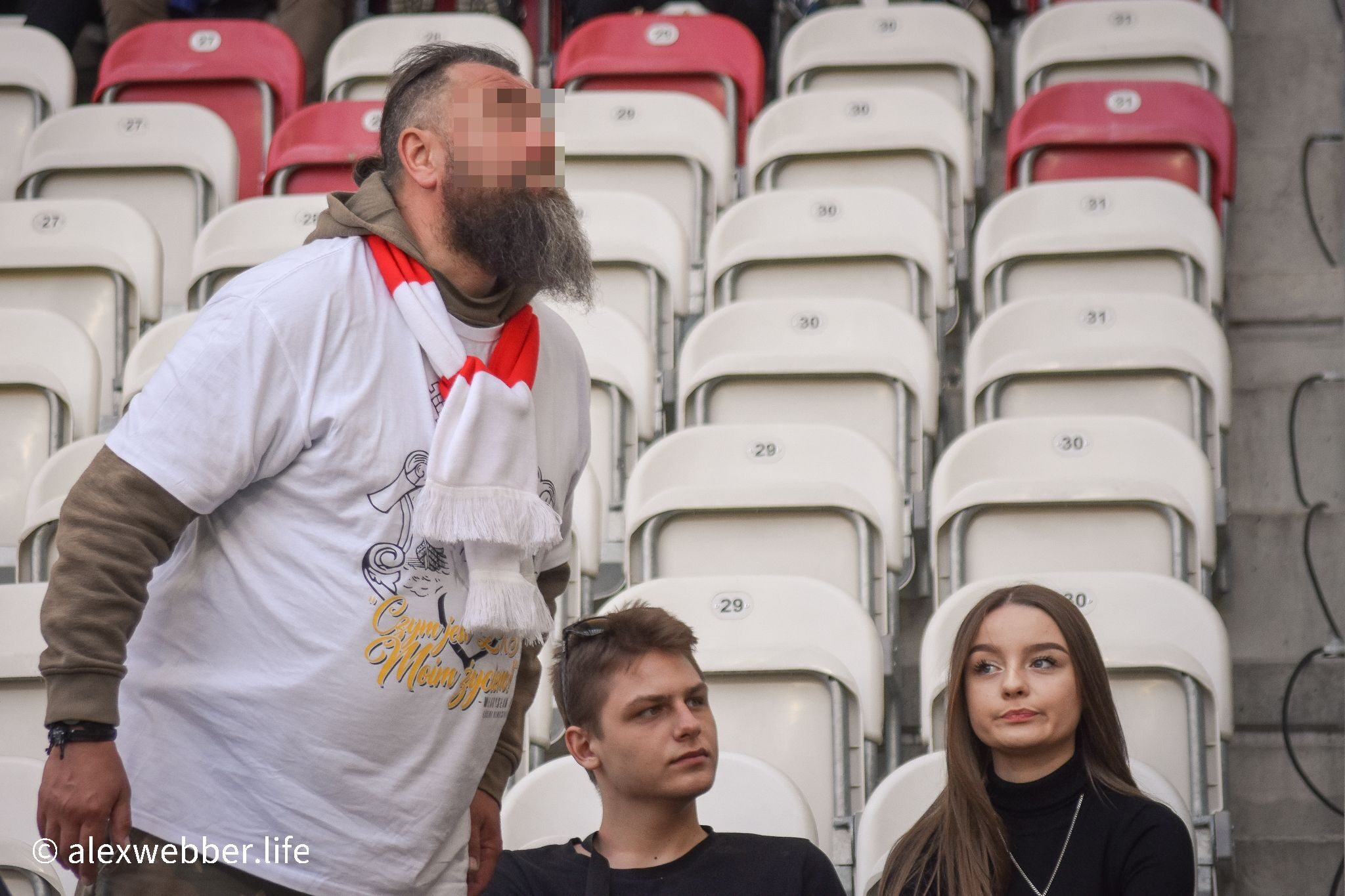 Well, you can't keep a good man down, and I am most certainly one of the best. Employing my sneakiest tricks, I did at one stage make it past the various security checks and onto the side lines, only to be caught out as an interloper about half-way through the first half. Fuming with my cheek, the security actually kicked me out of the entire bloody stadium.
To cut a long story short, I weaseled my way back in, at one stage getting into the VIP section, at another into the police box. Ending the game, it was with the normal LKS fans in the stands – for this reason, the pics in my galleries are shot from various different angles.
Experience
This match marked the end of a football bender – five matches in five cities in five days. All of those had significant potential, yet all had disappointed (yep, even the Krakow derby). This way my last throw of the dice – and I got a double effing six.
Electric atmosphere, the kind you live for – even so, one-sided for the first half. Though they'd arrived hours before the start, stringent individual searches meant that Widzew did not fill the away pen until the second half – and that's when it really amped up.
Having been kicked out of the stadium (see above!), my crafty return coincided at just the moment when around 150 LKS decided to hurdle various barriers and cross the stands to get as close to the visitors sections as possible: cue fireworks. Literally. Dozens of pyrotechnics aimed at the away enclosure, riot police on the pitch, tear gas being sprayed, fences being shaken, and lots of argey bargey in the stands. Game held up.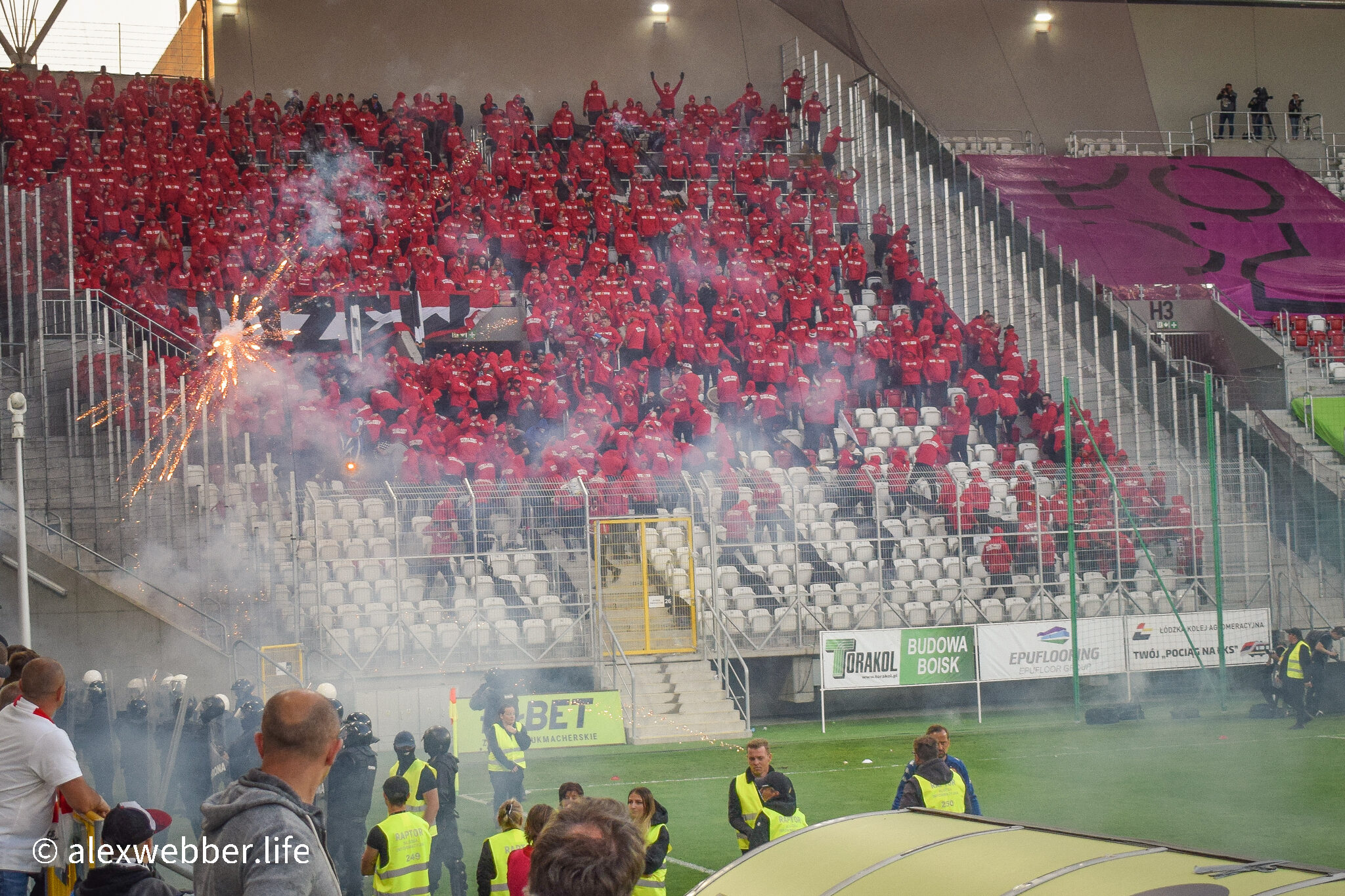 When it resumed, there couldn't have been much time left. The gap in play though seemed to energize Widzew's players and fans more than it did the home lot – on the field, a quick break occurs – a defence splitting pass – striker through – keeper rounded – balls goes in – BOSH. 1-0 Widzew. Watching it on YouTube, it happens fast, watching it live though, it felt like the ball only just trickled in. Ecstasy in the Widzew section.
Postscript: Widzew would hold on to win 1-0. A few weeks later, they also sealed automatic promotion on the last day of the season. As for LKS, they didn't even make the play-offs.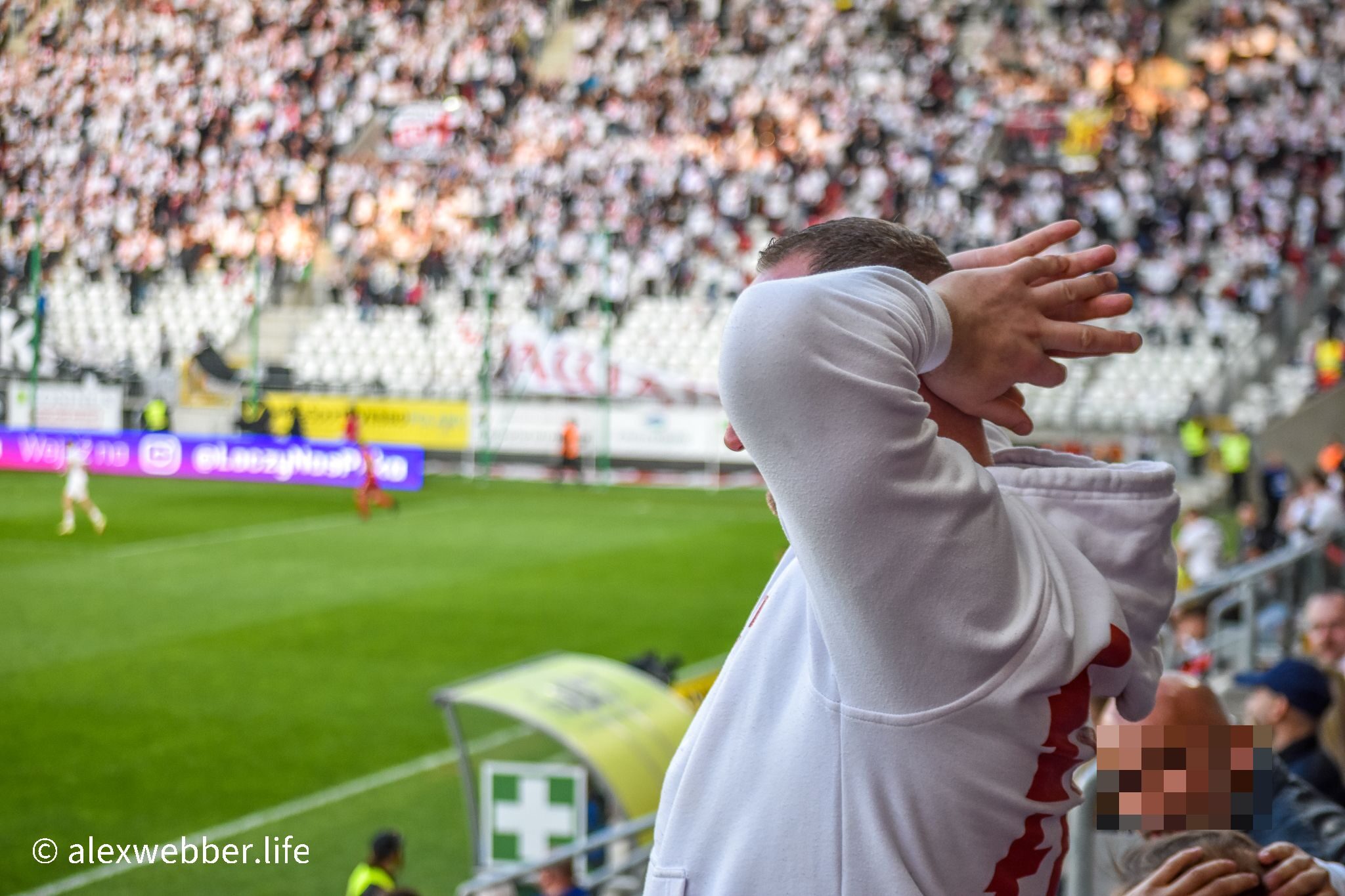 … And After!
To Lodz city centre for a couple of pints to process the game over a big glass of something lovely. But then, after, a few days glamping just outside of town.
Now glamping, if you don't know, seeks to marry the rugged appeals of camping with life's little perks in a way that enables city-dwelling high-flyers (me, yeah!?) to enjoy the natural world without ever getting mucky. Gwyneth Paltrow does it.
So too do I. For the next few days I'd booked a place 20-minutes out of town called WBance – a rural field dotted with cosmic bubble tents. Just brilliant. To go from a match like this to some serene, silent field was a mind-flipping moment. And a goodie at that – for the rest of the week I sat inside a transparent bubble staring at clouds, looking at stars and doing nothing with my life aside from absolutely nothing at all: brilliant.