Date: 1st August 2021 / League: Polish top flight
Final Score: 1-1 / Attendance: 2,328
In A Nutshell
A drizzly, dismal day fails to cast a shadow on a stadium of spectacular eccentricity…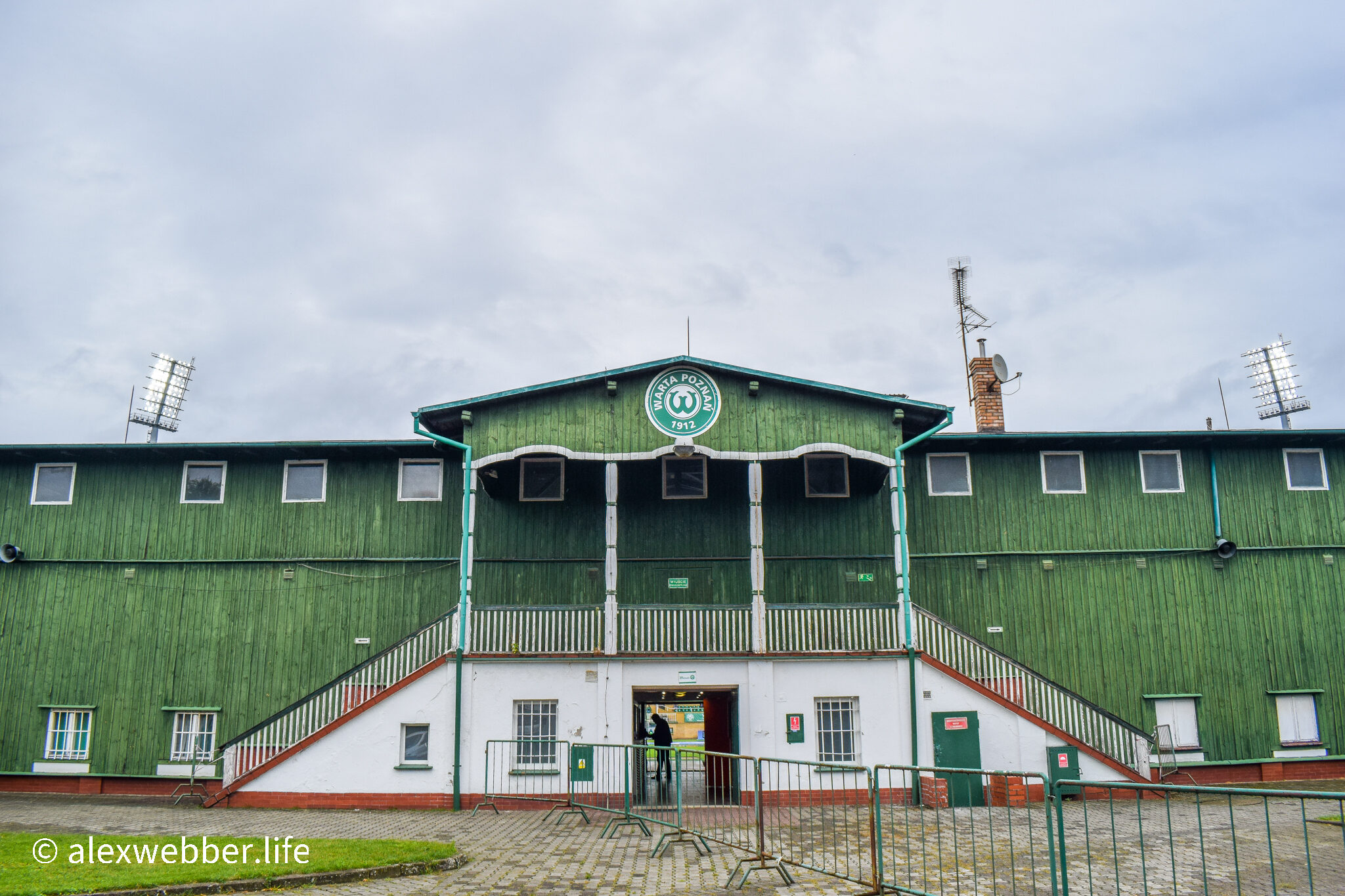 Getting There
Serving as Warta's temporary home, the compact Stadion Dyskobilia is found 50 kilometres outside of Poznan in a tiny town by the name of Grodzisk Wielkopolski. Despite it's size, trains do run frequently to Poznan and take around an hour. Me, I caught a lift from a mate and was there from my hotel and was there in 45-minutes.
Background
I've touched on Warta's history previously (CLICK ME!), so I shan't again, but what is worth repeating is that this team is so small that they have the honour of being just about the only team in Poland that no-one hates. In fact, they're so small that there proper home doesn't meet regulations meaning they have to play their matches 50 kilometres away at Stadion Dyskobilia.
Now that might sound vaguely familiar to some, and that's for good reason. This stadium was home to Groclin Dyskobilia, a tiny side that knocked Man City out of Europe in 2003 (an event so seismic that this town held a street party the very next day). But the good times couldn't last and Groclin were eventually disbanded after Polonia Warsaw essentially bought the club and their place in the top flight (yes, welcome to the odd world of Polish football).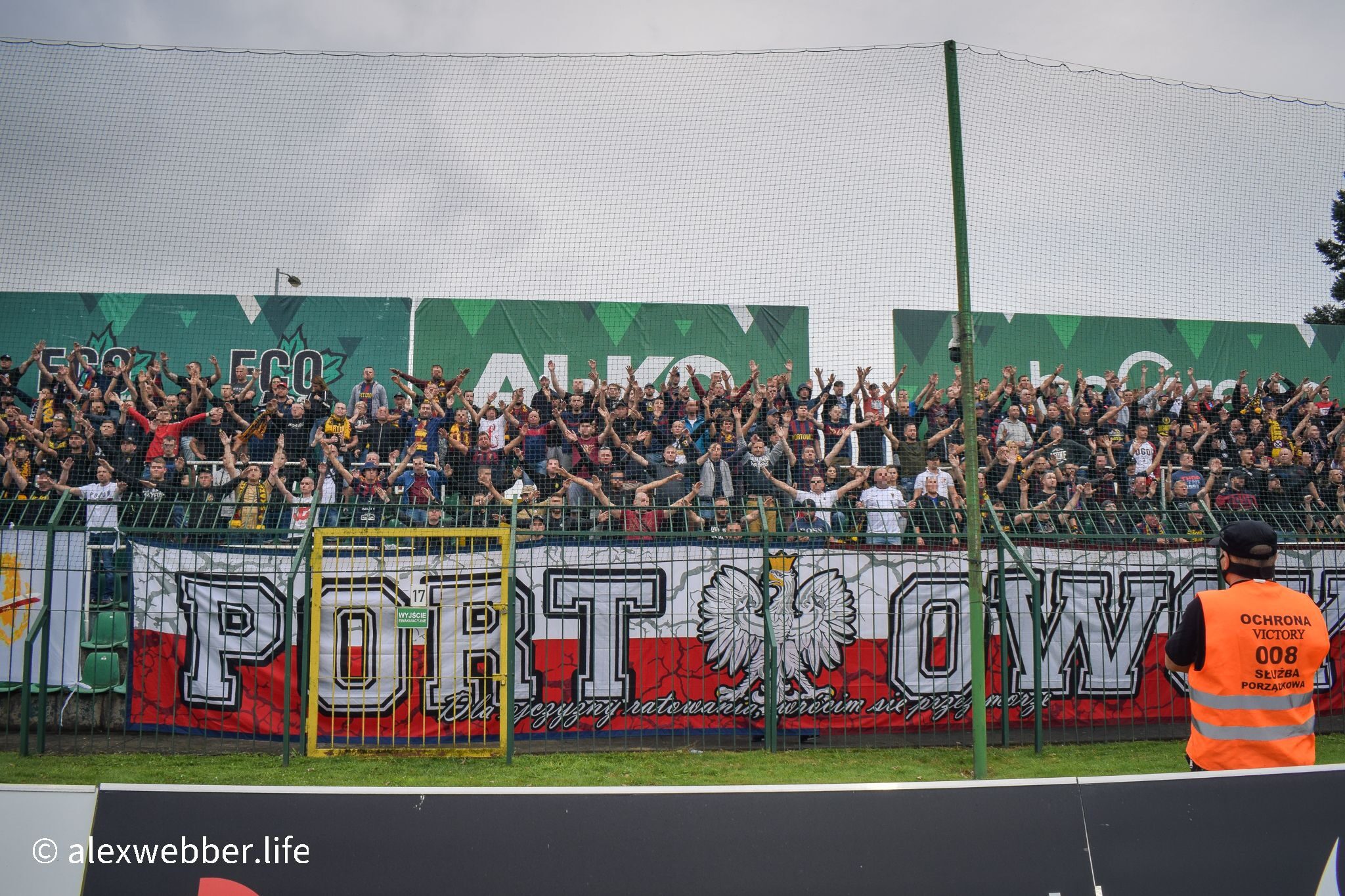 Stadium
Opened in 1925 on the seventh anniversary of Polish independence, standout features include a wooden stand that was in use until 1997. Although now roped off from the public, my photographer's pass allowed me to snoop right in unmolested and explore it at will – like slipping back in time, entering this creaky, cobwebbed relic was a buzz in itself.
It's a miniscule stadium (5,000 or so seats), but composed of so many different odds and ends that it's impossible not to fall in love with it – lots of scaffolds, weird angles, bursts of ivy and even a pitch-side sofa. And another little fact for yer, during the war the stadium was used by the Hitler Youth for sporting and parade purposes.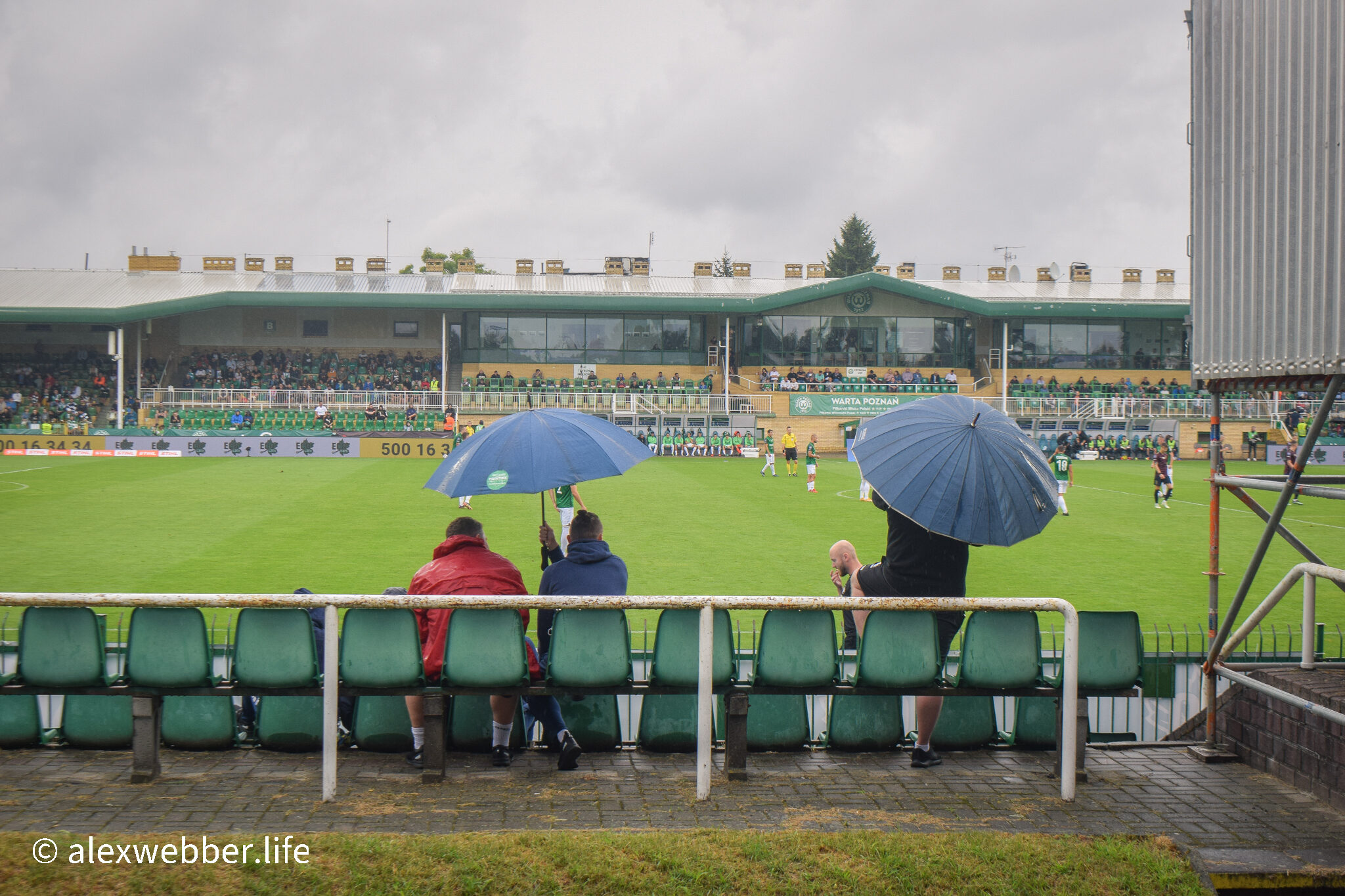 Experience
Warta do have a small band of ultras, but they appear to be boycotting 'home' games so noise was restricted to squeaks from the family enclosure and also a lively following of a couple of hundred from Pogon – their following salvaged what would otherwise have had the atmosphere of a toddlers picnic. As an aside, whilst I was on the pitch with the photographers, should you ever get the urge to check this diamond of a ground, then my driver for the day heartily endorses the VIP lounge and the hostesses within.