Date: 8 April 2023 / League: Polish 3rd tier
Final Score: 1-2 / Attendance: 422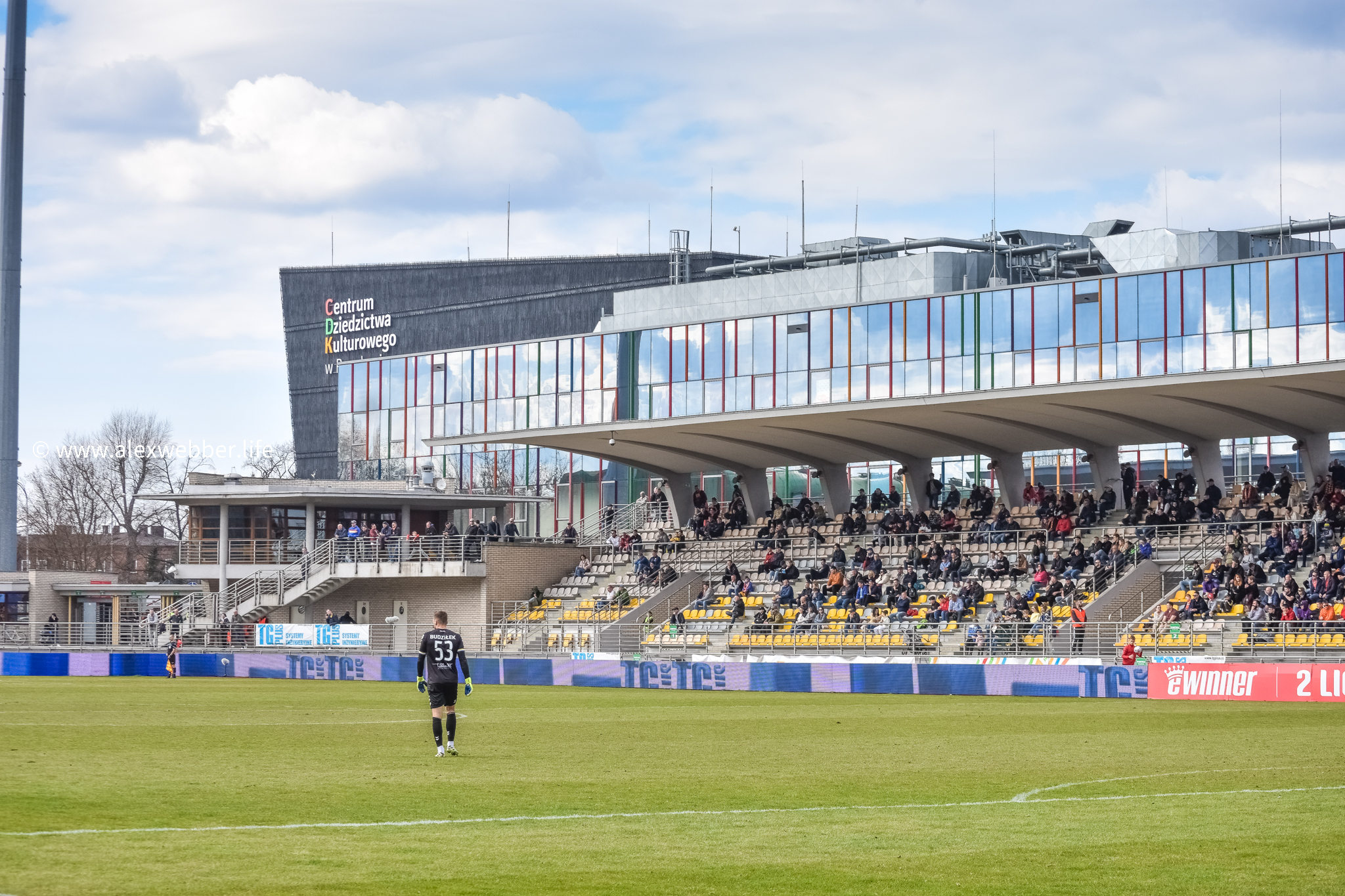 Experience
Easy to reach from the capital – whether by commuter train or, in my case, taxi – Znicz Pruszkow is one of a jillion Warsaw-area clubs whose supporters count themselves, first and foremost, as fans of Legia. Keeping that high in mind, do not expect the locals to have a particularly partisan attachment to Znicz.
When I last visited seven or so years ago, they did at least have a dozen or so ultras making cursory attempts get songs going, but on the evidence presented at this match they'd long disappeared to be replaced by a few hundred voiceless replicants. Yet don't get me wrong, this match had plenty of atmosphere and that was down to the 170-strong away following squeezed inside one of the world's most (in)famous away ends.
Yep, this end is legendary – going viral several times over, it's done the rounds in so many Facebook memes that anyone worth their salt will feel like they know it already. Frequently presented as "the world's worst away end", balls.ie called it "a caged hell", and that can be considered kind.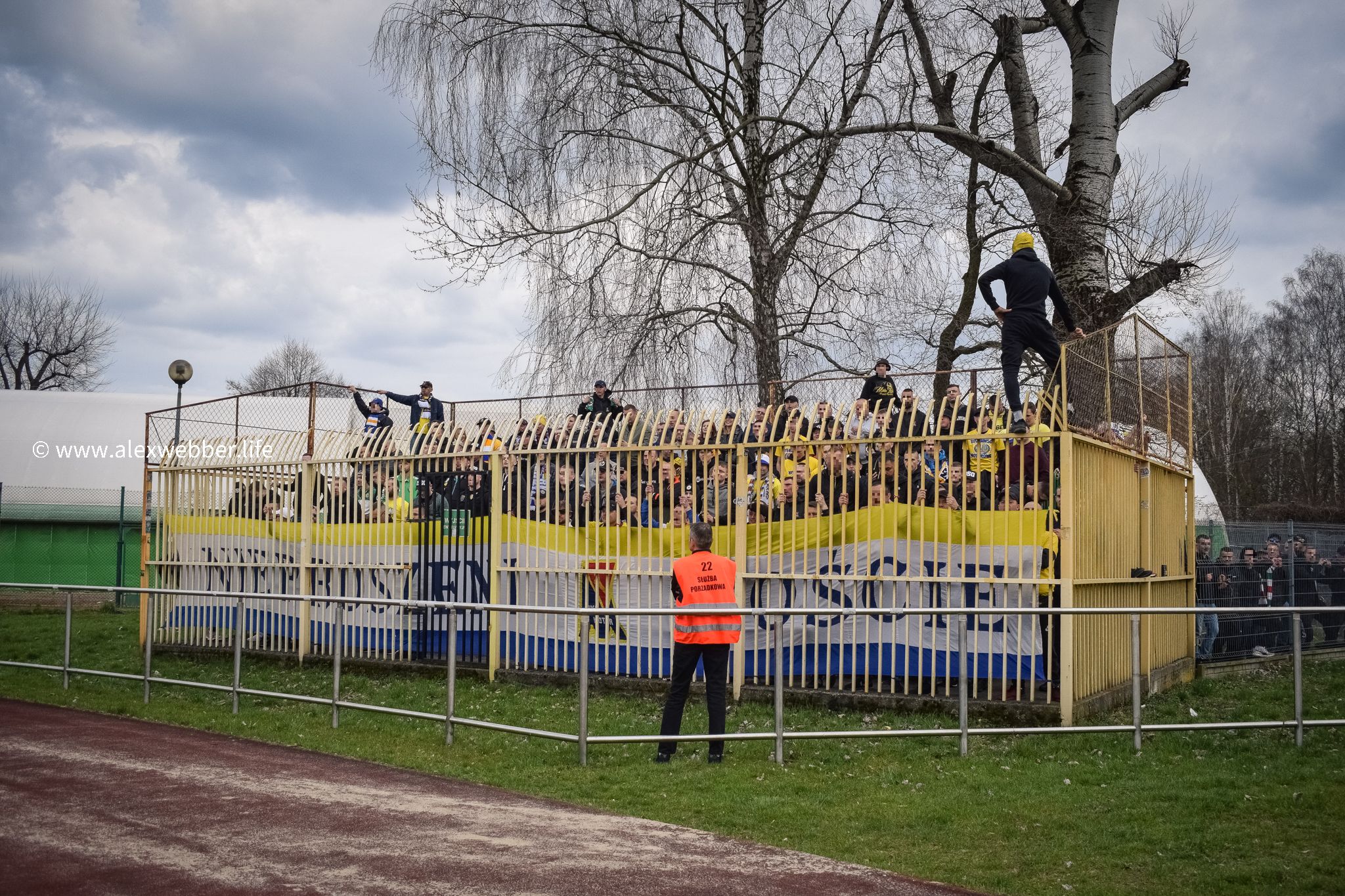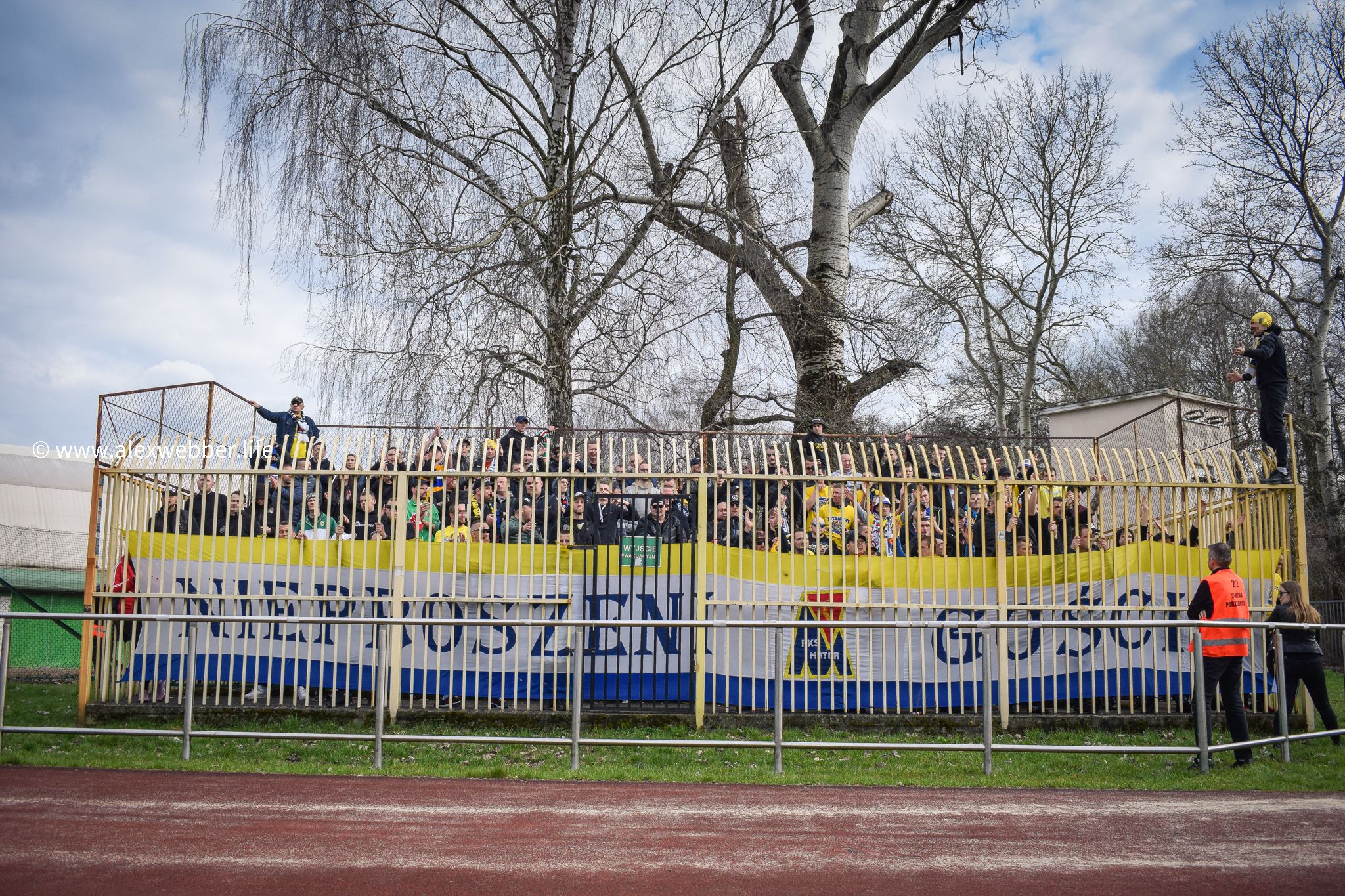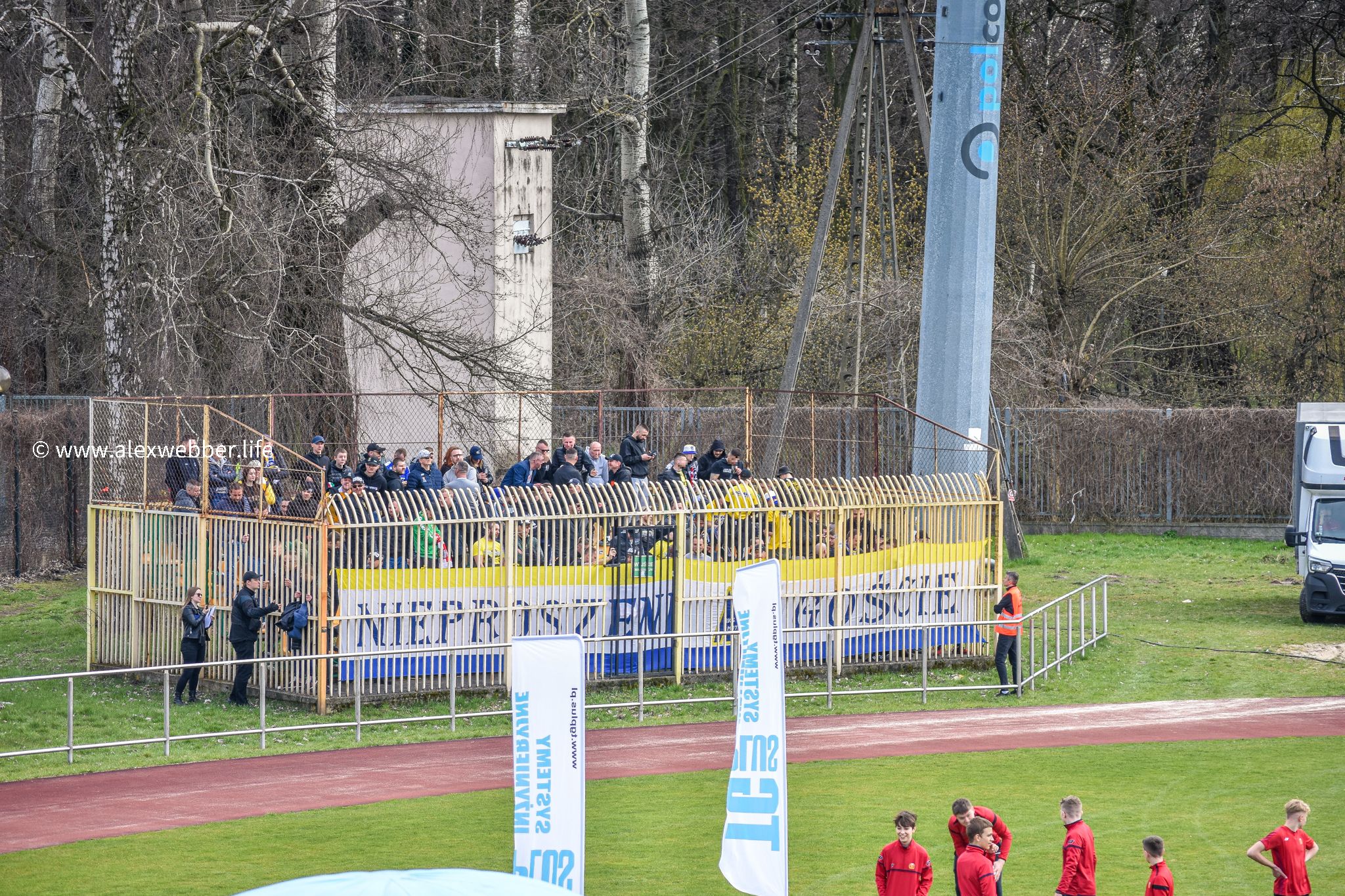 Since seated, what was once a flat, square patch of concrete surrounded by zoo bars now has the relative luxury of boasting a stack of seats bolted to a scaffold. Fancy, yeah? But whilst extraordinary to look at, it says much for Poland that this truly comes nowhere close to being the worst away end I've photographed – in fact, it wasn't even the worst away end I'd photographed that afternoon (for that, CLICK ME!). 
But with that, I risk sounding like the know-it-all that everyone hates, so for the record, although there are far worse away sectors in existence, I'd probably agree that there's nothing comparable at this level of Polish football.
Officially holding 105 fans, Motor had well in excess of that with many choosing to watch the match perched from on top of the fences – the others, lord knows what their view must have been like, but I'd very much imagine that they'd have seen just as much had they had their eyes poked out beforehand.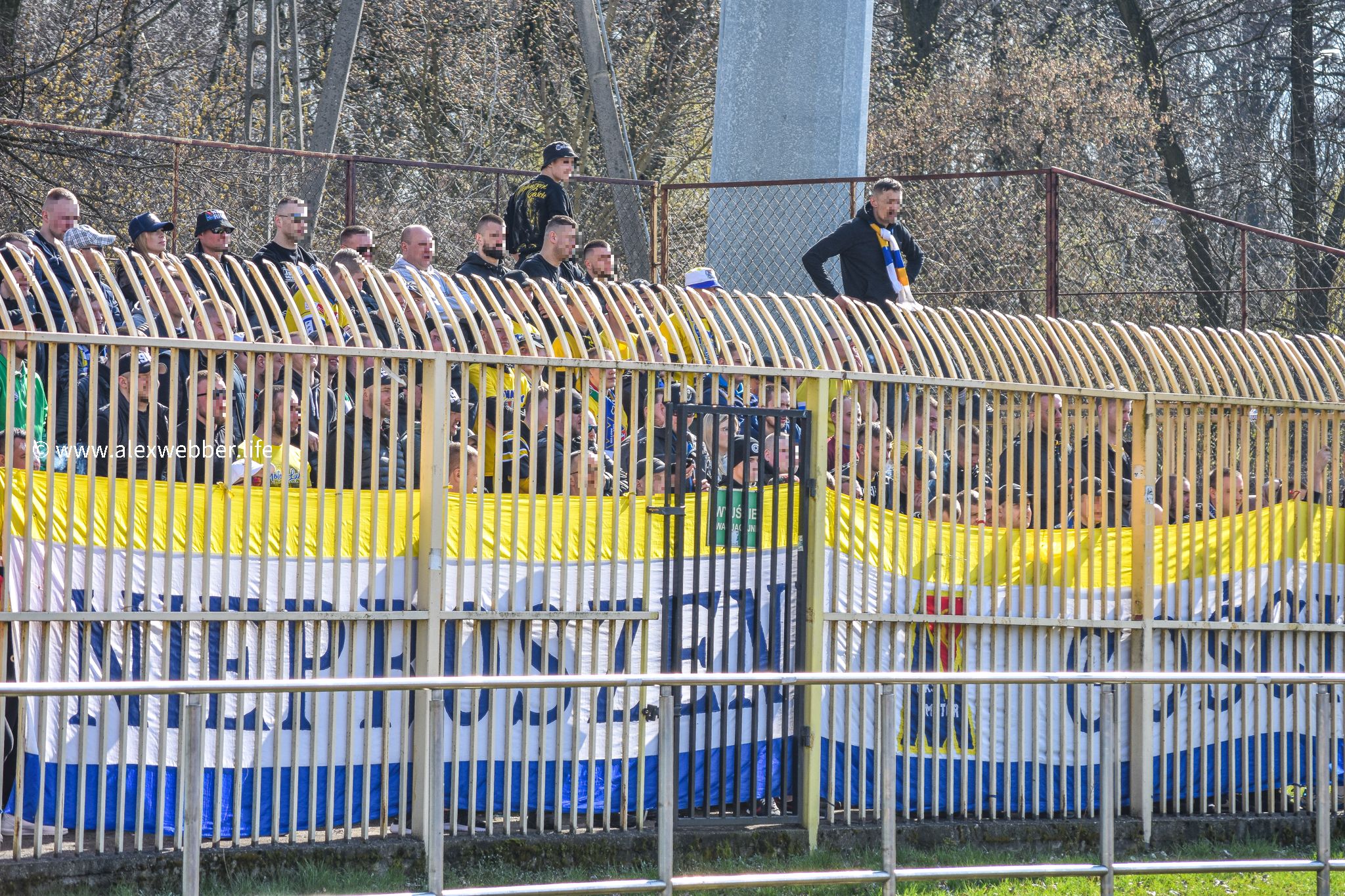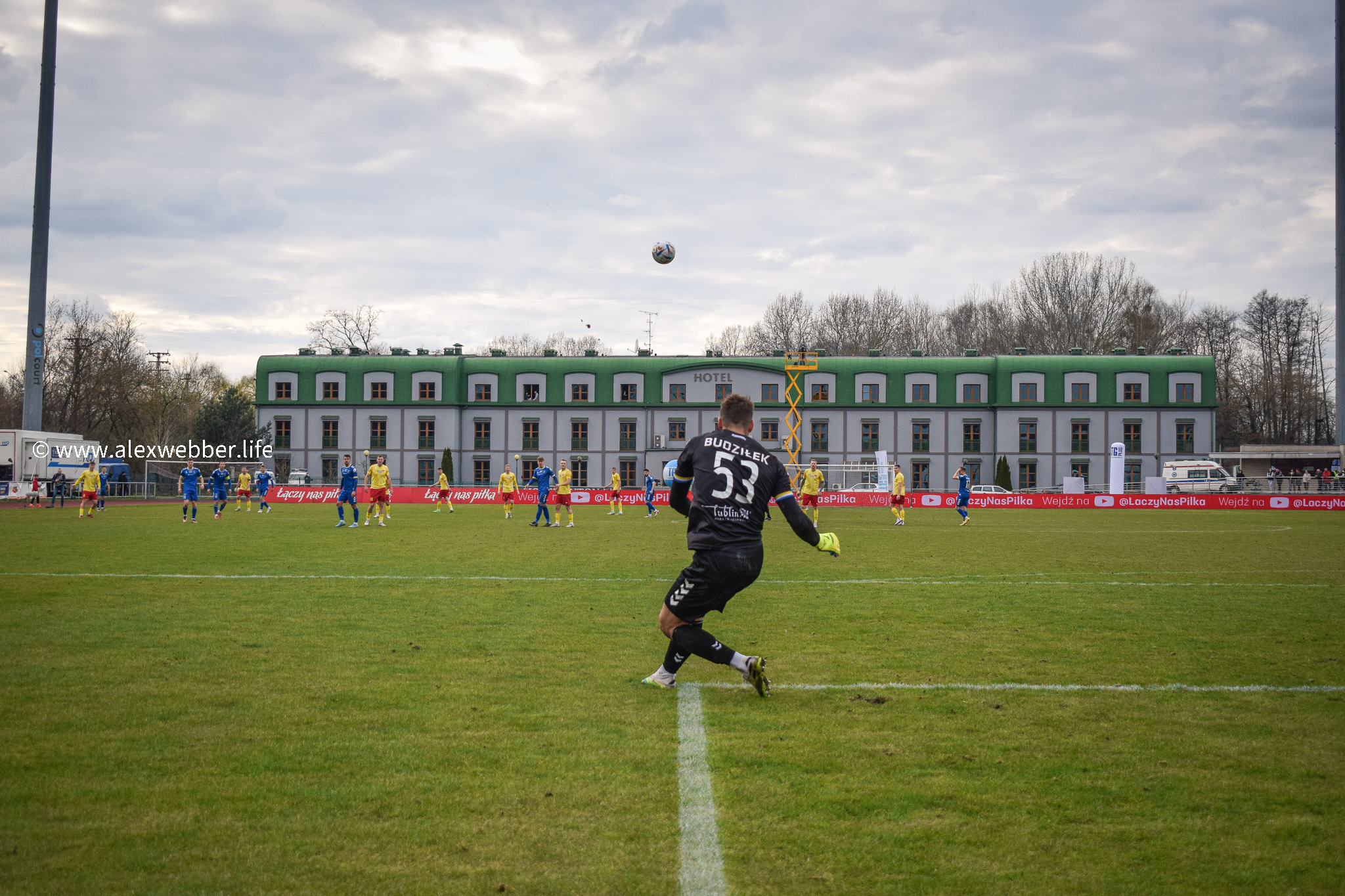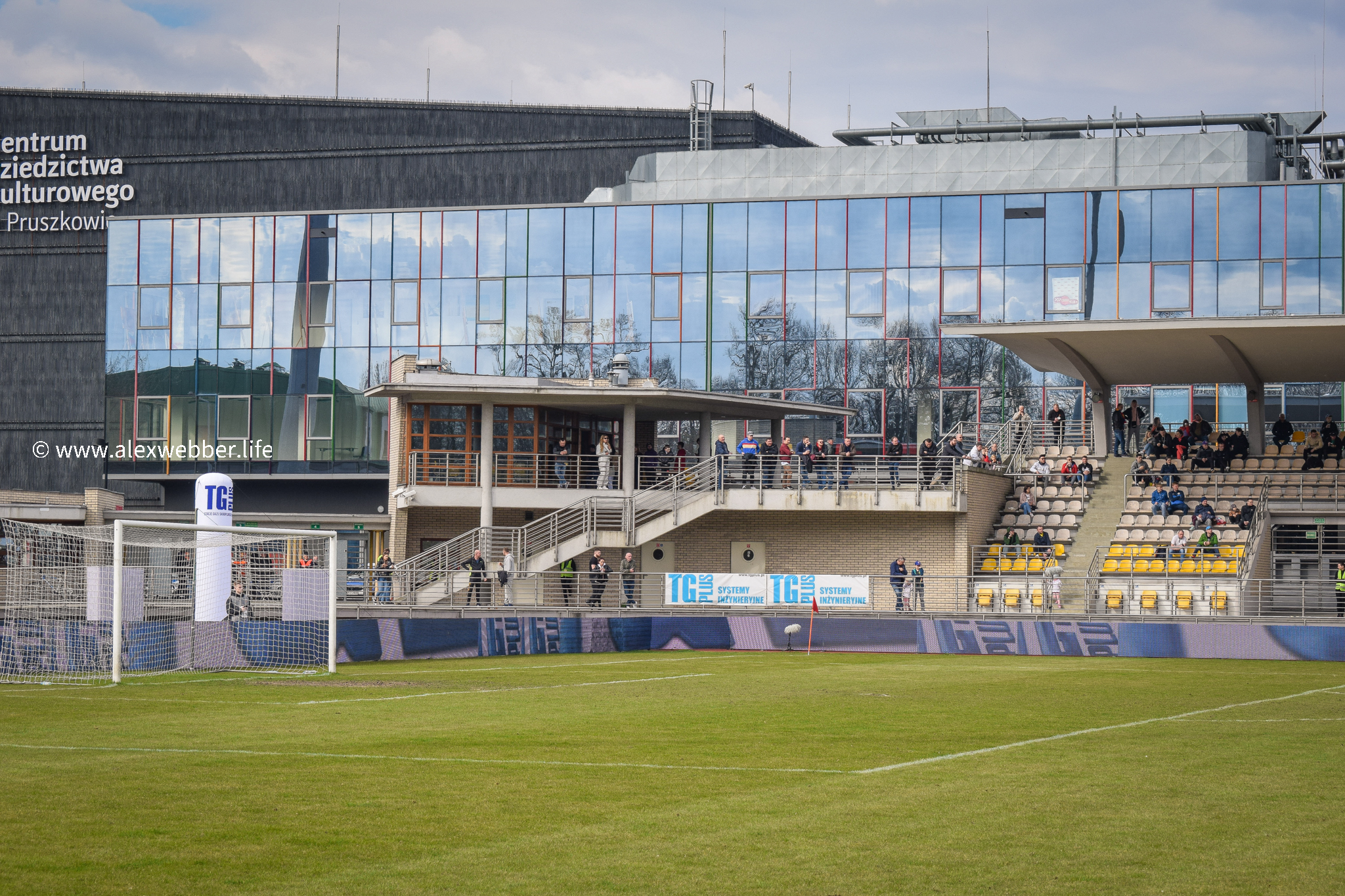 Of course, this did nothing to stop them providing full-throated backing to their side. With the business end of the season coming into sight, this was something of a must-win to keep alive Motor's play-off ambitions, and their followers responded by turning their sector into a bubbling cauldron of noise. Rising to the occasion, their side survived a penalty scare (blasted wide by Znicz) and a red card to cling on for a vital 2-1 win.
Yet as brilliant as it was to see such a savage away end full to the brim, this ground should by no means by defined by its basic guest facilities. In stark contrast to the visitors sector, the rest of the stadium is an impressive modern work featuring a hotel at one end, and a smart side stand offering unimpeded views of the pitch in front. Bookended by two towers with wooden decks overlooking the football field, one of these brick bastions houses the VIP section, and the other a small bar decorated with footballing trinkets.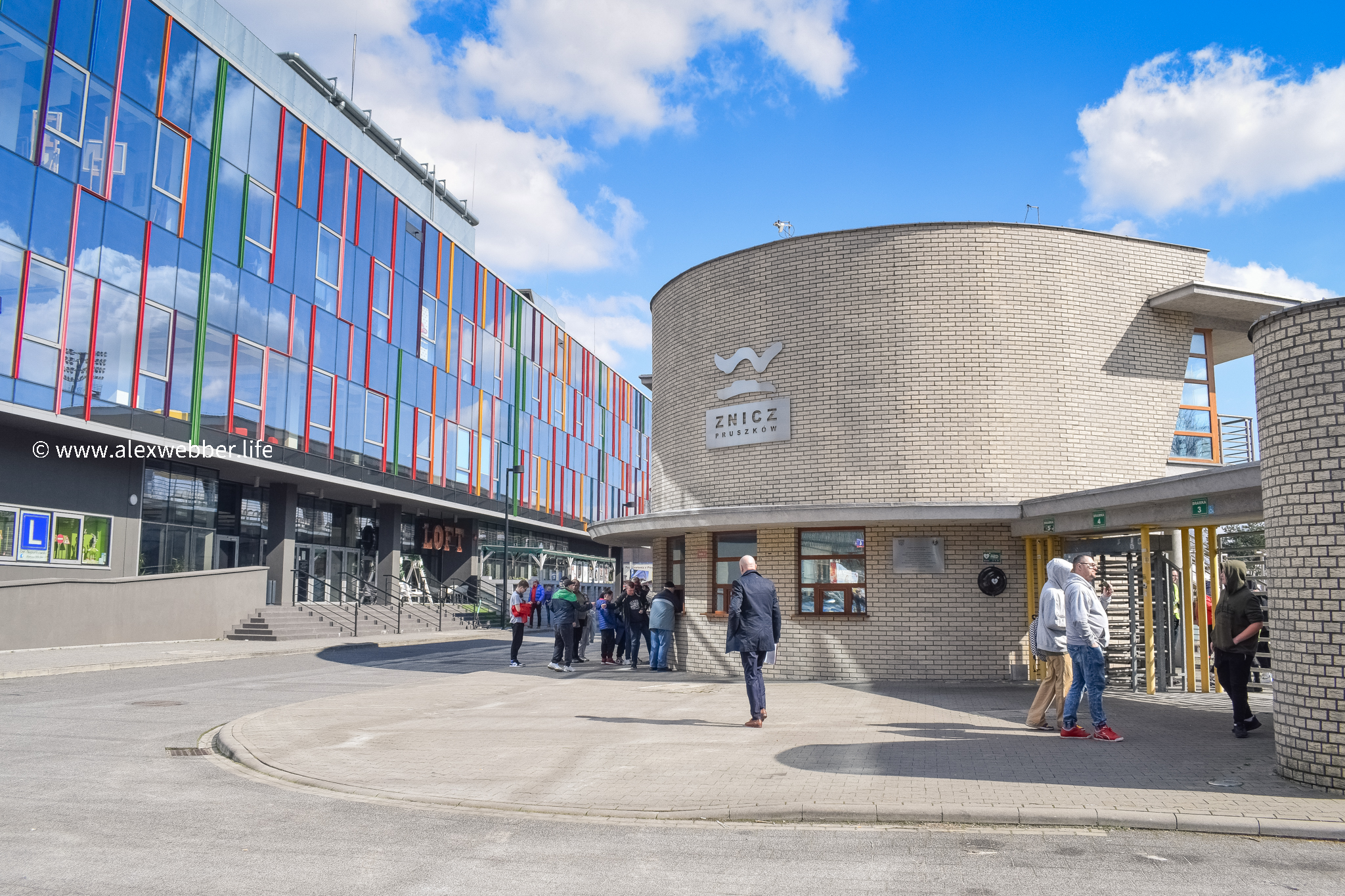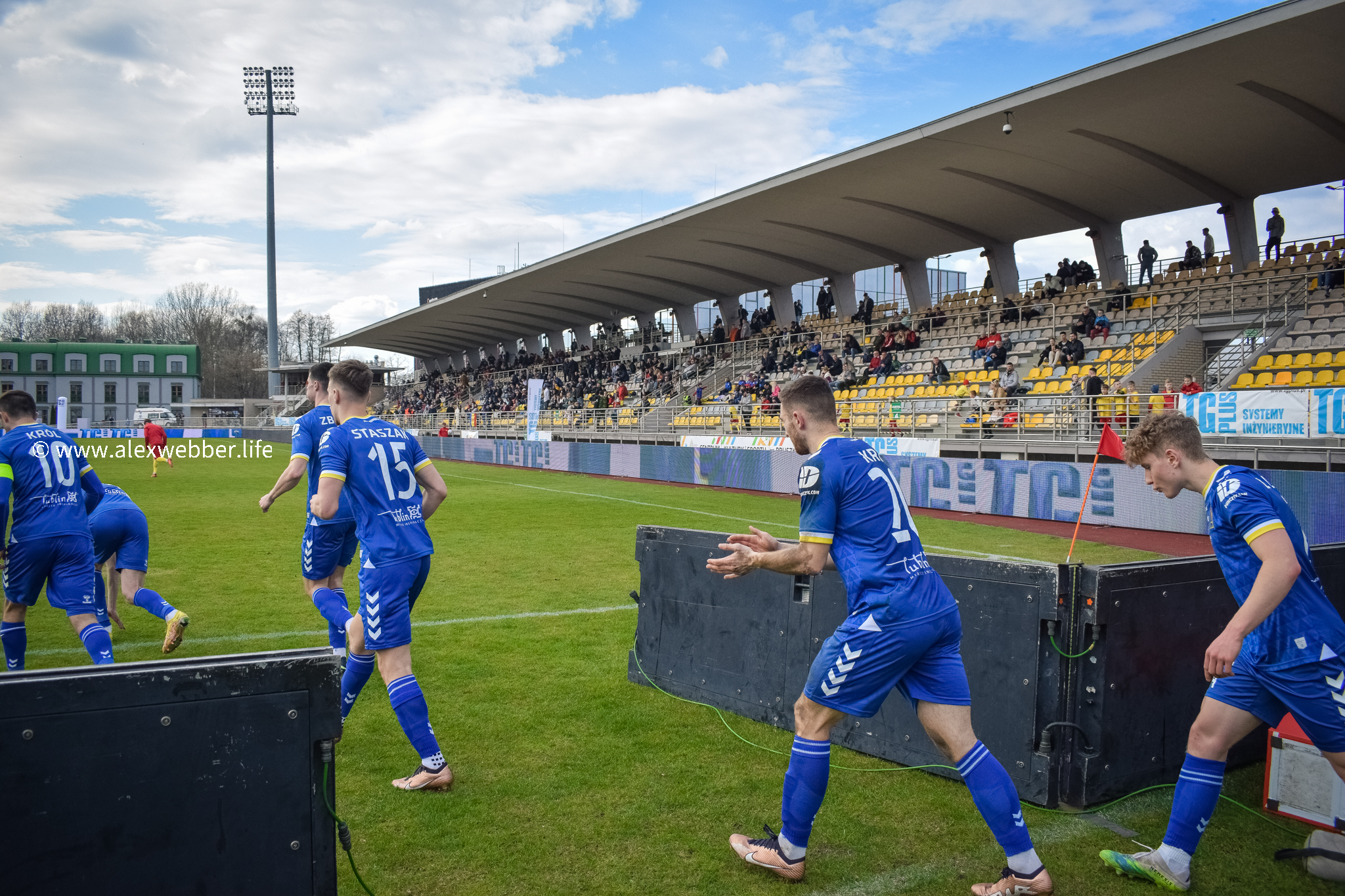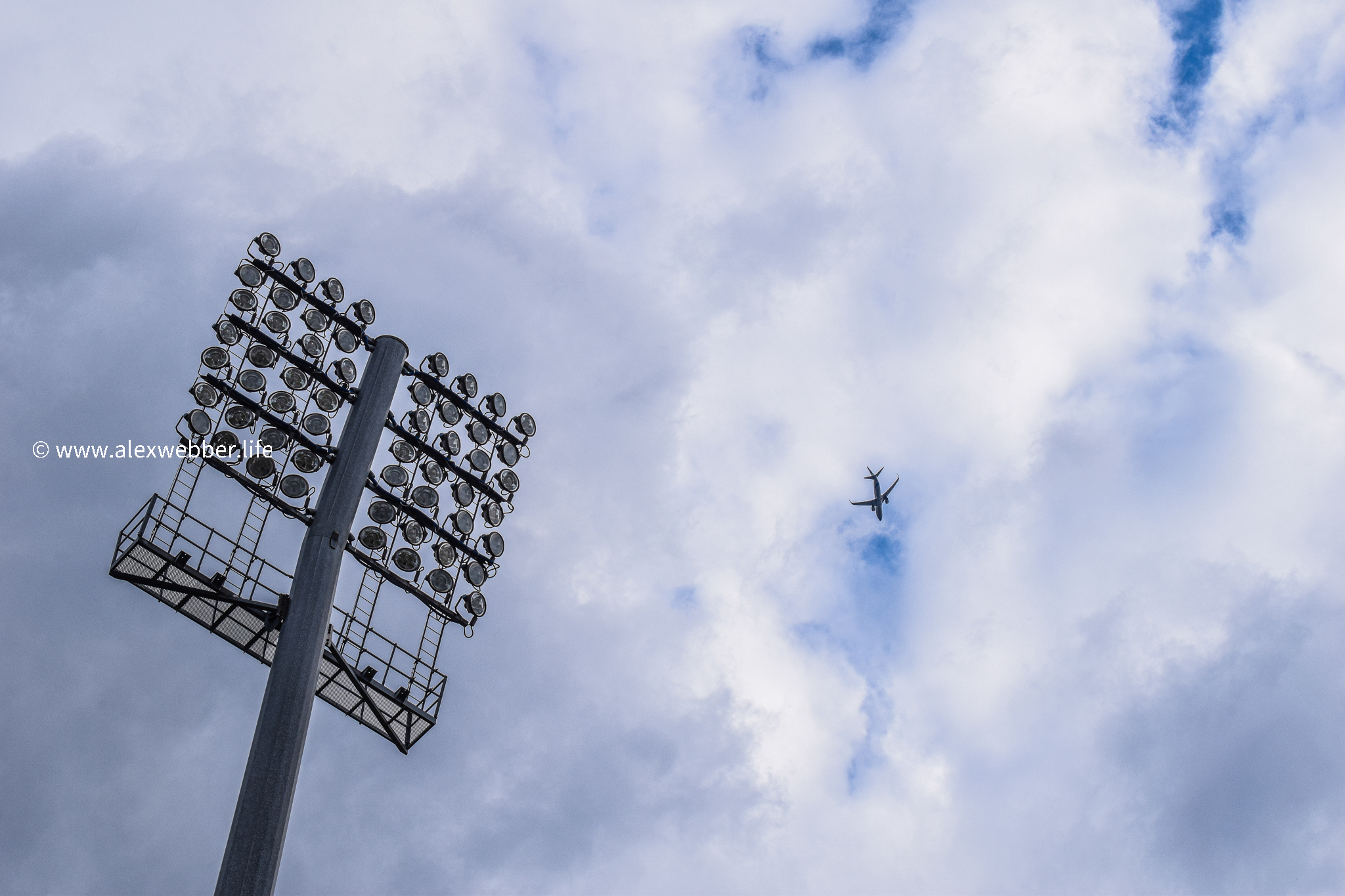 Background
Domestically, the town of Pruszkow is perhaps best-known as the home of the Pruszkow Mafia, an organized crime clan that wreaked havoc upon Warsaw during the 90s and early 00s – it was here that mobsters with nickname such as Wanka, Kielbasa (that's 'sausage' to English-speakers), Masa and Barabas would plot their rackets and robberies and contract killings. Nowadays, however, Pruszkow has adopted a pleasant sense of normalcy to carve a reputation as a likeable, middle-class town just west of the capital.
This, though, does not tell the full story, for where once this town of 60,000 was a bi-word for criminal capers, today people are just as likely to know it as the place that launched Robert Lewandowski's career into orbit. Recruiting him from Legia Warsaw after he'd been told he'd never make it, local club Znicz Pruszkow signed one of the greatest players in the world for the equivalent of around GBP 1,000 – yep, that's GBP 1,000 with no zeroes missing.
Bagging 36-goals in two seasons, it's said that Lewandowski amassed so many Motorola flip phones (the award for those that won Man of the Match), that he began giving them away to teammates. Anyhow, as we all know, he went on to bigger things – Znicz, on the other hand, did not.
Pretty much mired in the third tier ever since Lewandowski's departure in 2008, you nonetheless get the idea of a club run intelligently and within its own means.