Date: 1 April 2023 / League: Polish 3rd tier
Final Score: 1-0 / Attendance: approx. 2,000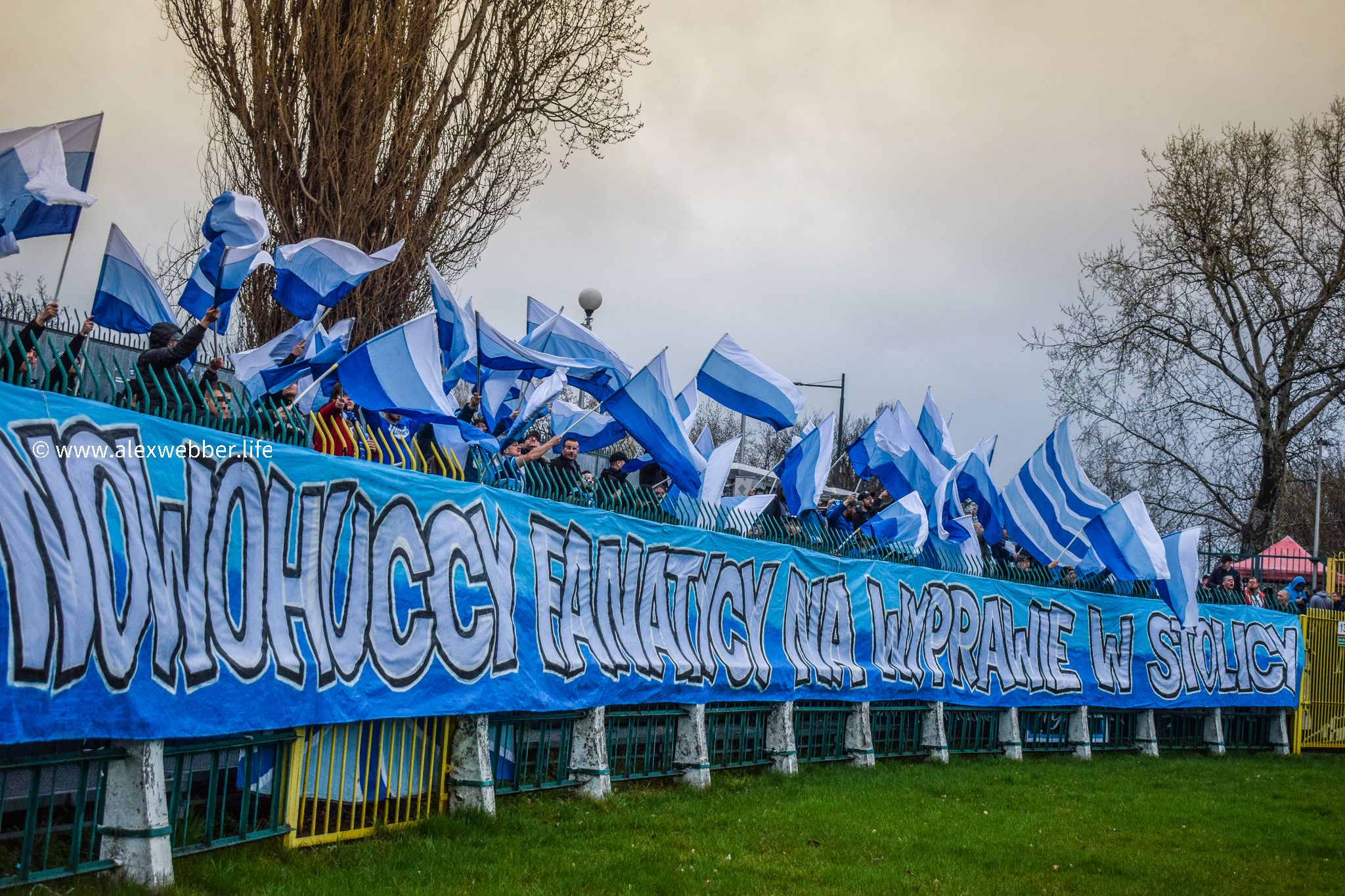 Experience
The last decade has been bitterly cruel to Polonia fans – having dropped through the leagues, there were times when the club looked destined to die altogether. But all things must pass, and that includes sallow years.
Taken over during the lockdown era by an ambitious Frenchman that first arrived to Warsaw as a student two decades back before successfully building an IT empire, Polonia's fortunes have found themselves lifting ever since – peaking with a dramatic promotion to close the 2022 season (for that, CLICK ME!).
Now in the third flight, you can feel that renaissance is in the air – certainly, that was the overriding sensation that defined this match. Attracting a bumper crowd in excess of 2,000 (you have to understand, that a few years back Polonia's attendances had sunk to around 600), from the very off it had the air of a day of celebration: outside, food trucks and beer tents did thriving business whilst younger ultras worked the throng to whip up cash to fund future tifo arrangements. Not even the dank, overcast skies could dampen the positive mood that seemed to prevail.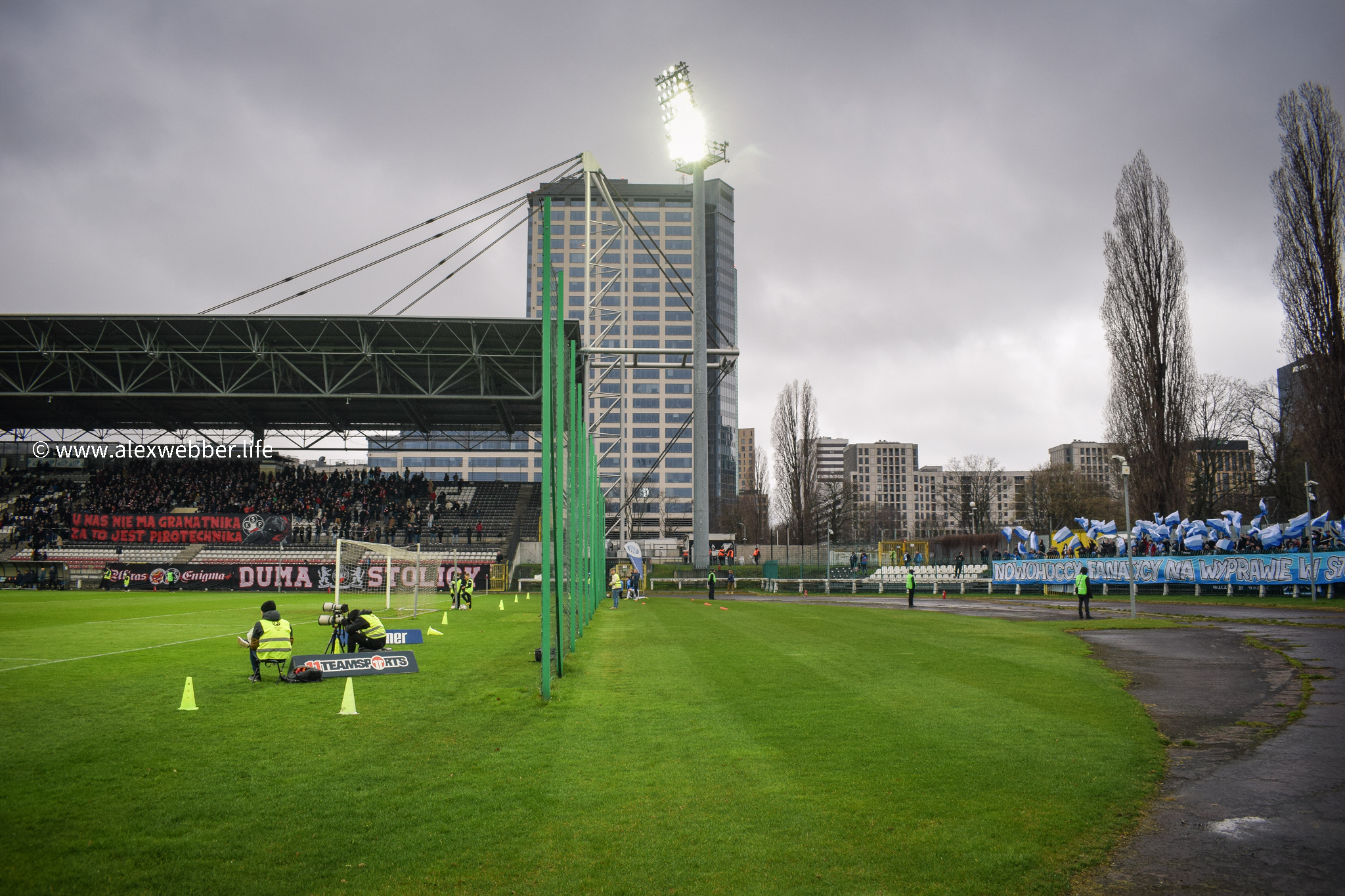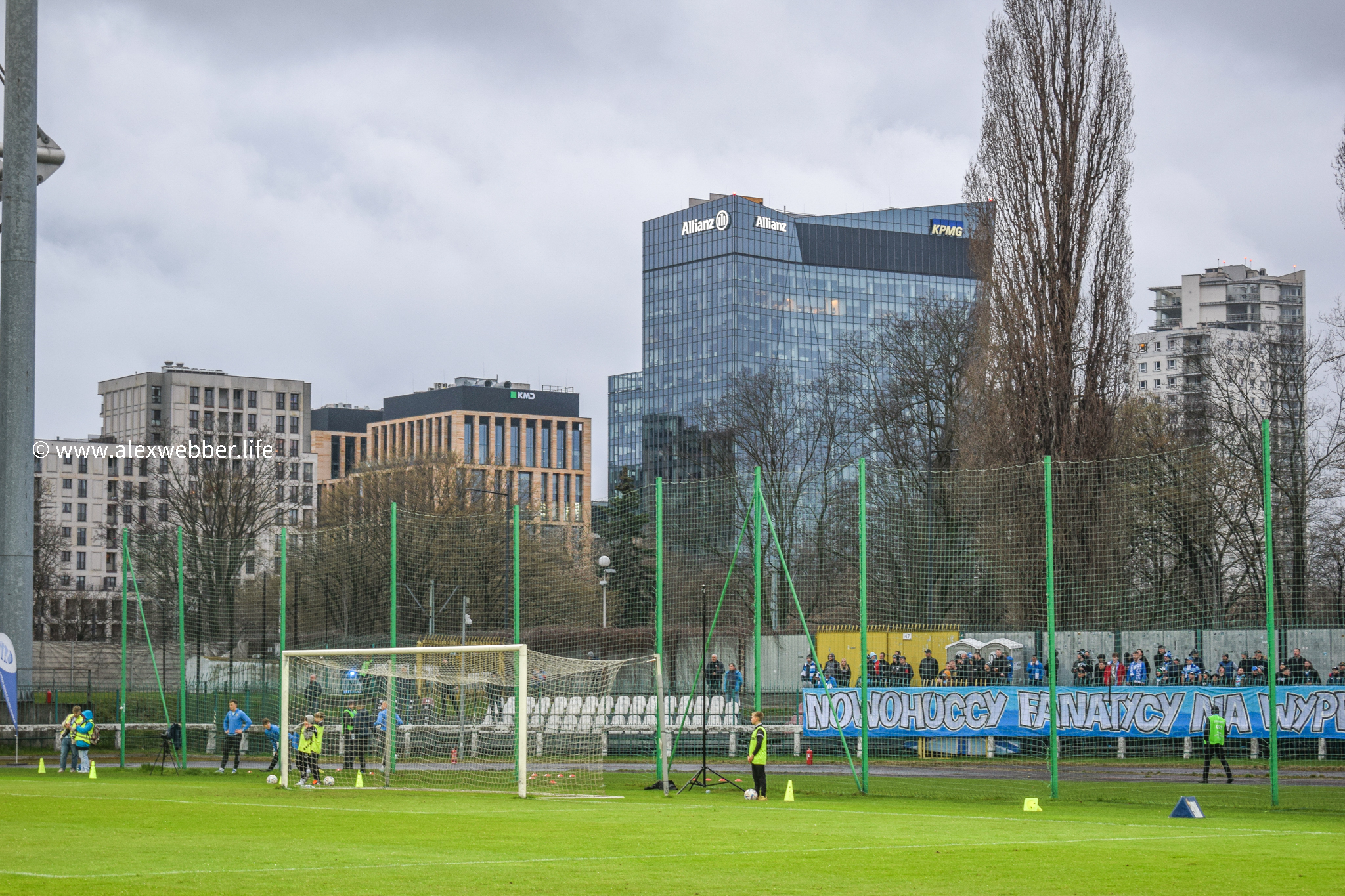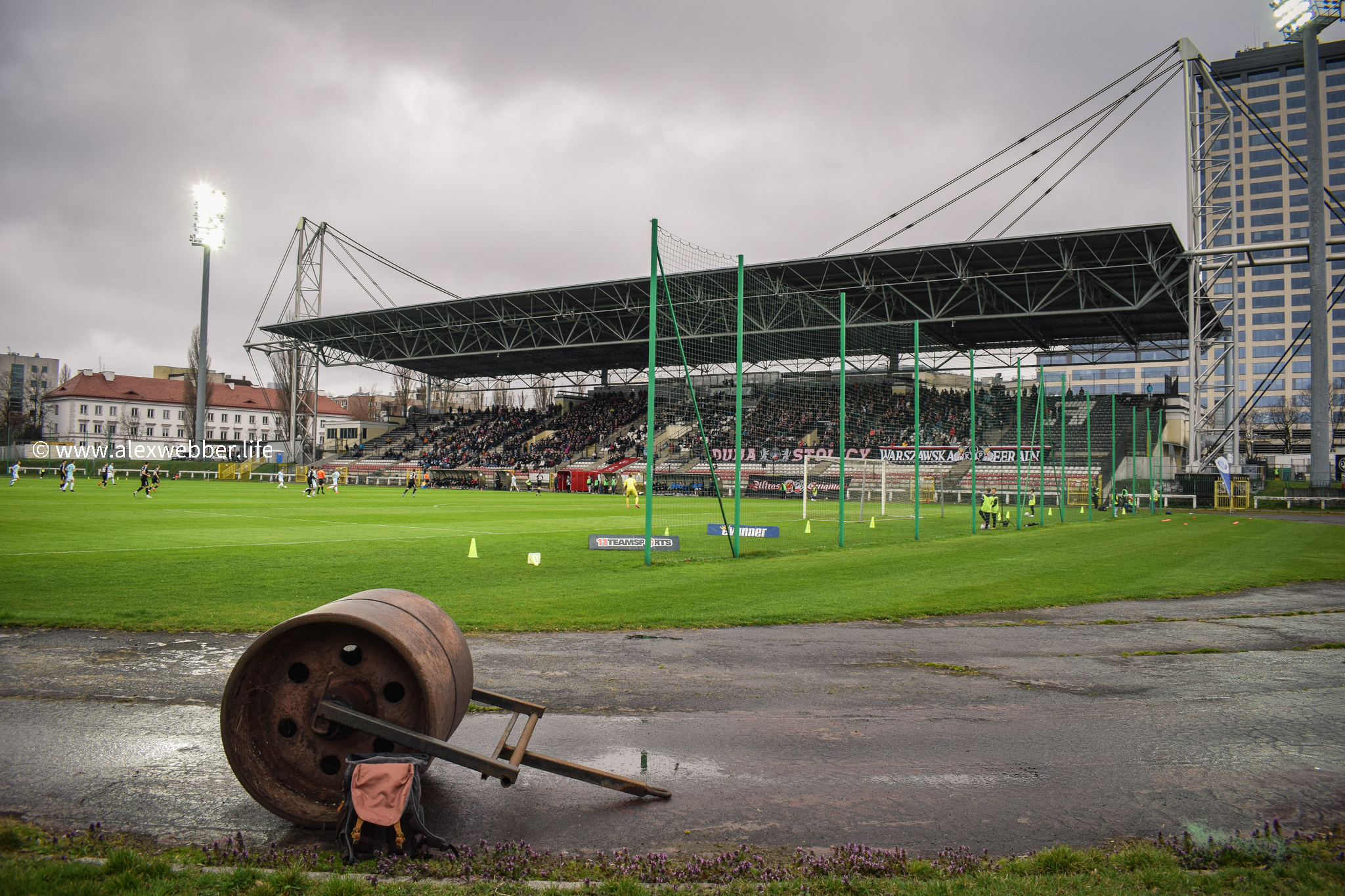 Yet before I go on, this in itself warrants a footnote. As a general rule, Polish clubs overlook things like off-field amusements, but at Polonia you really do have cause to linger – equipped with your pre-match sausage, it's a welcome feeling to mingle among the fans that gather underneath the colonnades of their historic grandstand.
And within, there's the small matter of my favourite football pub in the country. Called the Czarny Koszule (The Black Shirt), this cramped and often sweaty space is festooned with club mementos and fridges packed with beers that go far beyond the mainstream piss peddled around Poland's other football grounds – sure, you can have your big brand yellow fizz if you insist, but you'll also find a fridge packed with craft brews from maverick, boundary-pushing breweries such as the legendary Artezan.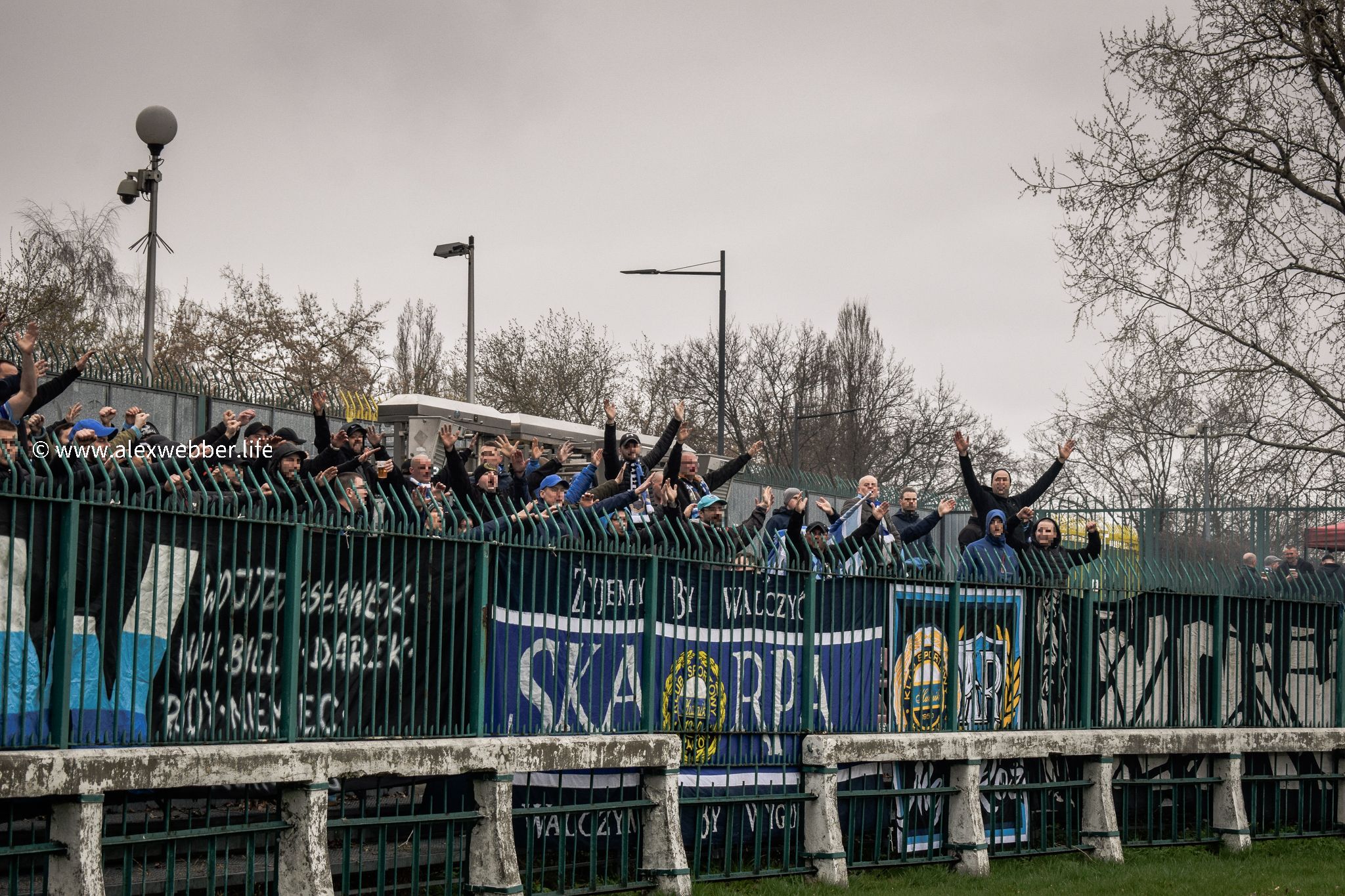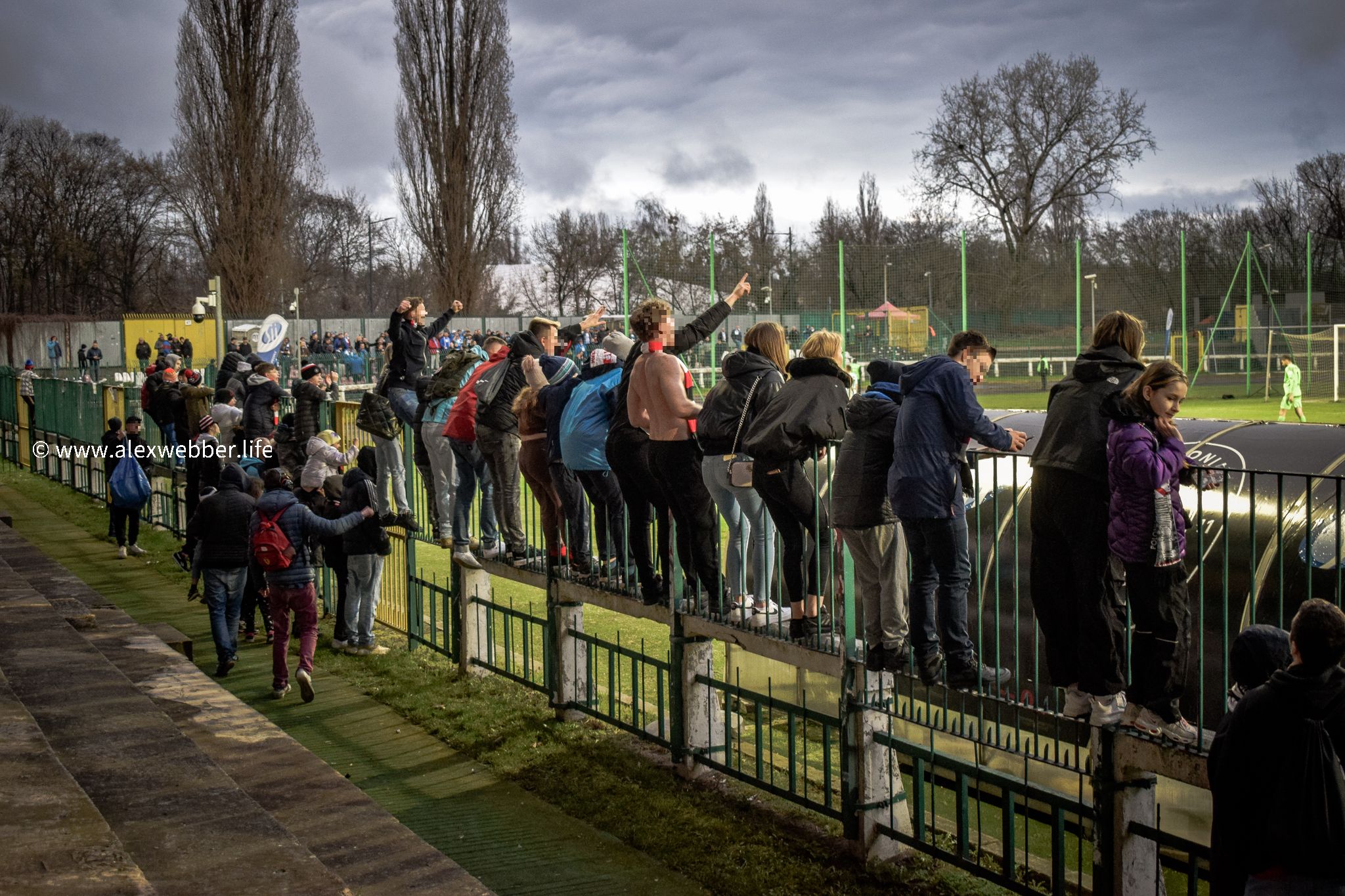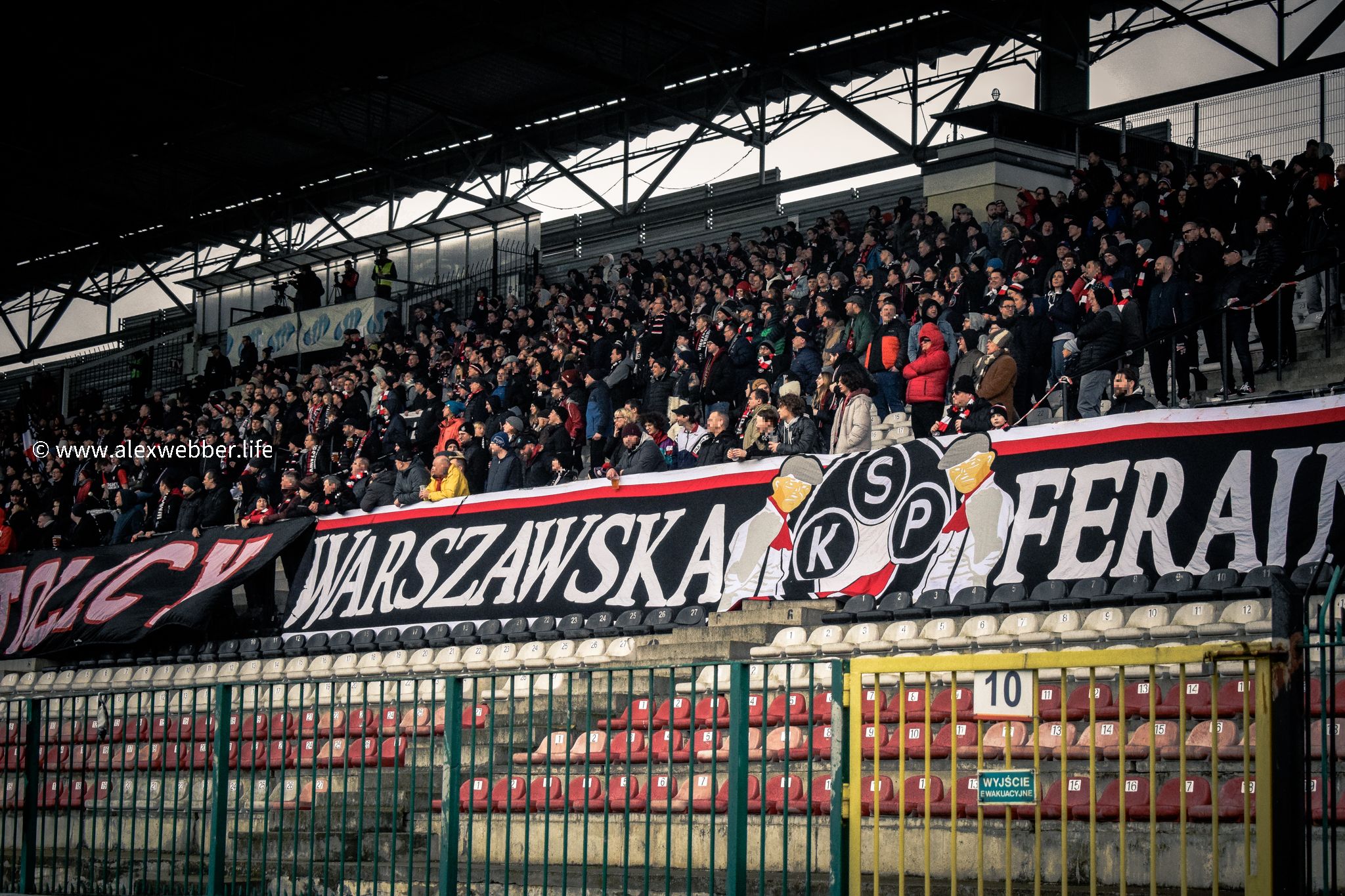 As for the match itself, this offered up a cracking atmosphere despite the continued closure of the Kamienna – the spiritual home of Polonia's ultras. Offering staunch backing from the grandstand, the home fans made a din throughout with the volume reaching a new level entirely on the stroke of 70 minutes – picking this as the designated moment for their pyro show, the stand exploded into a flaming sea of flares and smoke swiftly after the requisite flag drop had been made.
This, too, demands an explanation: allowing the ultras enough time to switch into non-identifiable clothing, the flag drop was marked by an accompanying banner announcing: "we don't have grenade launchers, only pyrotechnics." The meaning? Well, late last year Poland's chief of police, having freshly returned from visiting his opposite number in Kyiv, decided to dick around with the grenade launcher that he had been generously gifted.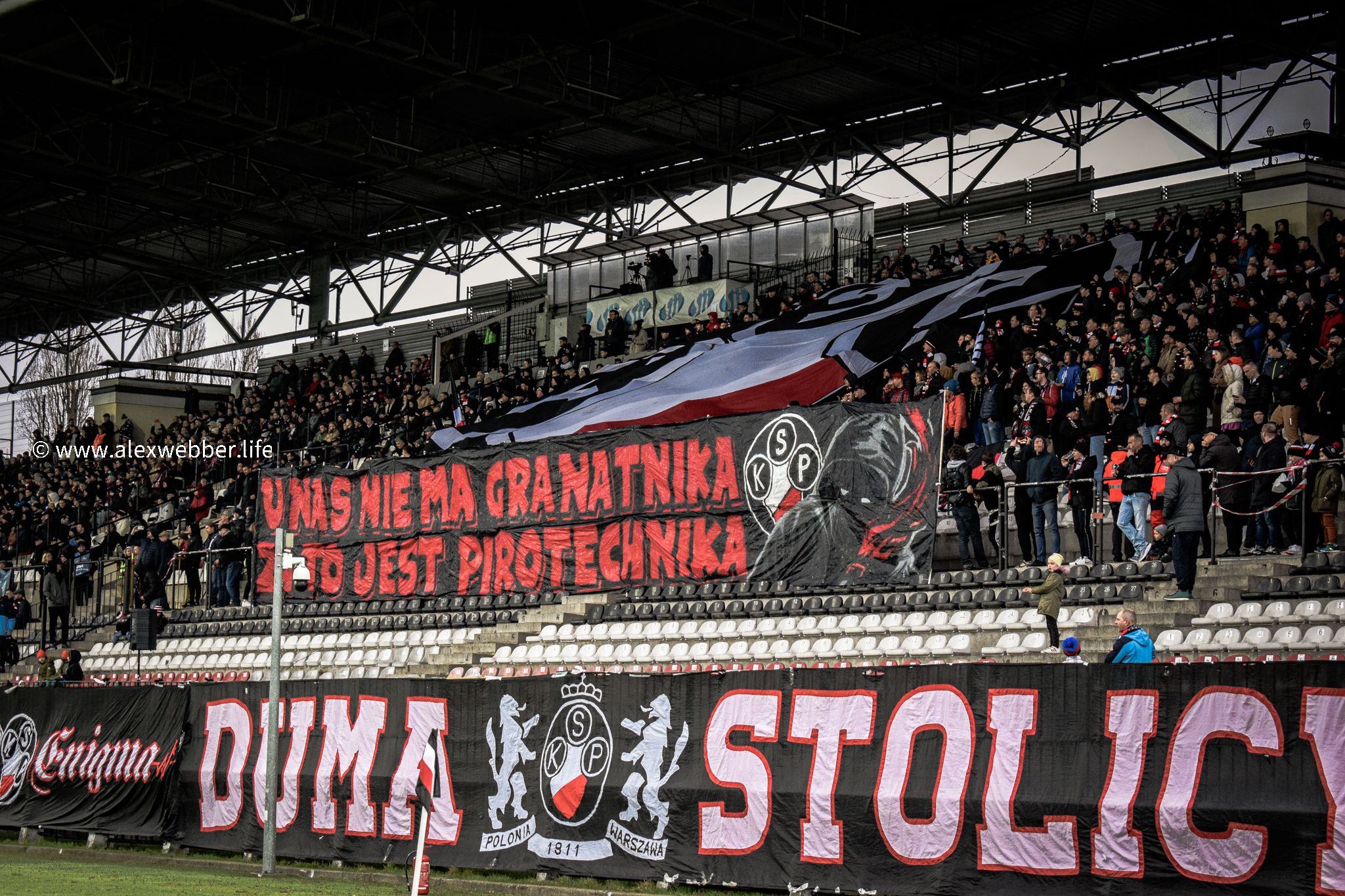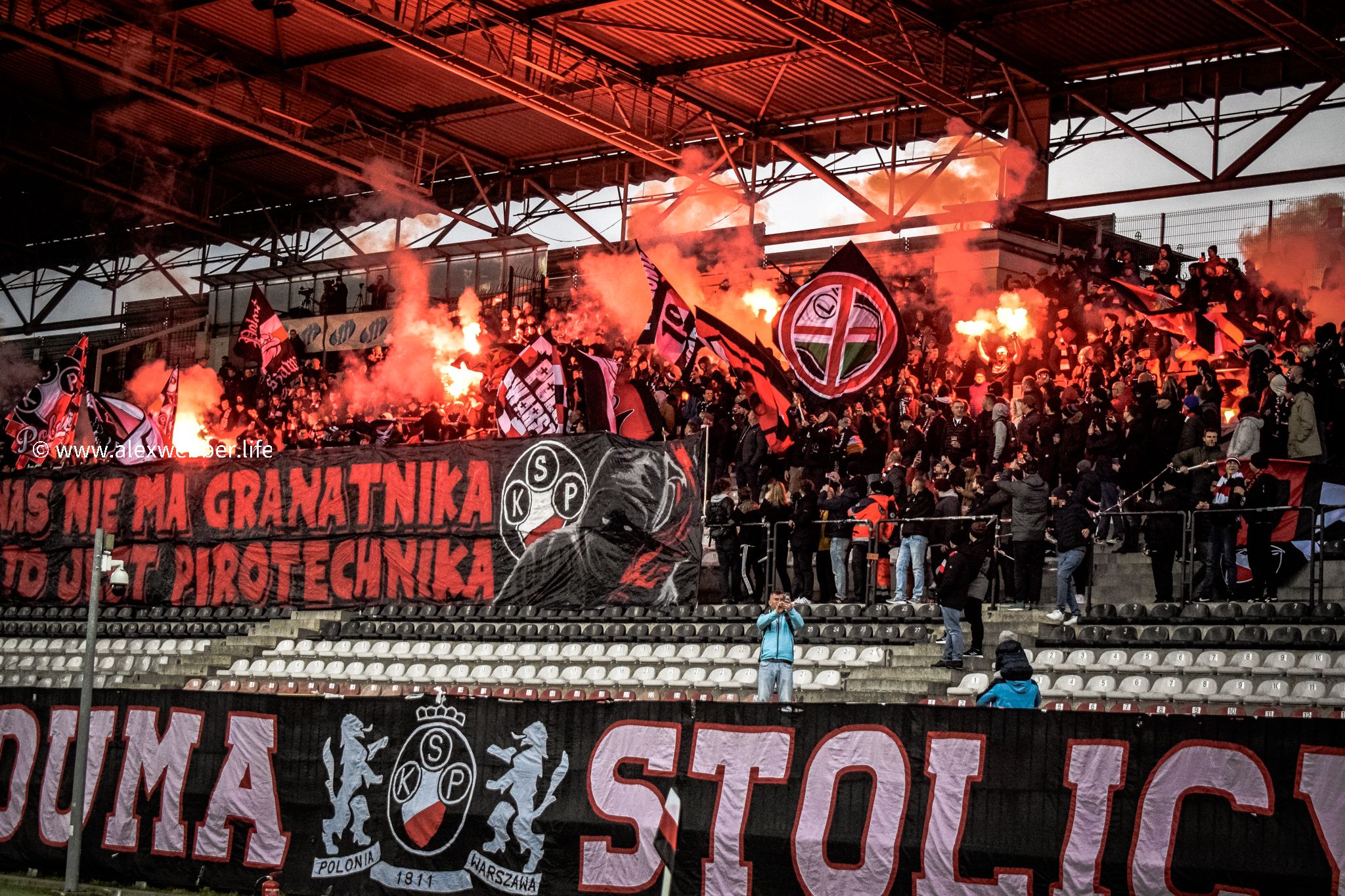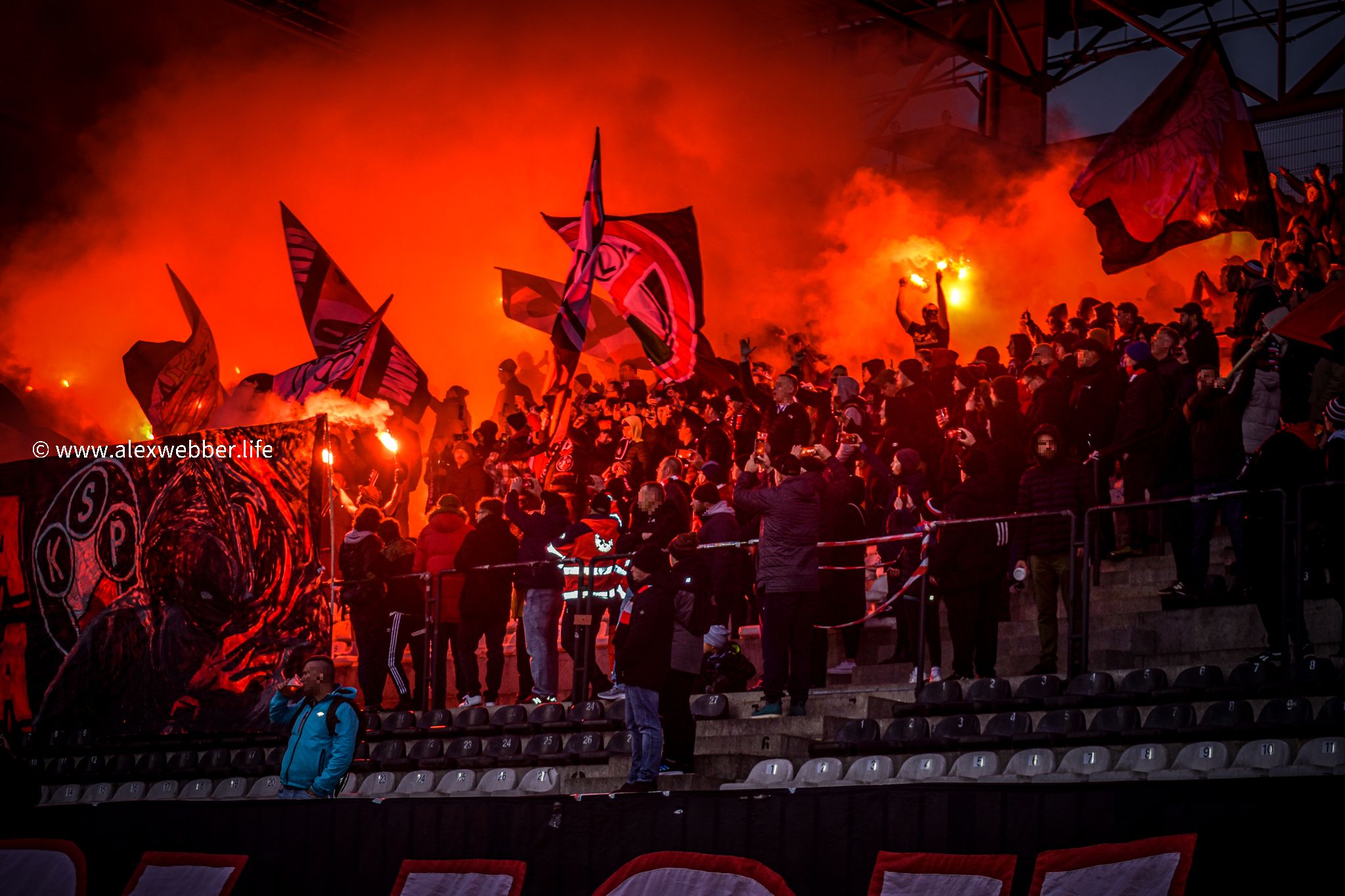 Choosing to do so in his office just down the road, the hapless cop failed to check if the weapon had been deactivated… It hadn't. Boom. So yeah, let that explain the meaning behind the banner.
But it wasn't just Polonia's fans that were in a lively mood. Playing in the capital for the first time in approximately 25-years, Hutnik had raised a very respectable following of just under 200. With their club overshadowed by city rivals Wisla Krakow and Cracovia, their fans too deserve much credit for avoiding the easy option to instead stick with their local side.
Gaining entry only around the 30-minute mark on account of stringent security checks, they nonetheless managed to smuggle in a plethora of smoke bombs that would later blanket the pitch in a thick fug of mist. Twinned with a flag display that was just about visible over the billowing smoke, Hutnik's fans were an absolute credit.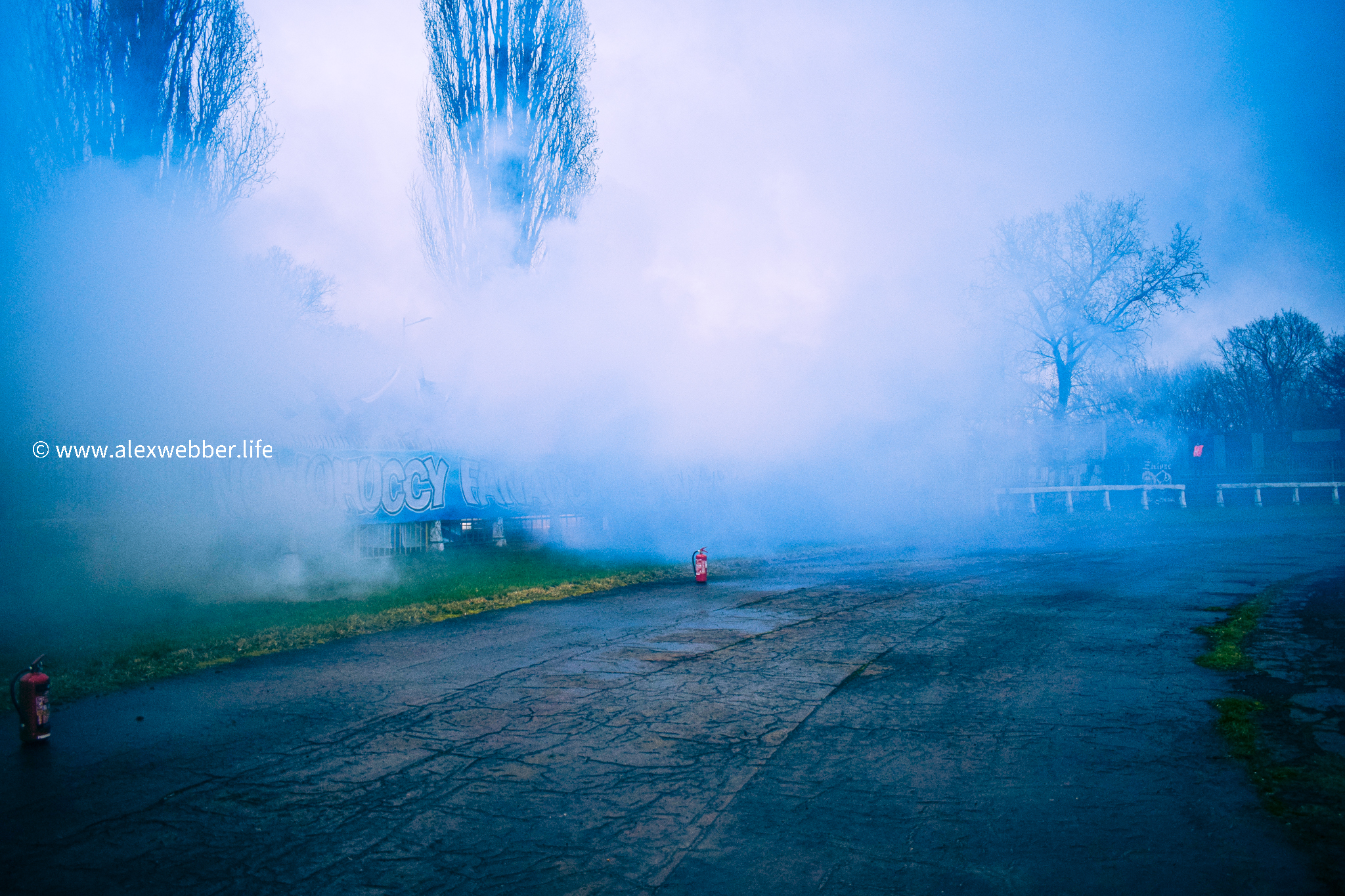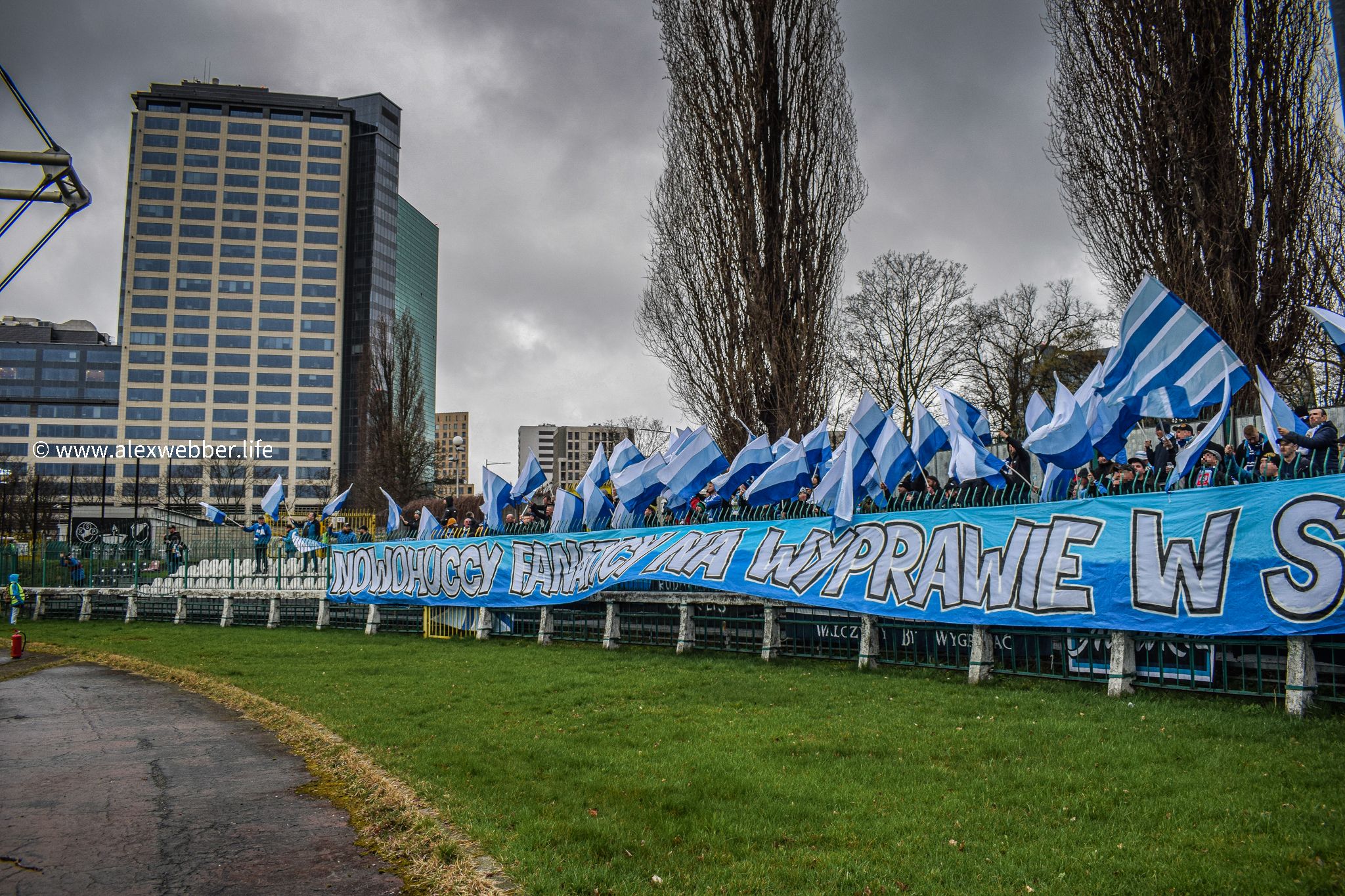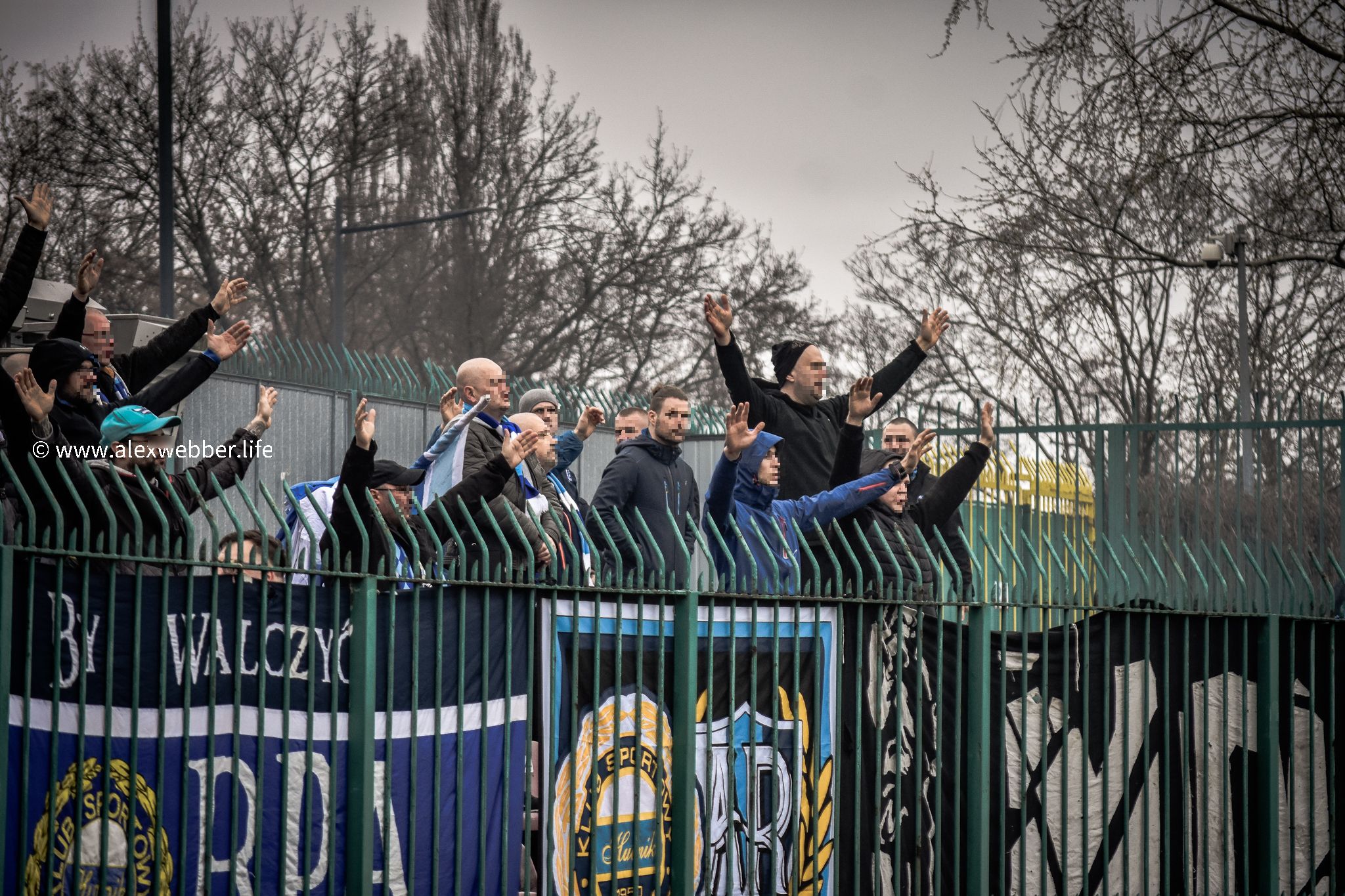 Though lacking any antagonism (Polonia and Hutnik enjoy a 'neutral' and cordial relationship that was cemented earlier in the season when visiting Polonia fans – who were on a lengthy travel ban – were allowed to sit in peace with the home lot), this was a day of rock solid support.
Not that this evening was lacking in tension. Scoring just before half-time, Polonia clung on to claim a 1-0 win, with the three points placing them top of a tightly contested league – as things stand, just four points separate first from sixth. As you can imagine, victory was therefore greeted with unbridled emotion. Travelling as I do all over Poland for my football fix, it felt brilliant to get that right on my doorstep.