Date: 2 October 2022 / League: Polish 7th tier
Final Score: 2-0 / Attendance: 100 approx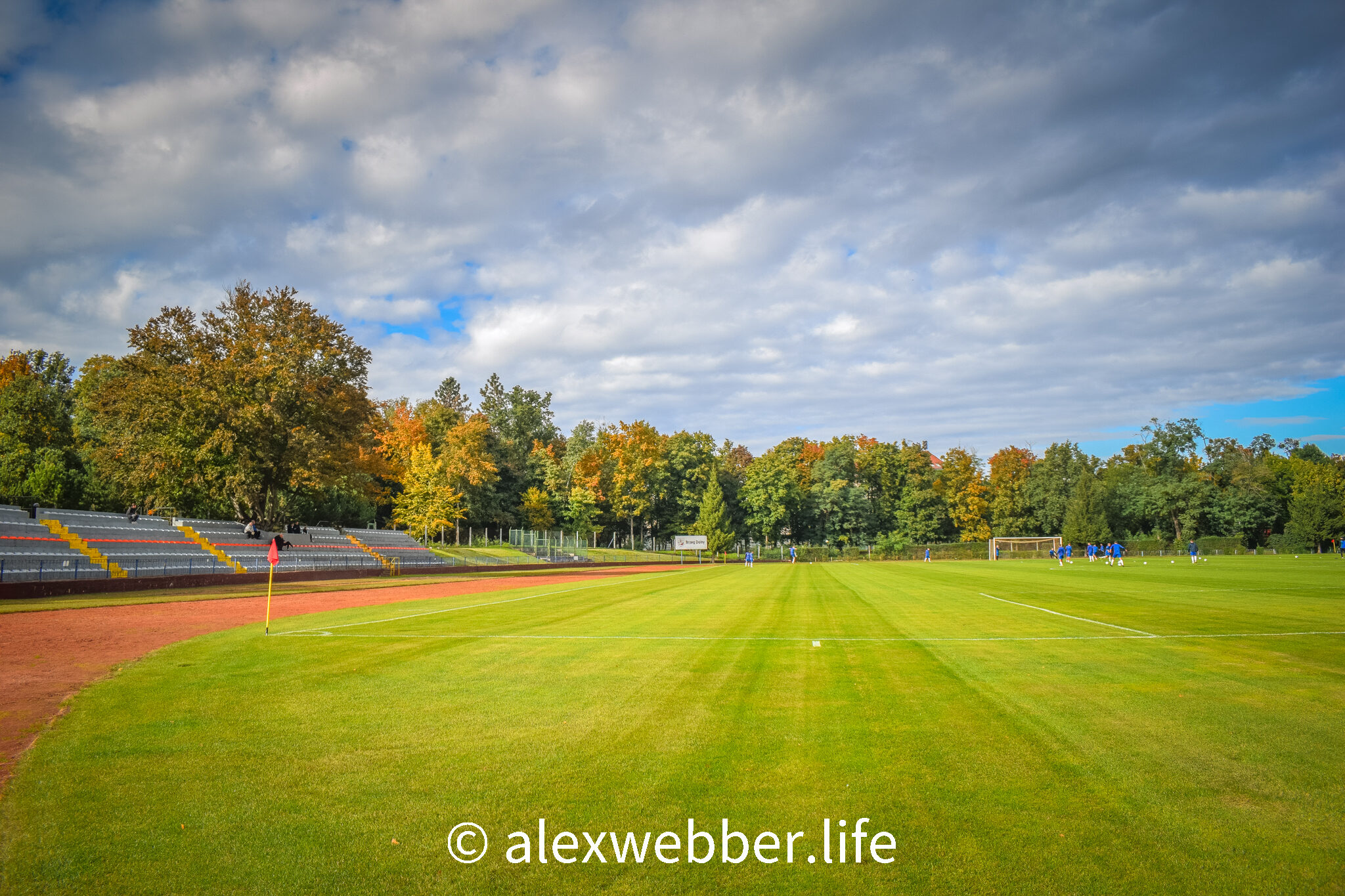 In A Nutshell
Having experienced the Seventh Circle of Hell in Olawa the previous day (for that, CLICK ME!), my plan for Sunday had originally envisaged a 90-minute journey from Wroclaw for another 5th tier derby of violent potential.
But bloody hell, I woke on Sunday with a hammering hangover and little inclination to spend another afternoon walking through clouds of tear gas whilst getting rocks chucked at my head by roaming gangs of cavemen. Burying myself under four pillows, I returned back to bed and didn't re-emerge until I felt ready for the world. When travelling for football, we all hit a wall at times, and this was mine. I'm glad I called a time out, for whilst it appears I missed out on a banger, it was the right choice to make.
Still, it left me in a quandary – no Sunday football? No way! Scouring the fixtures hurriedly, I found a Plan Z, a cheeky afternoon in a town called Brzeg Dolny…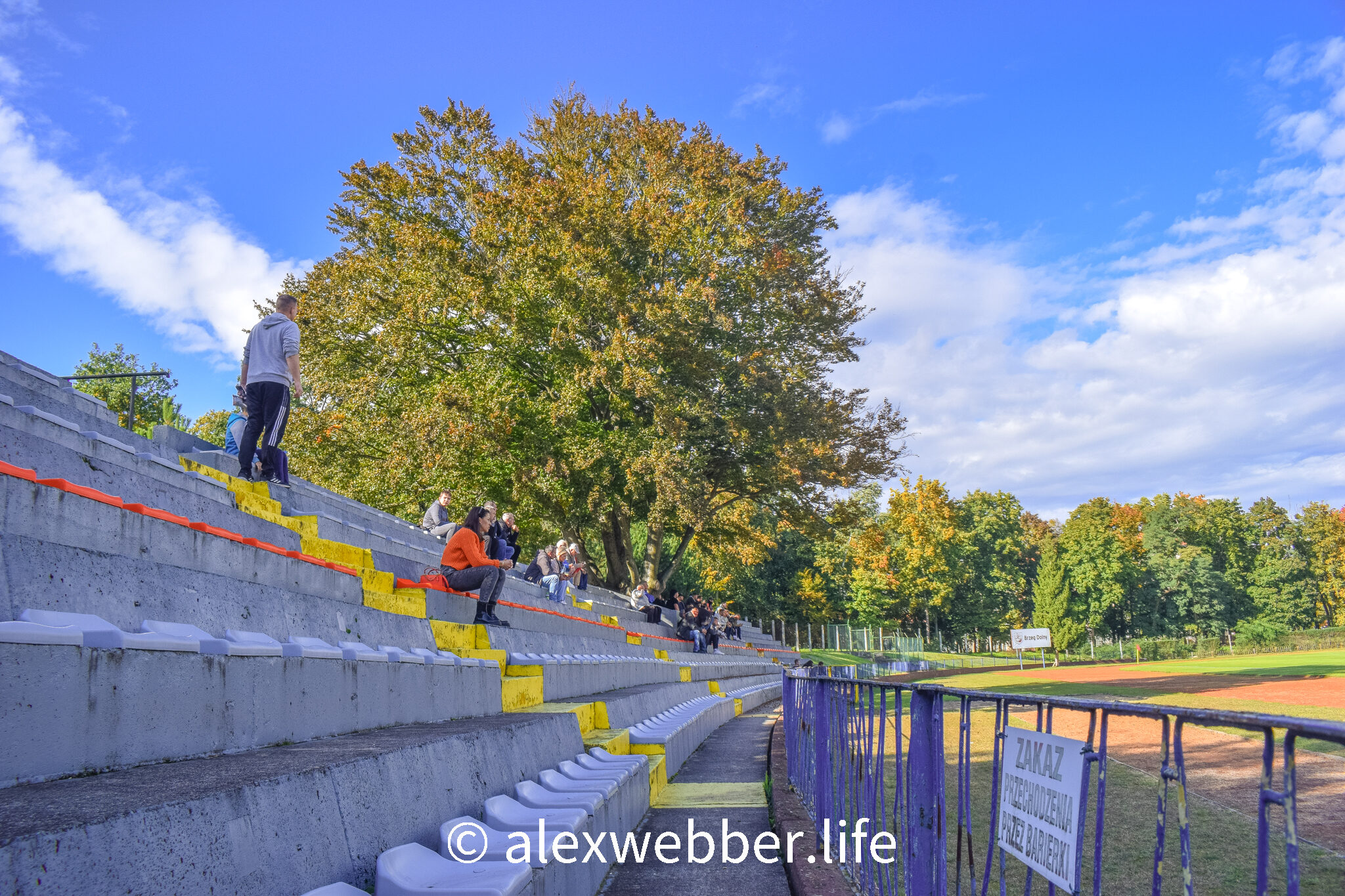 Background
I can't offer you much – no Wikipedia entry exists for this club, and even their own official web page is rather reticent when it comes to their own history. That said, there are a couple of tasty morsels to digest, including this fine nugget: "The club's first match was played in Wolow in 1946, a derby that ended in a 10-1 defeat. On this date, the traditional 'holy war' began'."
As for the name, from what I can gather that stems from the local chemical factory that once specialised in the production of rockets. During WWII, slave labourers were at work here, quite possibly even producing Zyklon B for the Holocaust death machine. Years later, in 1976, over 70 tons of TNT exploded in this facility just a day before Christmas. The blast, so it's said, could be heard over 30 kilometres away in Wroclaw. Class dismissed.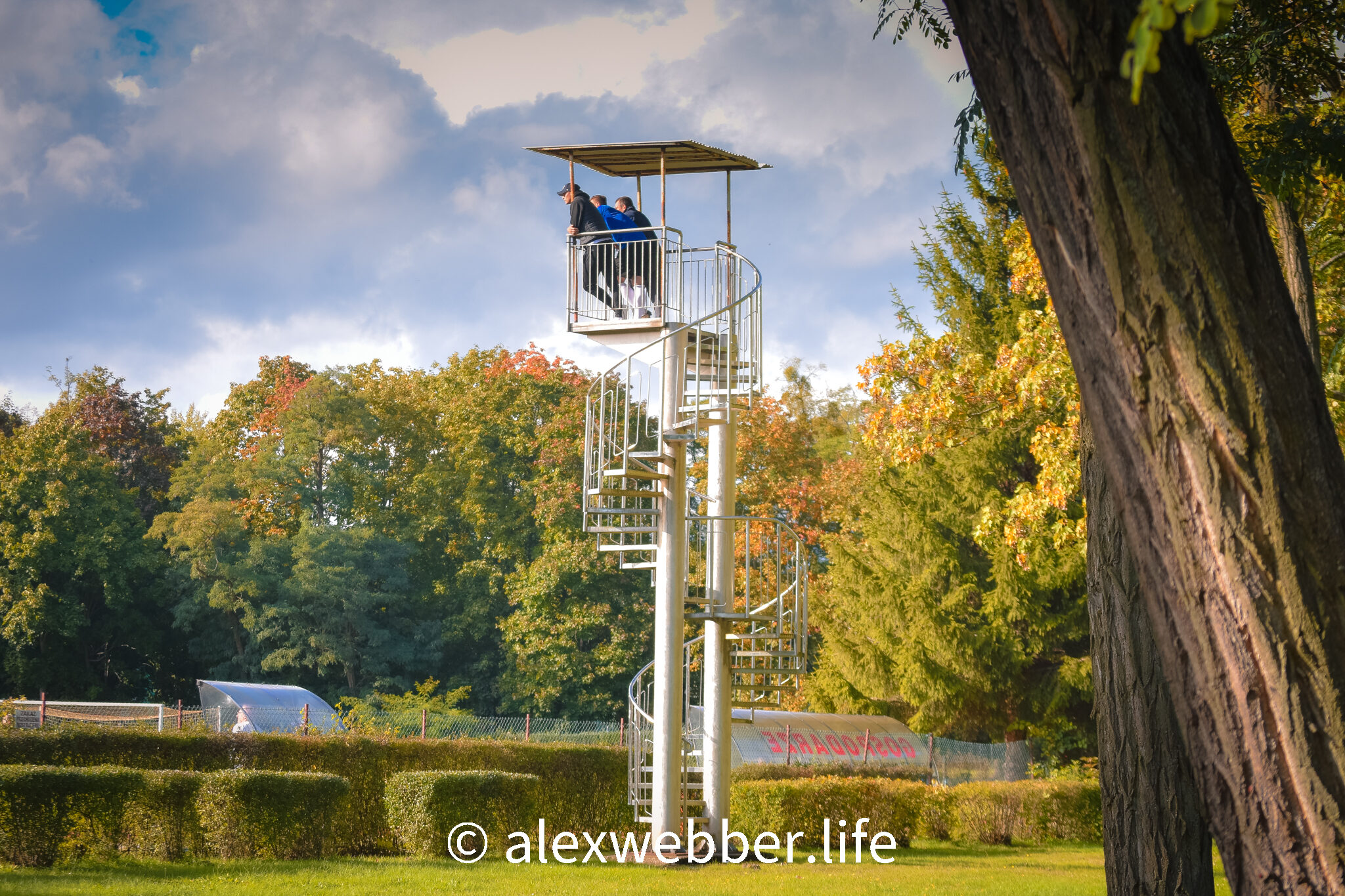 Stadium & Experience
Speaking generally, I'd be happy to see most of Poland's municipal-owned grounds be bombed to smithereens – more often than not, they feature little more than one or two stands encased in industrial plastic. This place, however, was love at first sight.
Joined onto the local tennis club and some other secret sporting facilities, the entrance is flanked by neatly-trimmed shrubs and picturesque flowerbeds, and is marked by a sparkling white building crowned with a giant football made from wire. Up the steps you go, an endeavour that will lead you inside a stadium like no other – oval in its shape, only a quarter of the tribune has been constructed, lending the place a quirky incomplete look.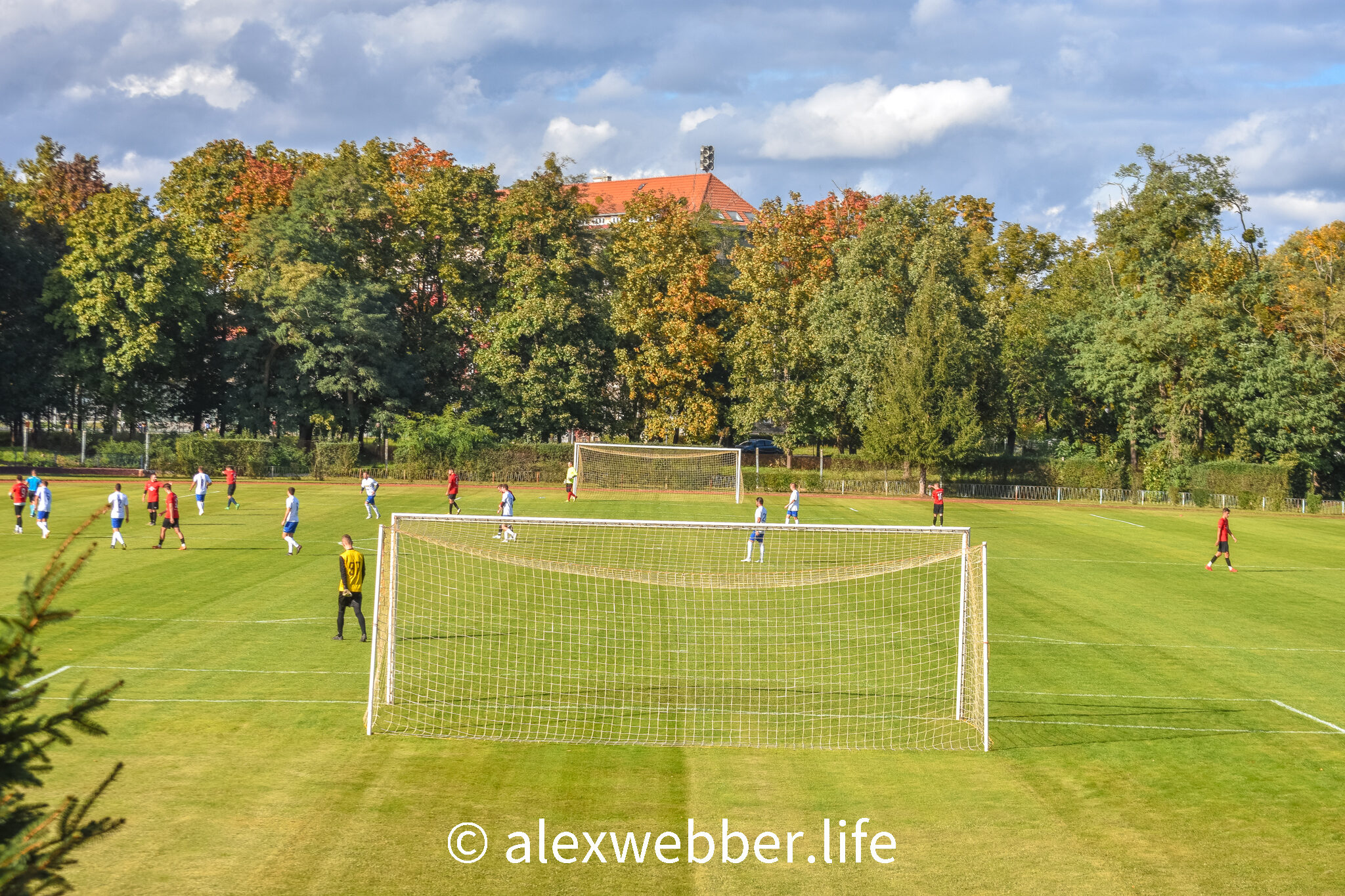 Boasting the kind of curves all gentlemen appreciate, it's a sweeping stand that's equally gorgeous on both the eye and the lens – and it's given added curiosity value via the fact that a chunk of this stand has been indented towards the back to make room for a tree that offers much needed shade.
What else do we have? For the ground addict, there's a few other little kinks to pay heed to: for instance, a steel tower looming over the dugouts accessed by a set of spiral stairs. I had figured this was a TV thingy or something similar, before reminding myself just where I was. I doubt very much Rokita are a regular feature on any European channel.
Of course, I appreciated the away cage as well, a brilliant piece of football architecture featuring a few shallow steps ringed by rusting fences. Now if you're wondering why such prison-like enclosures exist to this day in Poland, have a look through my other entries to put two and two together.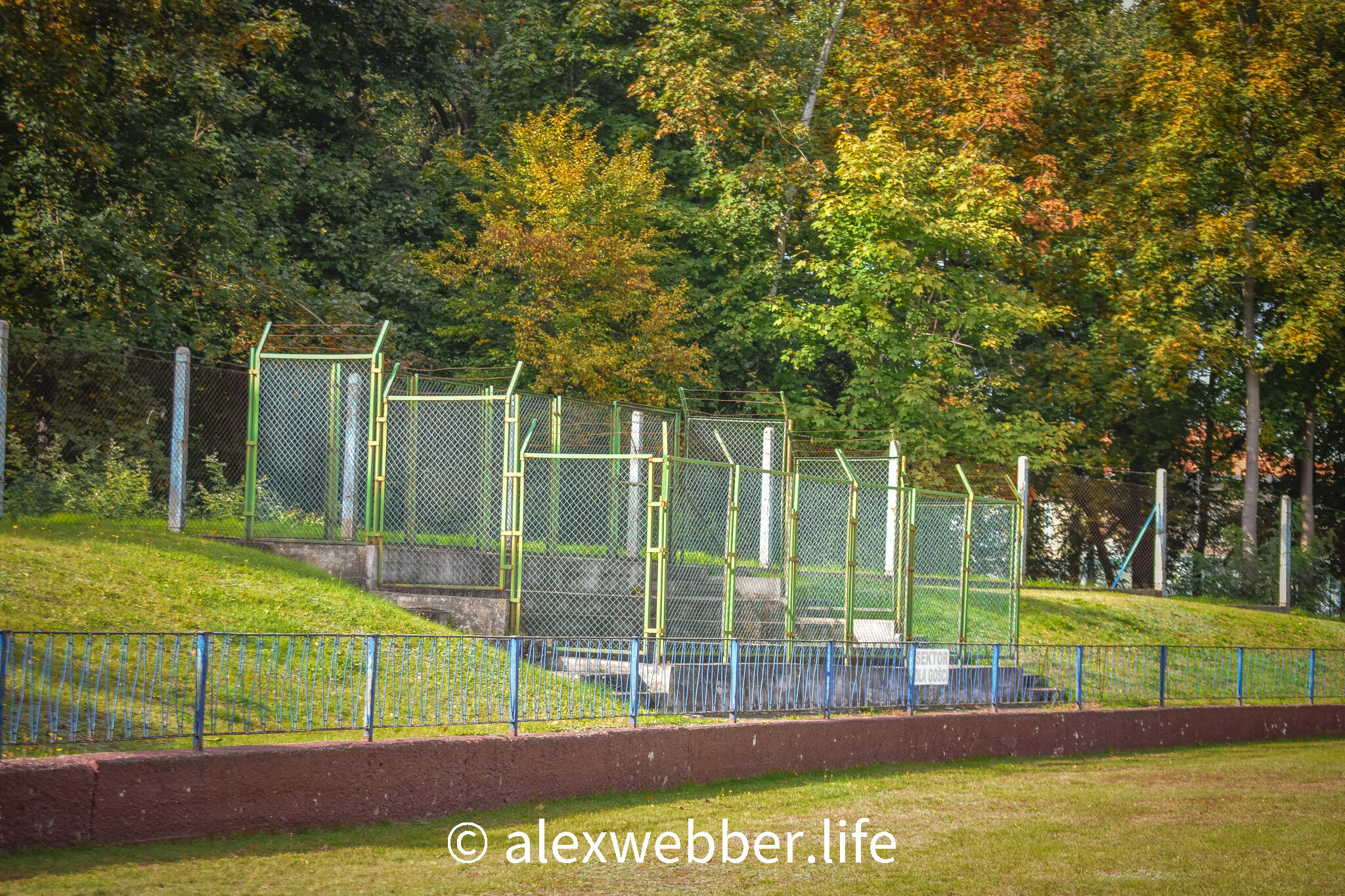 Attracting a modest crowd, the experience itself was as enjoyable as the ground – it's a small and minor club, yes, but you can tell that those attached to it care deeply for her. Composed of all ages and genders, if there was one underlying motif running through the audience it was their seeming addiction to sunflower seeds.
Booze as well – the number of people sporting a can of lager or a miniature bottle of vodka was staggering, and this in itself felt part of the scene: maybe I'm wrong, but I got the impression that a match at Brzeg Dolny is a community experience – it's a place for people to gather and catch-up with their friends while a football thuds around somewhere in the distance.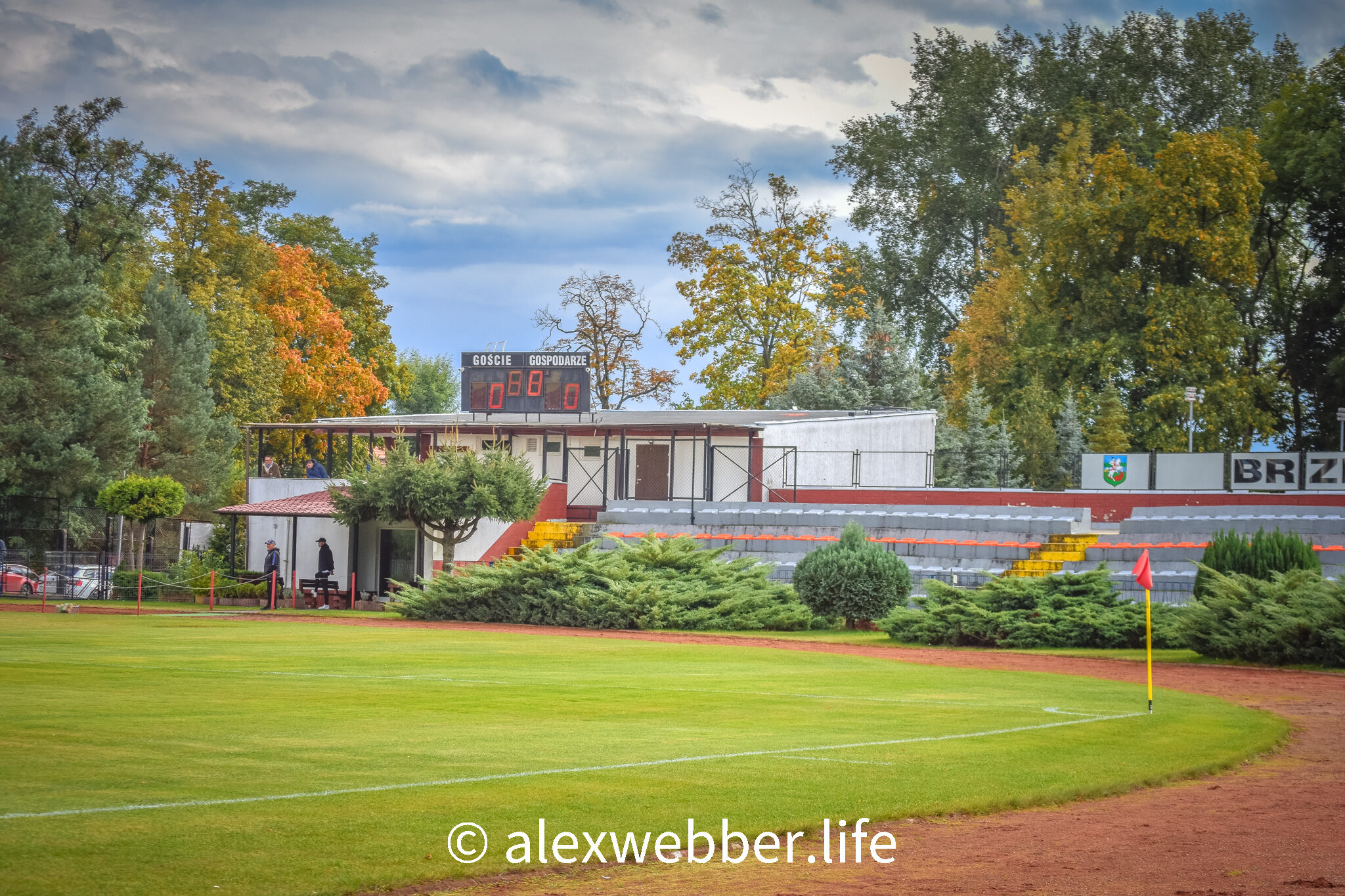 Even the staff here were great – as a late choice, I had not had the time to message the club if I could take photos, so instead just bowled onto the pitch with a camera dangling around my neck. "Do you mind if walk about the grass and do some pictures," I called out to some guy I took for the chairman. "Of course not," came the reply. Impeccably kept, and rife with oddities (I forgot to mention the wooden, flower-adorned shed that the players run through to get to the pitch), this was the antidote I demanded following the chaos of the day before. Laid heavy with charm and charisma, this was a punctual reminder that there's more to Polish football than punch-ups and pyro. 
Geography
Reaching Brzeg Dolny would only be easier if they sent their chairman to personally collect you. By train, it's a simple 30 minutes from Wroclaw. The ground itself, that's a five-minute walk from the moment you disembark. Tucked just behind the road the curls outside the station, so basic is it to find that you won't even need to crack open Google.