You've waited long enough, now wait no more! With no further fannying about here's the second and final part of the now legendary Webber awards!
Best 'Friendly'
Gornik Wojkowice v CKS Czeladz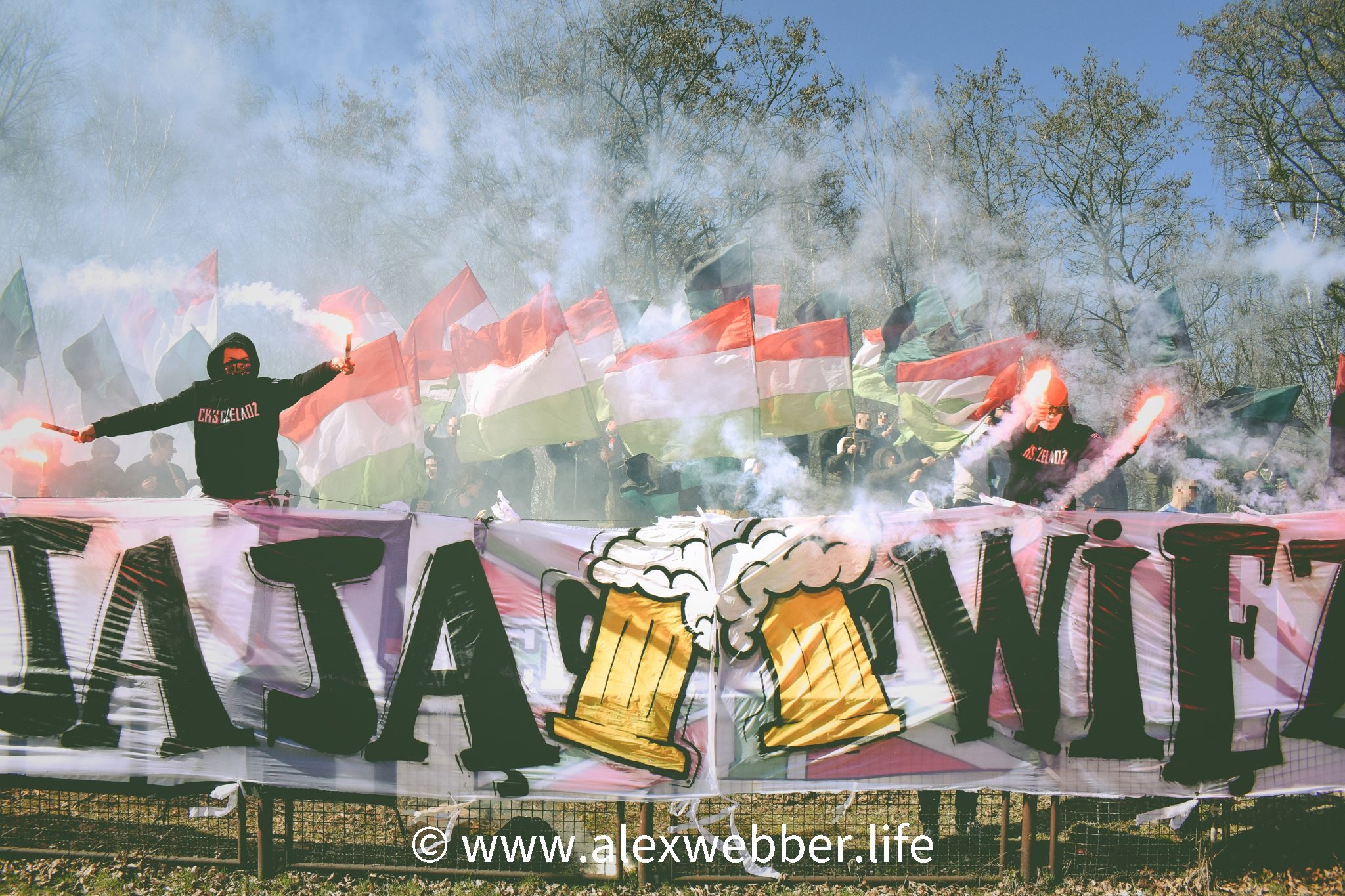 Baffling as Poland's systems of alliances and rivalries can be, it doesn't half vomit up some brilliant meetings. Though this was a competitive league fixture, the clash between Gornik and CKS was played in a celebratory atmosphere with both sets of fans standing side by side to launch into umpteen pyro shows to honour not just their sides, but also the subject of their primary passion: Zaglebie Sosnowiec. That all this happened inside one of my all-time favourite stadiums made it a pleasure to witness.
For more on this match, CLICK ME!
---
Silliest End
Wawel Wirek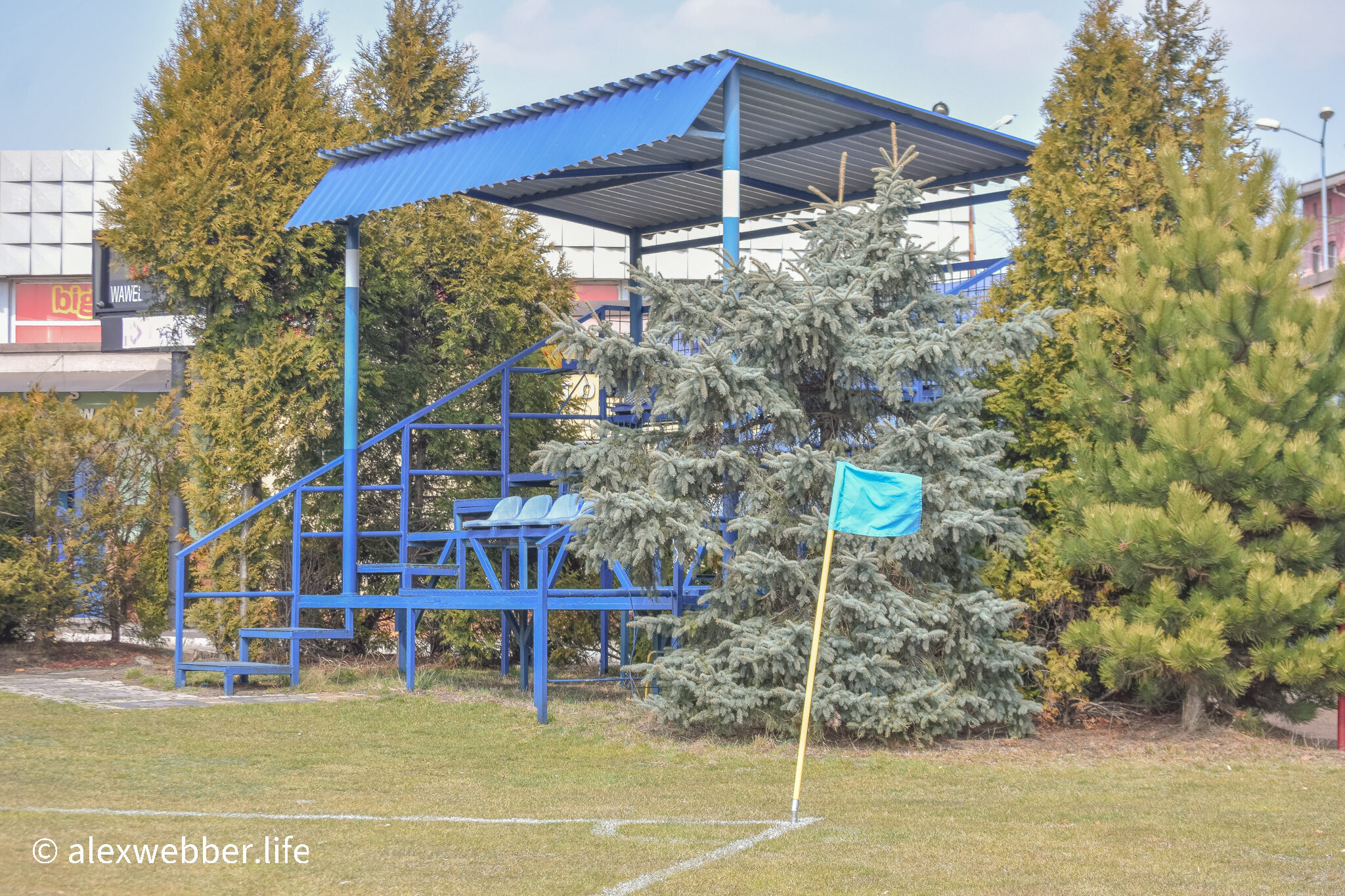 Looking like it was assembled by a group of ambitious infants, Wawel Wirek's away end has you doing a double take – it's staggering in its (lack of) size, design and, even, location: find it tucked between a set of Christmas trees with a small bench to their side should you fancy a crafty nap.
For more on this ground, CLICK ME!
---
The Charlie Dimmock Gardening Award
Rokita Brzeg Dolny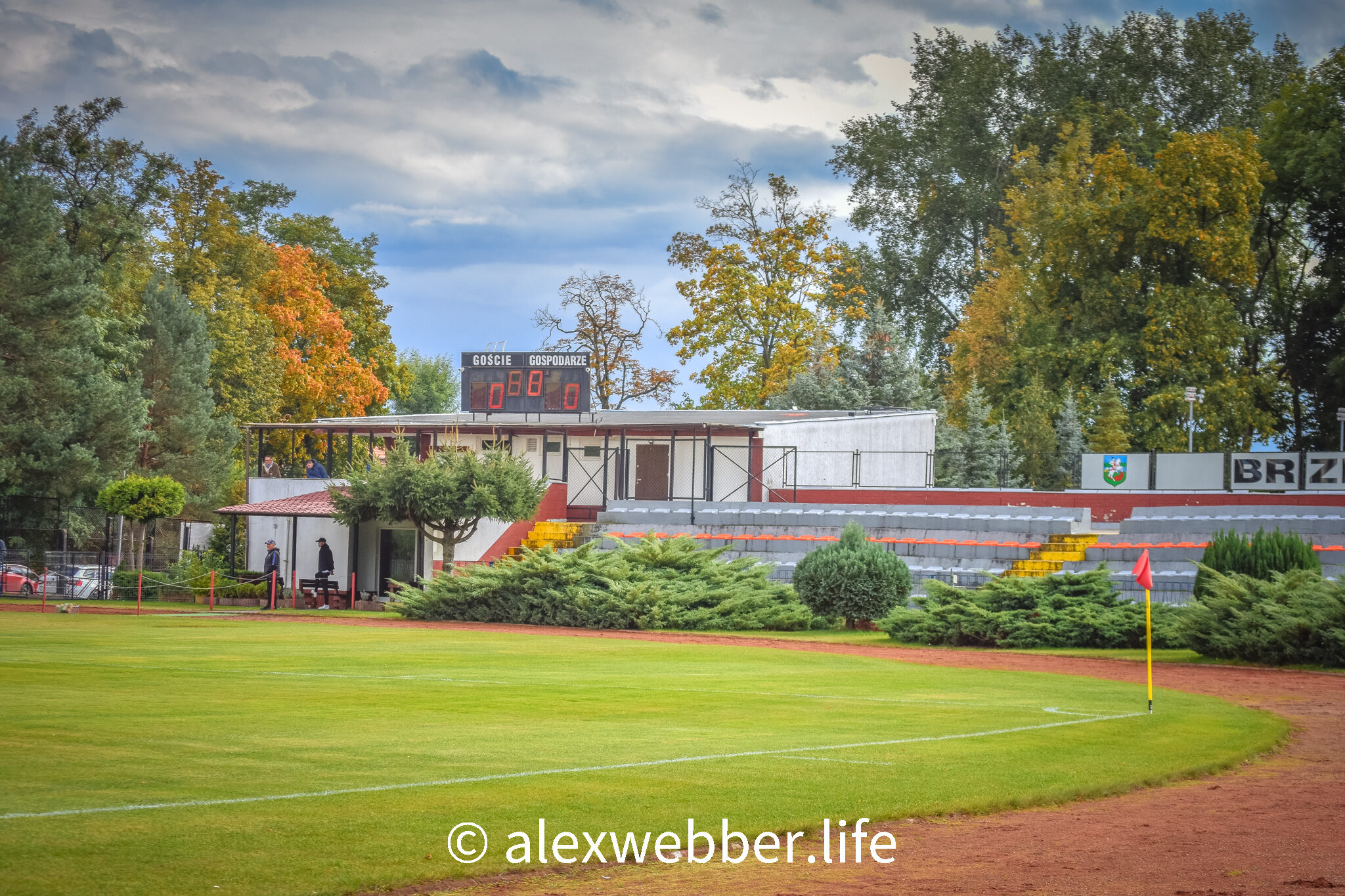 Neatly-trimmed shrubbery, picturesque flowerbeds and even a tree growing out of the stand – Rokita has all these and more. Scenic to the extreme, this ground is made even more special by its curvy tribunes, quirky TV tower and epic away cage.
For more on this match, CLICK ME!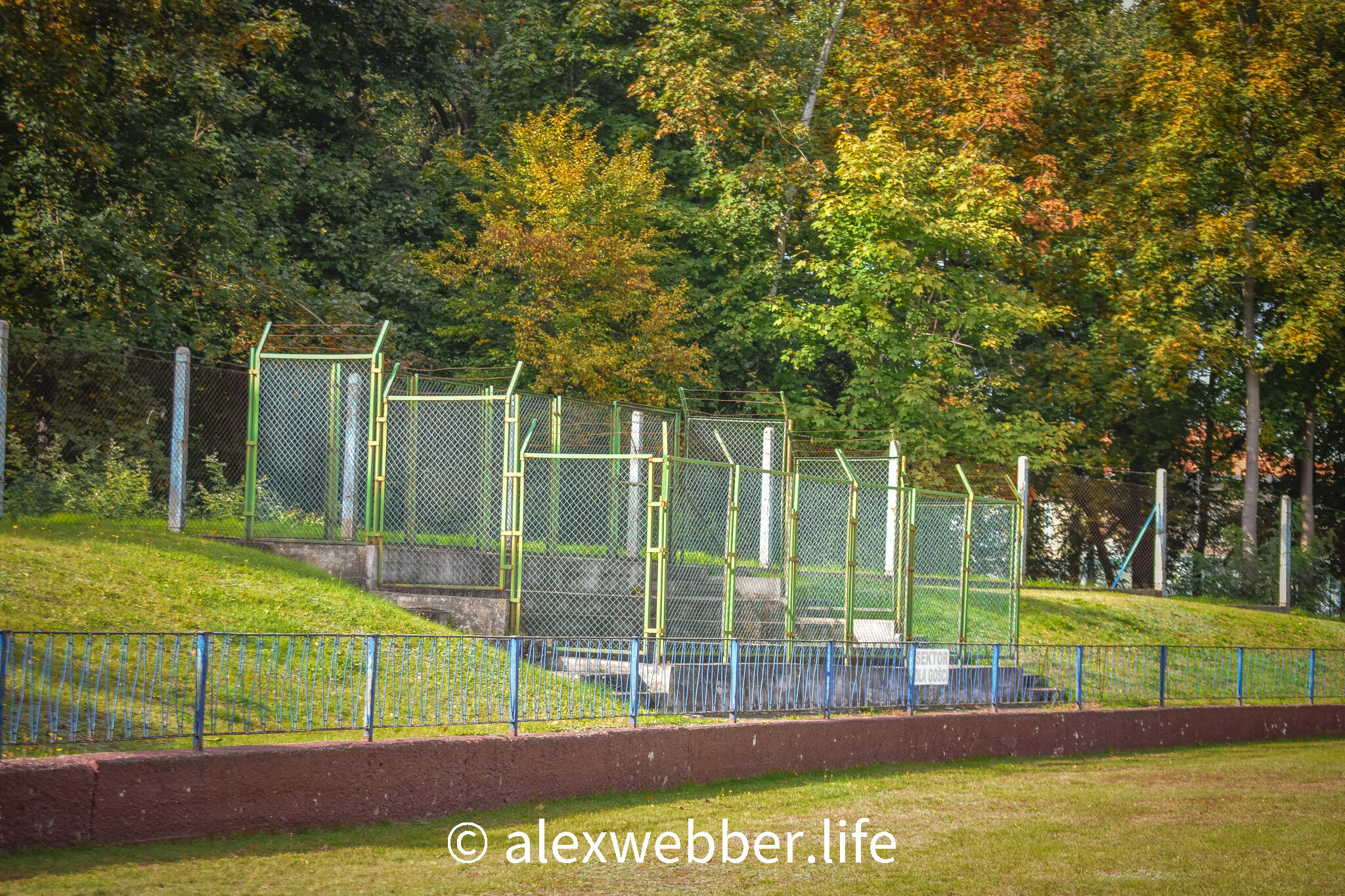 ---
Best Regional Derby
Szombierki Bytom v Ruch Radizonkow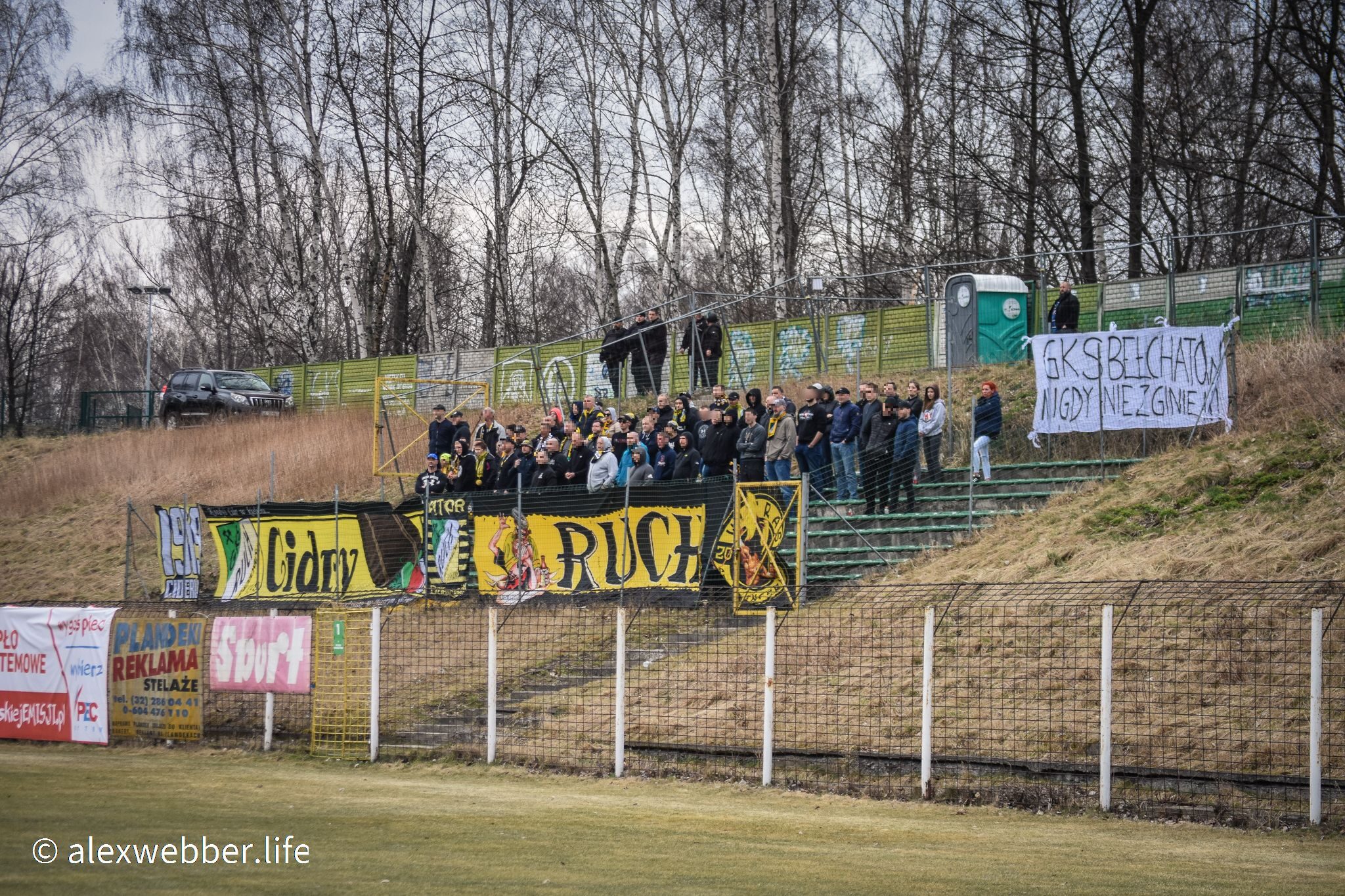 So good, I went to this fixture twice – once in March, then the next time in November. Played out between two Silesian rivals, this fifth division match-up was made all the better for being hosted inside a ruined bowl with a far-flung terrace for away fans, and a curious stand for the home lot. Though sparsely attended each time by probably no more than 500 spectators, both times it was a match featuring plenty of pyro, staunch backing, and – for fatty over here – lots of sausages and beer.
For more on this match, CLICK ME!
---
Best Euro Night
Rakow Czestochowa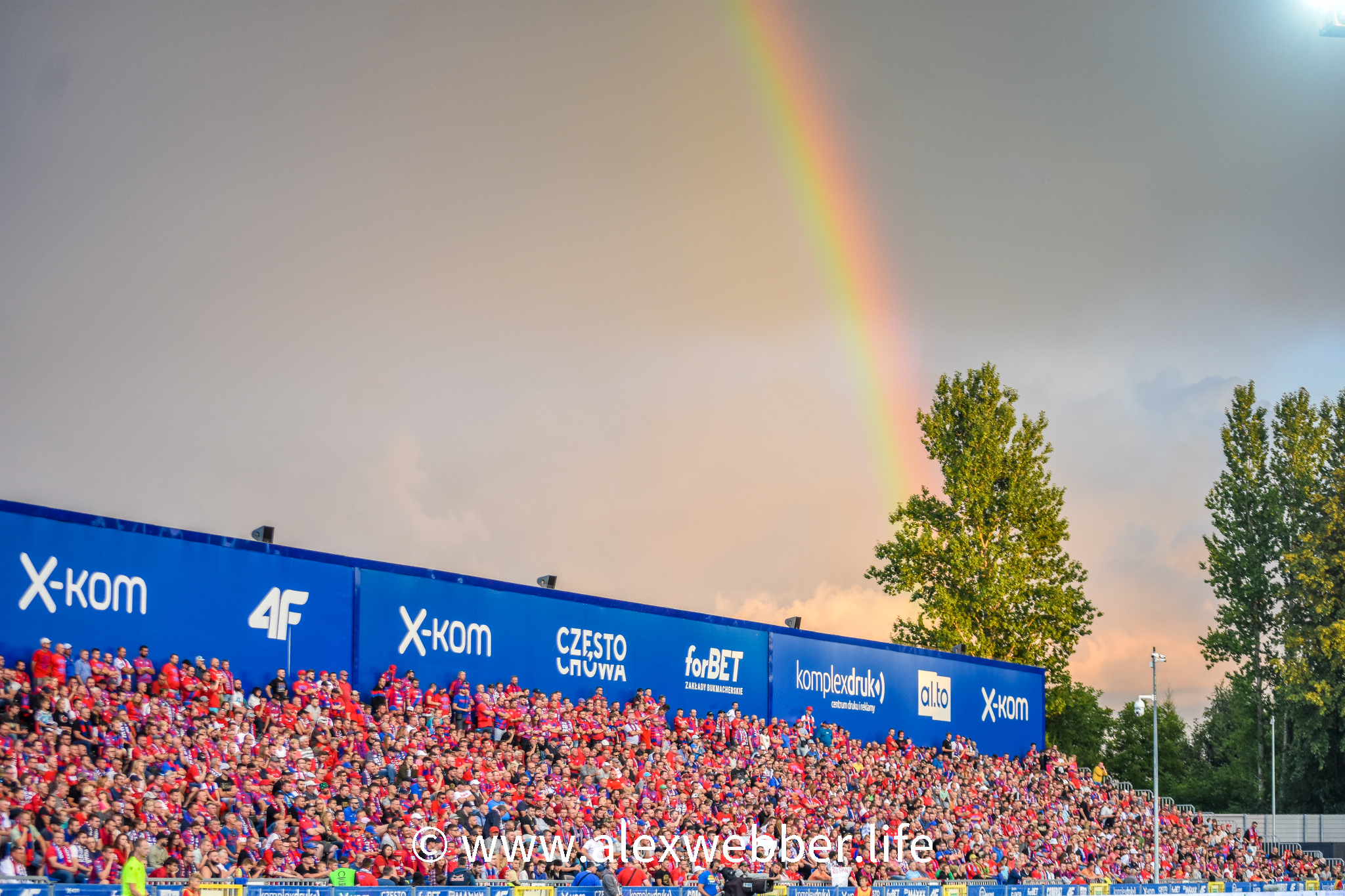 Alright, so I only went to ONE European tie – at least that I can remember – but it still would have stood out thanks to the odd nature of the ground. Looking like it was built within a month (and quite possibly less), the decent atmosphere was matched equally by the strangeness within – looking more like something found in a zoo, the away pen fully warrants its entry into the Webber Hall of Fame.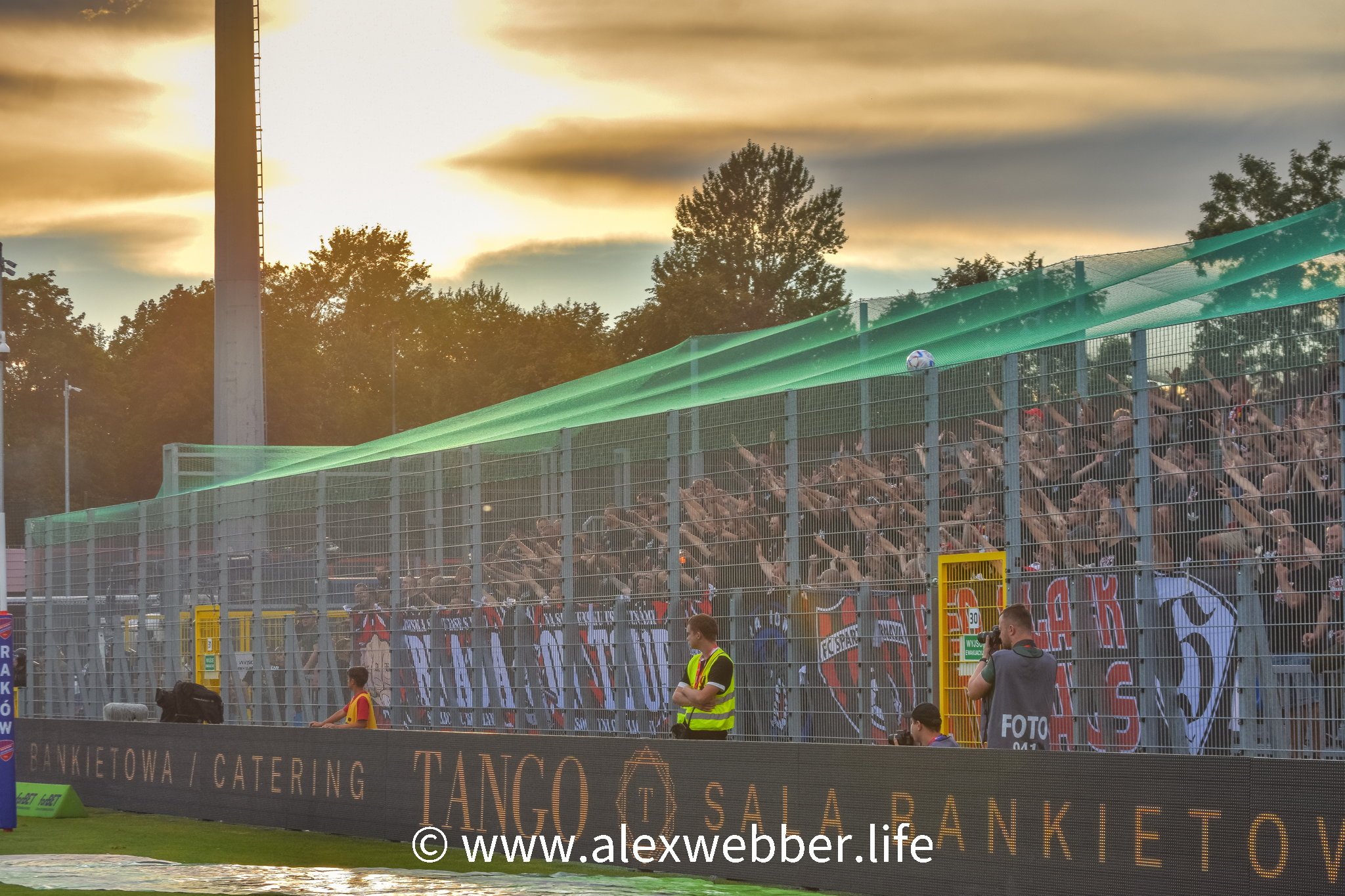 ---
Best Flag Drop
Wisla Krakow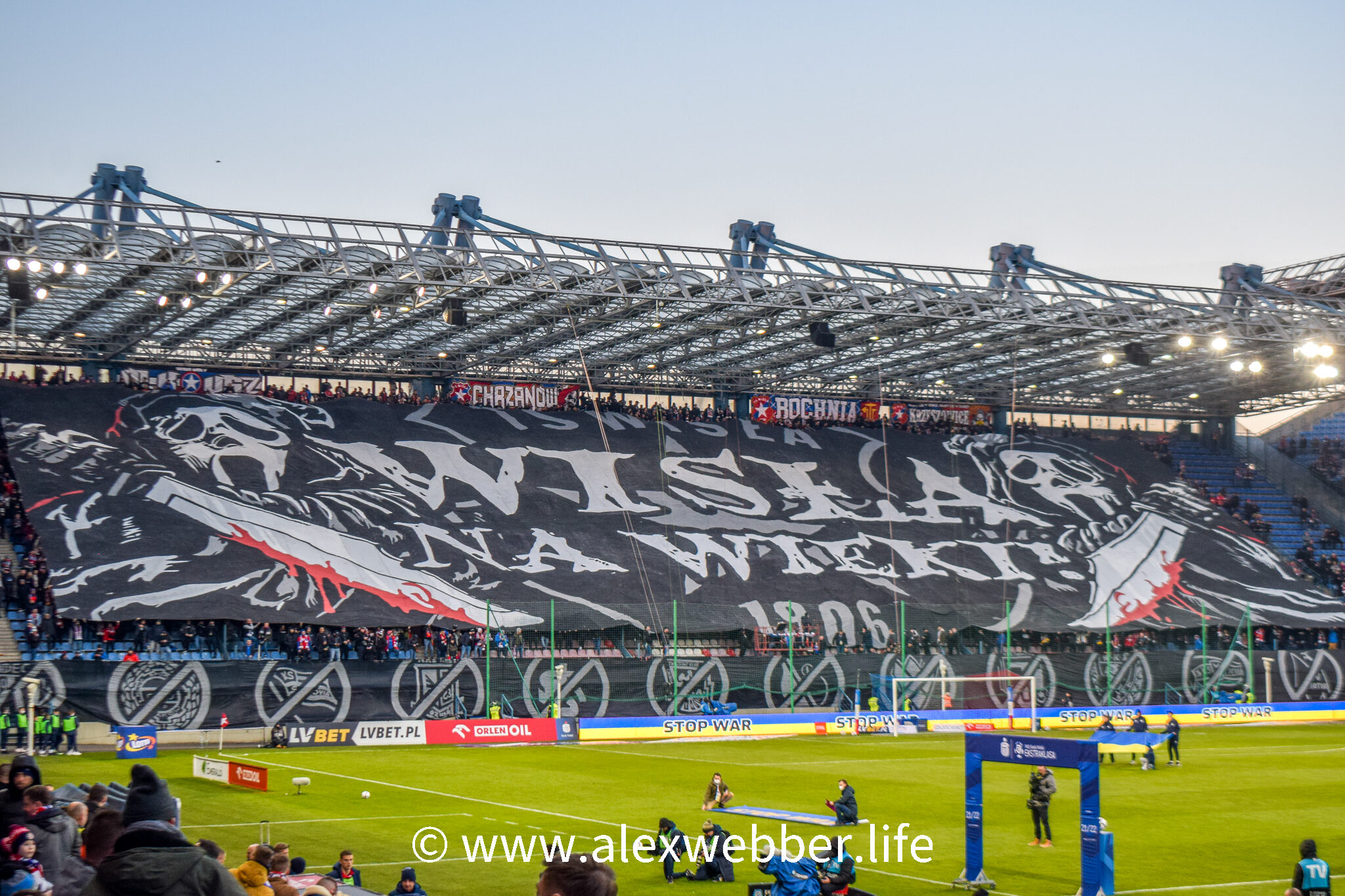 You can usually trust Wisla to come up with something special for a big match, and they did exactly that against Lech Poznan towards the start of the year – followed by an impressive volley of pyro, their Grim Reaper flag drop was simply stunning to see.
---
Best 'Welcome to Poland' Club
Lech Poznan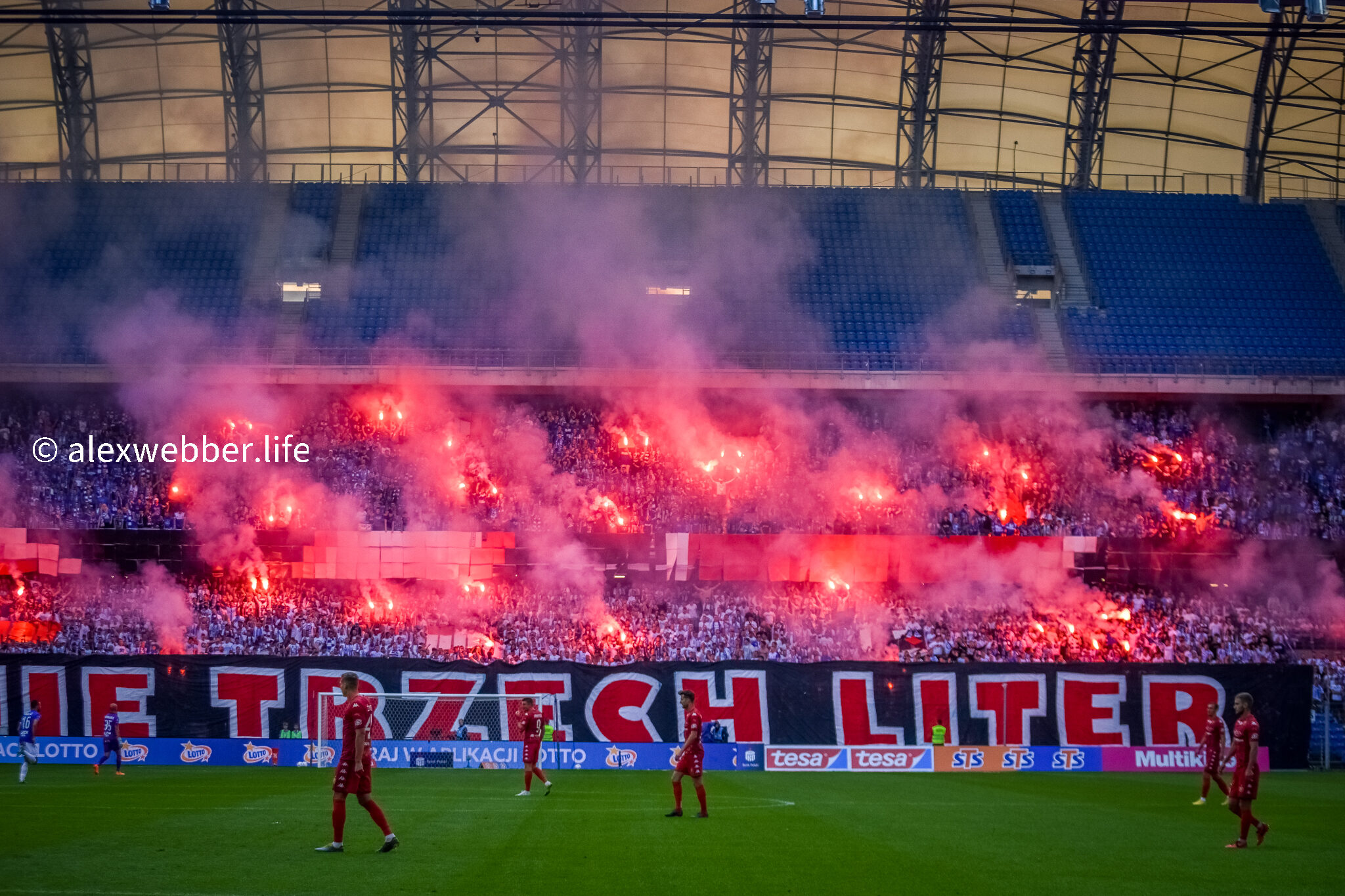 There are better cities than Poznan, and yes, there are better clubs than Lech – but… when you put the Lech into Poznan and the Poznan into the Lech you get what I reckon is the best introduction that there is to Polish football. Rebuilt entirely for Euro 2012, the ground is one of the few newbies that doesn't suffer from anonymity, with its steep sides and oddly-stacked levels working well to contain the wall of noise offered by the locals. Fond of their pyro and flag drops, if you're a newbie to Polish football then I can't think of a better club – or city – in which to experience the full-throttle passion of the national game.
For more on this match, CLICK ME!
---
The Bear Grylls Extreme Weather Award
Zaglebie Sosnowiec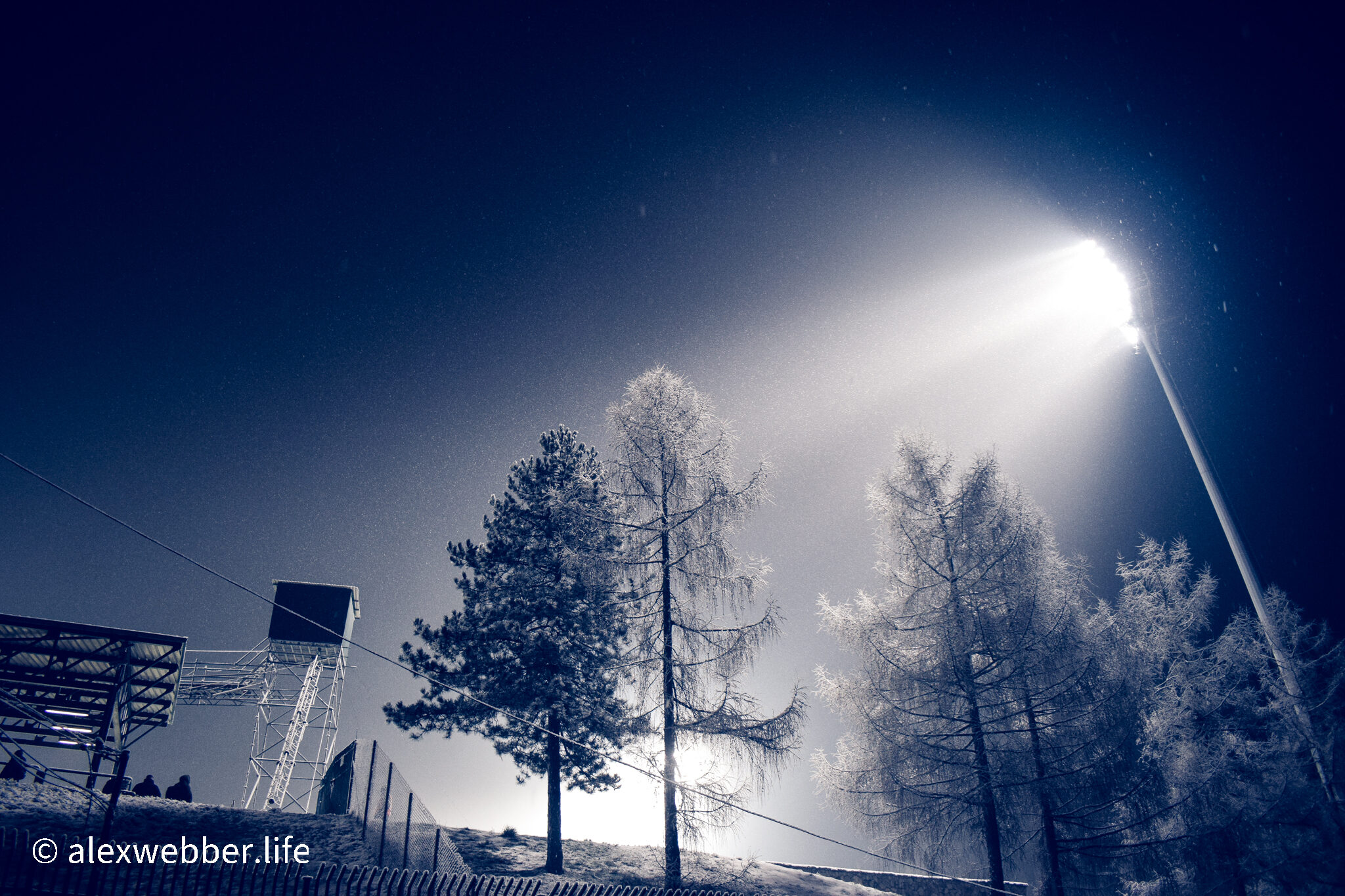 Waking in Warsaw to a scene from Dr. Zhivago, the snow was so bad that I assumed this game would be called off – what the hell, I figured, I might as well make the journey anyhow. Sure, I finished the evening looking more like a snowman, but I'm firmly of the belief that such old school grounds always look better the grimmer the conditions.
For more on this match, CLICK ME!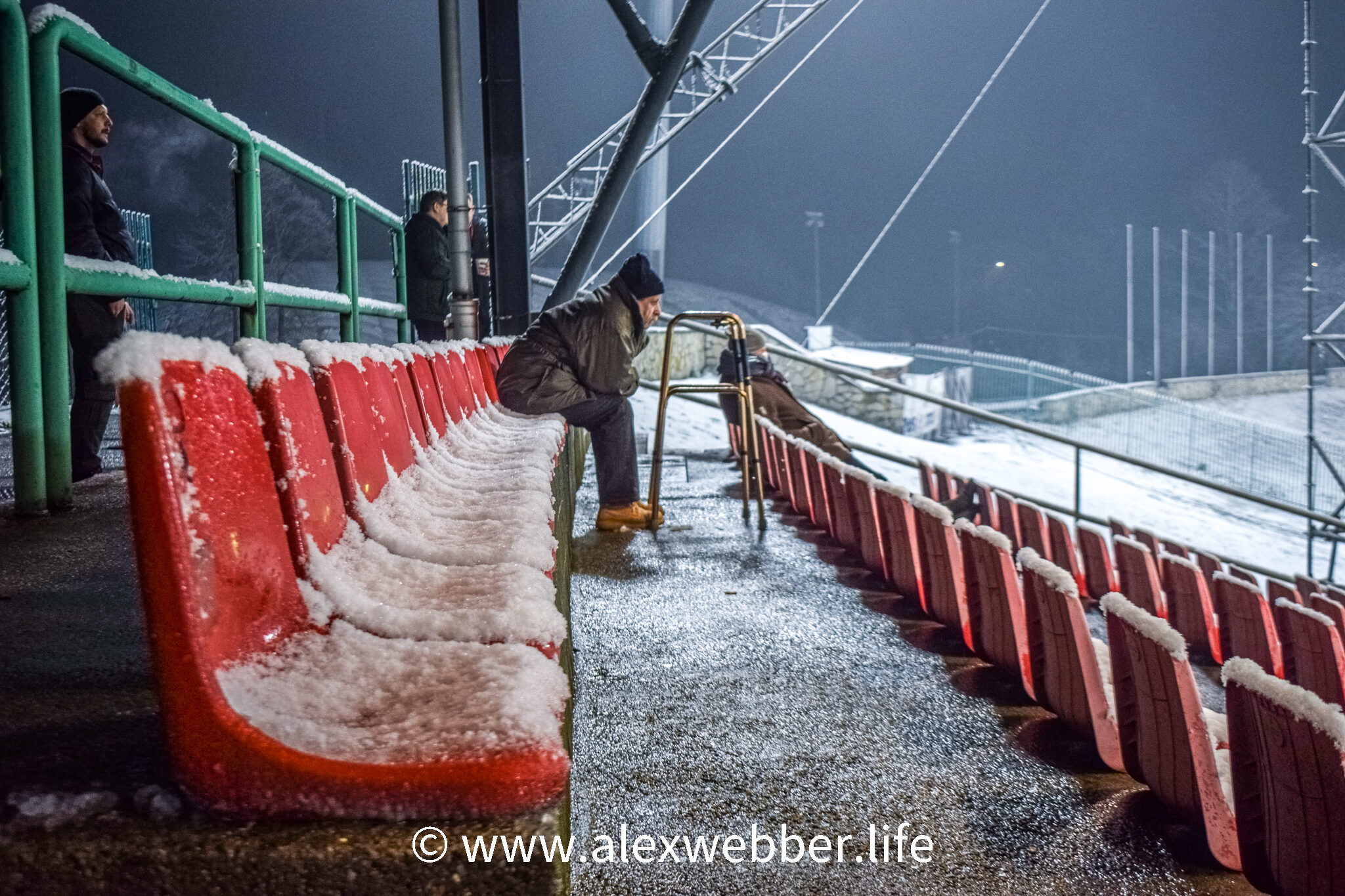 ---
Best Ground Viewed Through A Fence
Slavia Ruda Slaska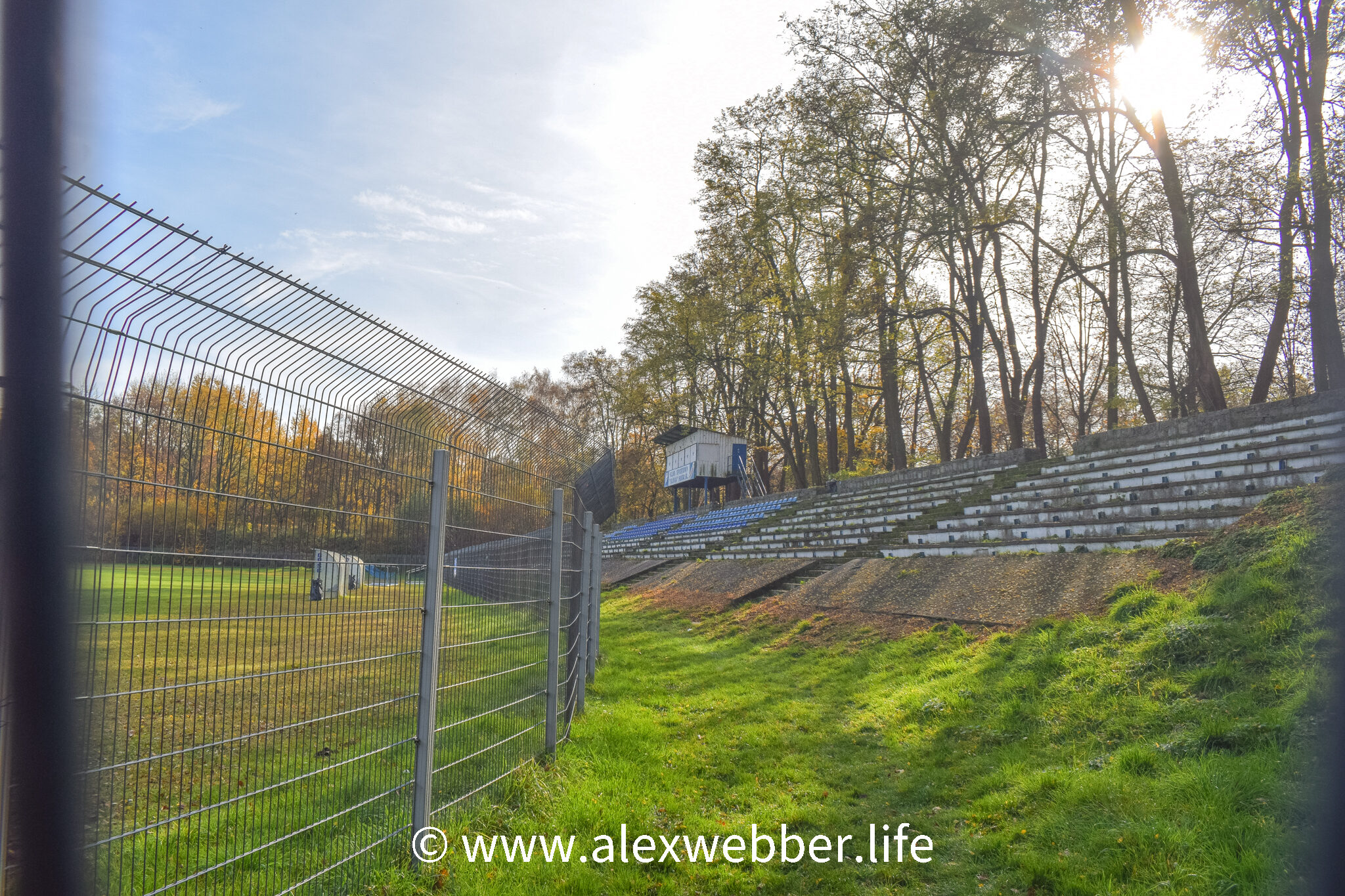 I'd visited this ground previously for a match a few years back, but when the chance presented itself to stop outside whilst being taken on a tour of Silesian hooli battlegrounds, I seized it with both hands. What a beautiful place it is, even when viewed, like on this occasion, from a gap in the fence.
For more on this ground, CLICK ME!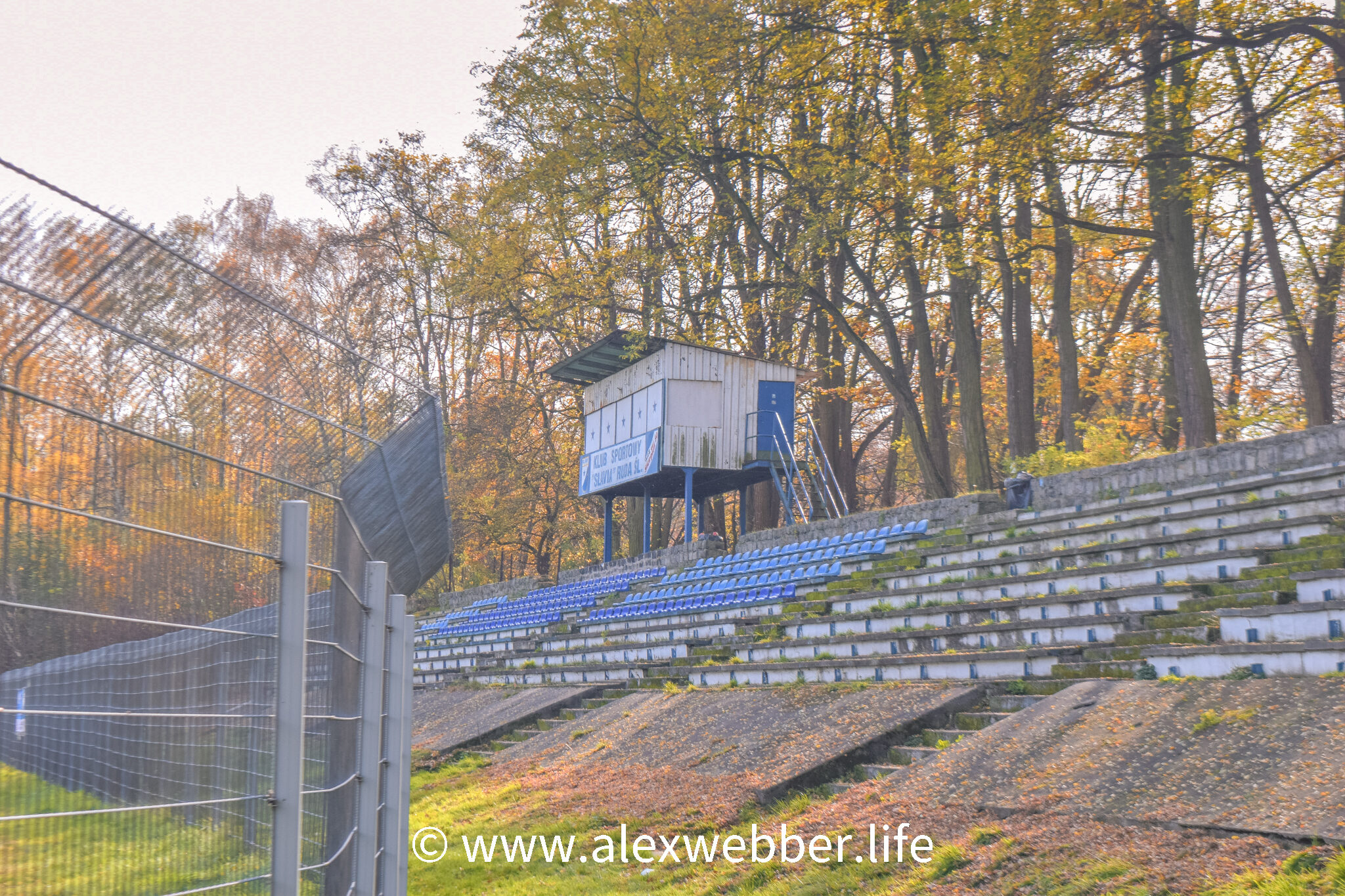 ---
Craziest Match
Pogon Siedlce v Polonia Warsaw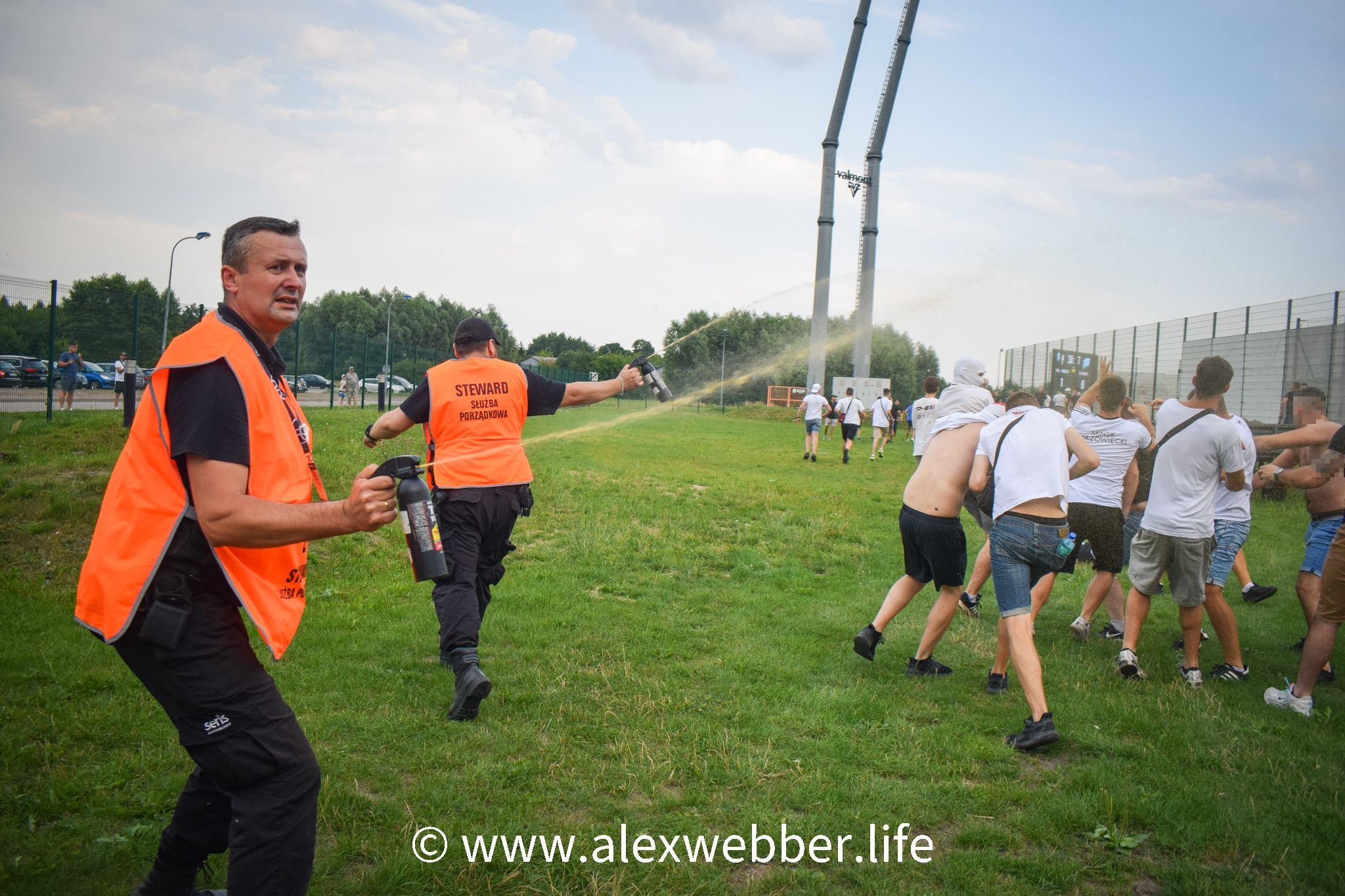 I actively hunt out the more volatile games, but this one was positively volcanic with around 80-90 fans clashing directly outside the stadium. Taking the police eight minutes to arrive, this was as brutal as anything I've ever seen with both sets utilising everything at hand – from bricks and planks to wheelbarrows and flip flops. Caught in the middle of what was a furious punch-up, I ruptured my ACL during the ensuing fracas. Hardcore does not begin to describe it, but unfortunately you will have to pretty much take my word for it. Due to their incriminating nature, the naughty photos have long been deleted so as not to get anyone (or me!) into trouble.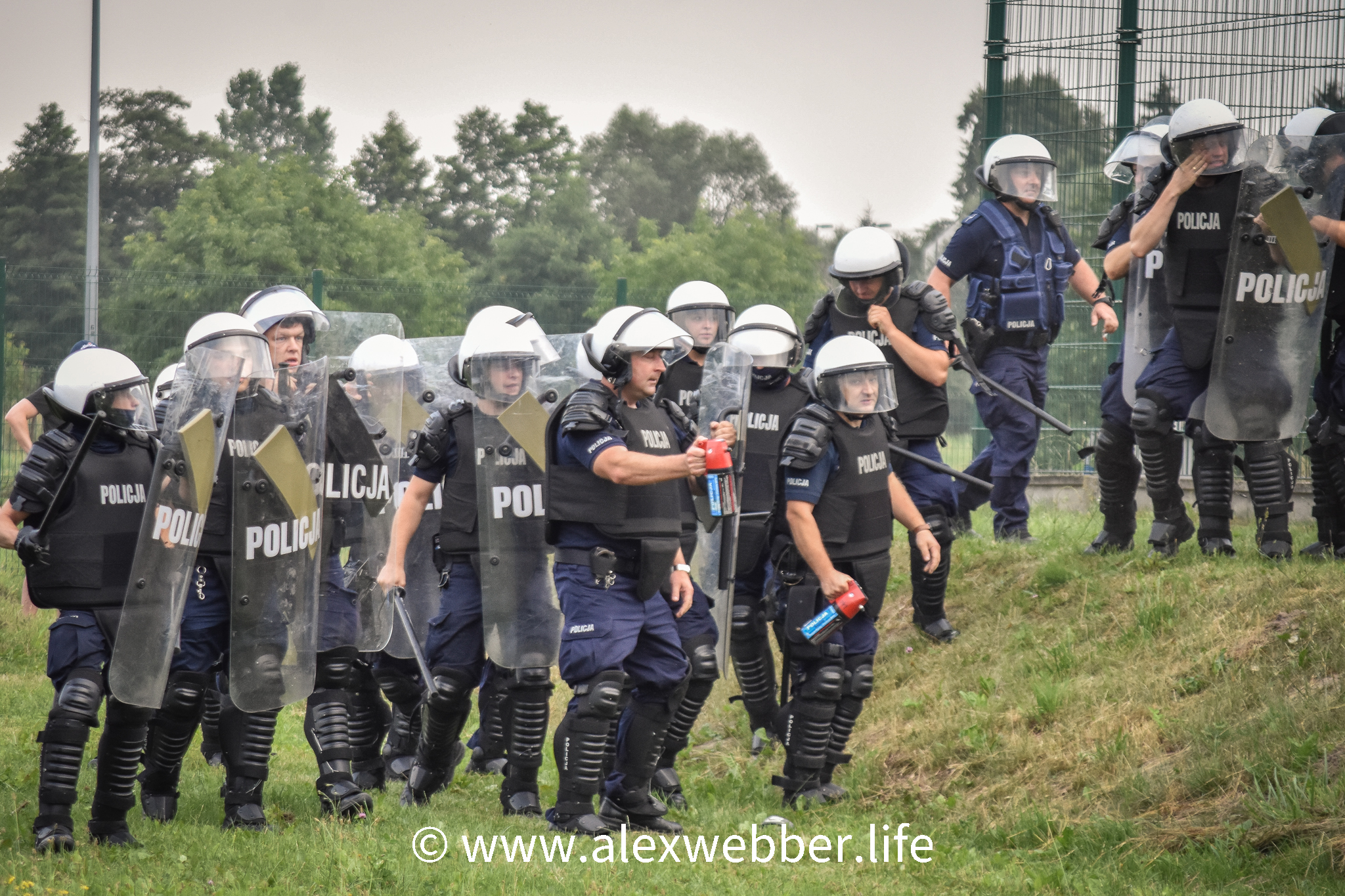 ---
Best Use of A Former Chinese Restaurant
Bronowianka Krakow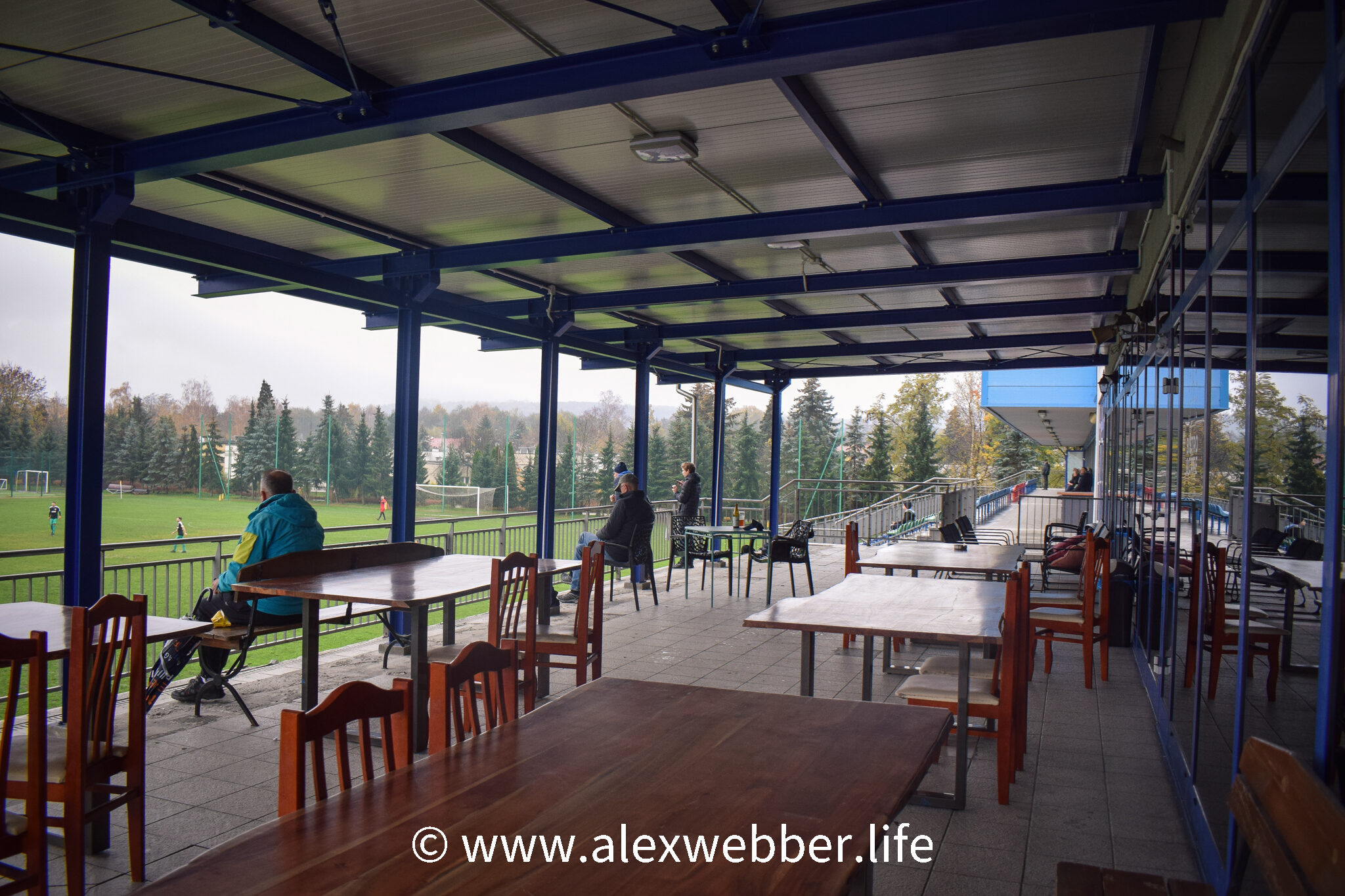 Presenting itself as an oblong block of concrete, Bronowianka's one stand is remarkable not just for its brutal sense of ugliness, but the fact that the best seats were once offered by the Chinese restaurant that occupied the middle section. Since replaced by a little café offering a few craft and regional swigs, enjoy them under a covered terrace that gazes onto the pitch.
For more on this stadium, CLICK ME!
---
Loneliest Experience
Lechia Gdansk v Pogon Szczecin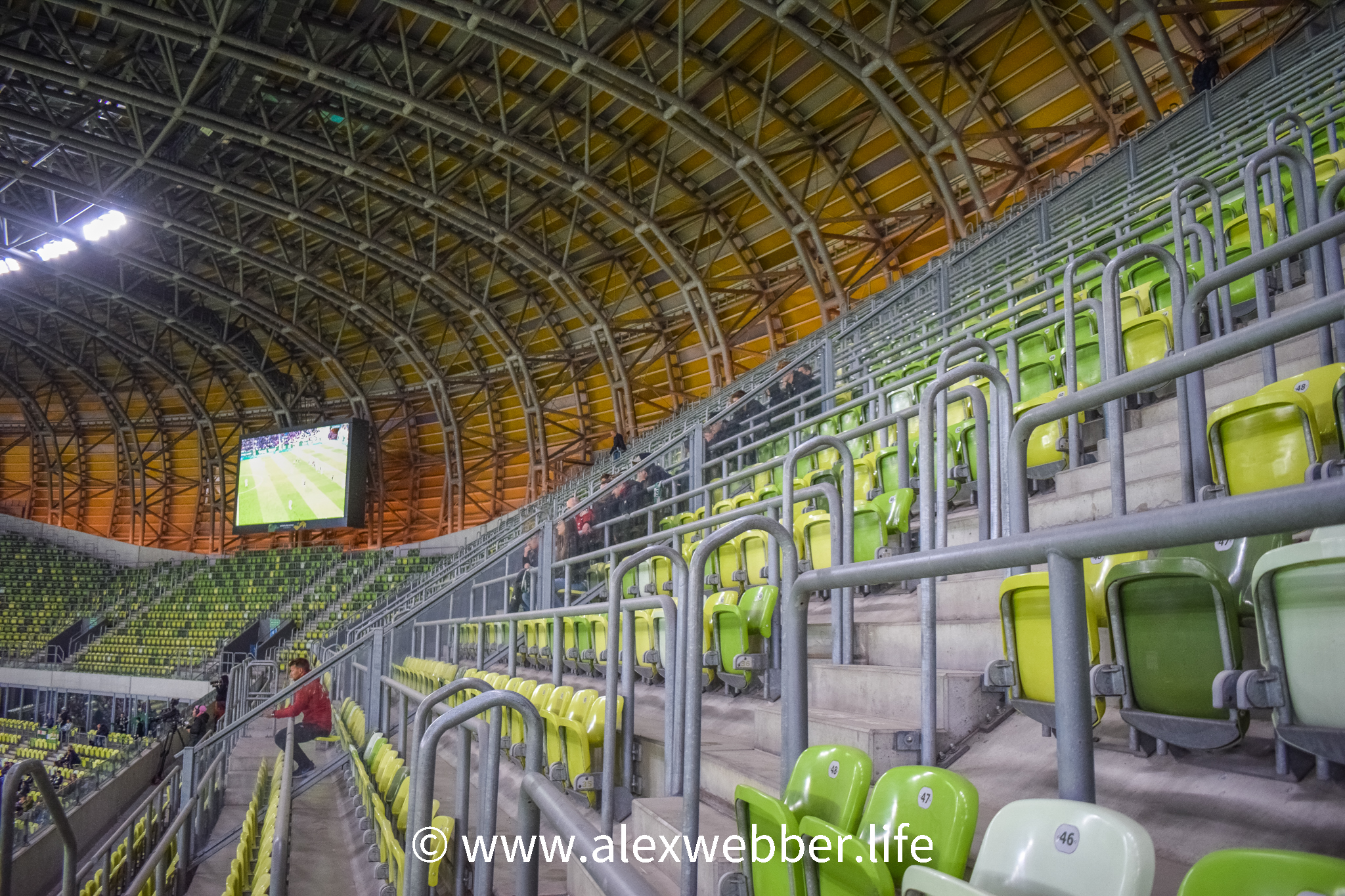 Having snagged press accreditation for this match, I was peeved to find myself not pitch-side next to all the action, but instead banished up seventeen-thousand steps to the very top of this stadium. I'd like to say that at least I was not alone, but unfortunately I was. Having practically the entire top tier to myself, it was difficult to embrace what appeared to be a banging atmosphere. Alas, at this altitude you might as well be watching from the cockpit of Apollo 13. A beautiful arena is this, but it'll be a long time yet till I consider this to be a legitimate football ground.
---
Best Match
Polonia Warsaw v Legionovia Legionovo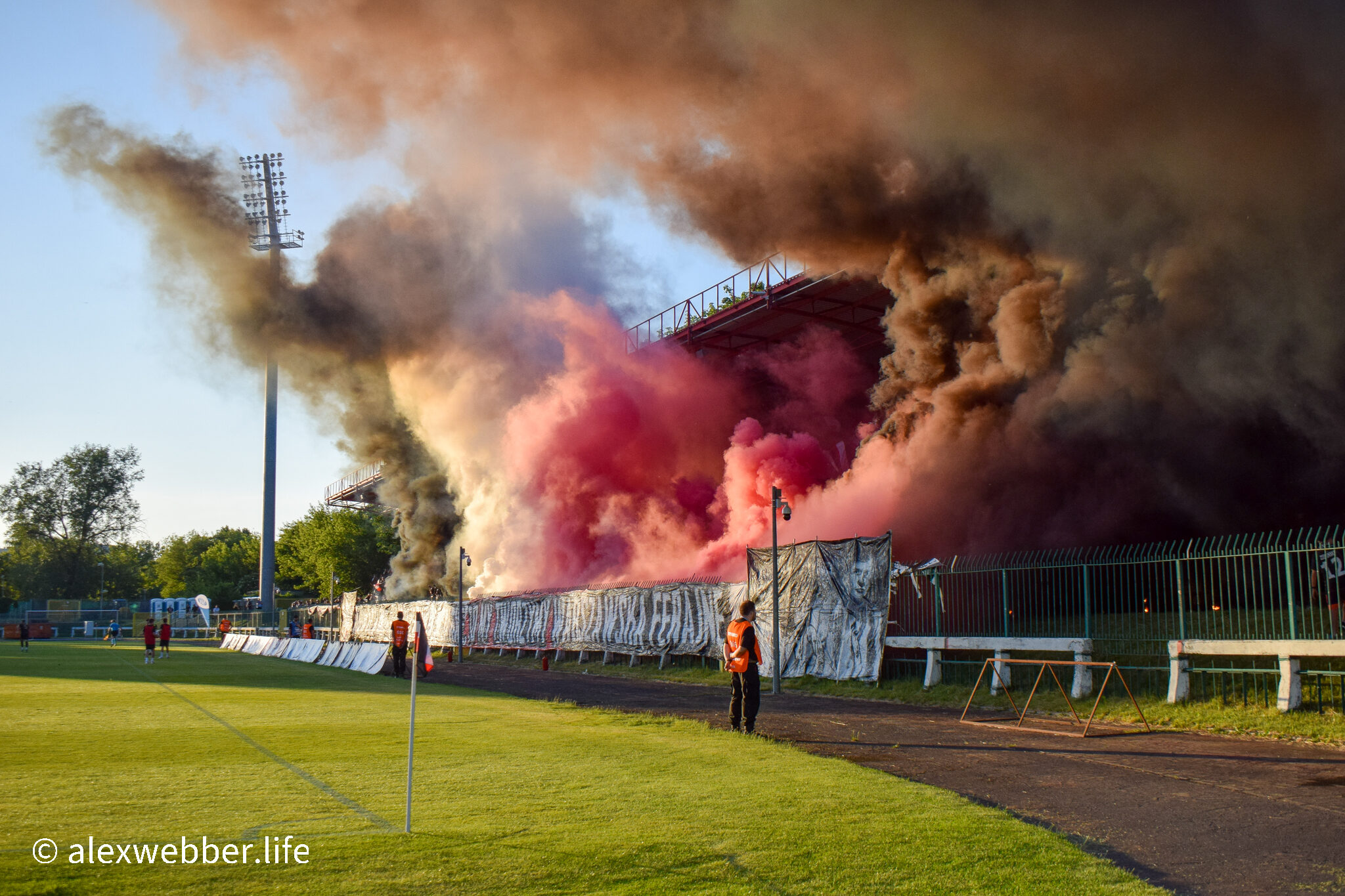 When even the club vicar is on the fence giving it some, you know you've got a classic. Played as the penultimate match of the season, this was a must-win six-pointer for both teams, and as such it drew Polonia's biggest crowd for a decade. The faithful were rewarded with a see-saw humdinger that had everything – right down to a last-gasp winner to send the home fans bananas. This wasn't just my favourite match of 2022, but one of my favourites of all time – for roller coaster mayhem, this is one I'll take with me to the grave.
For more on this match, CLICK ME!
---
Best Stadium (runner-up)
Gornik II Zabrze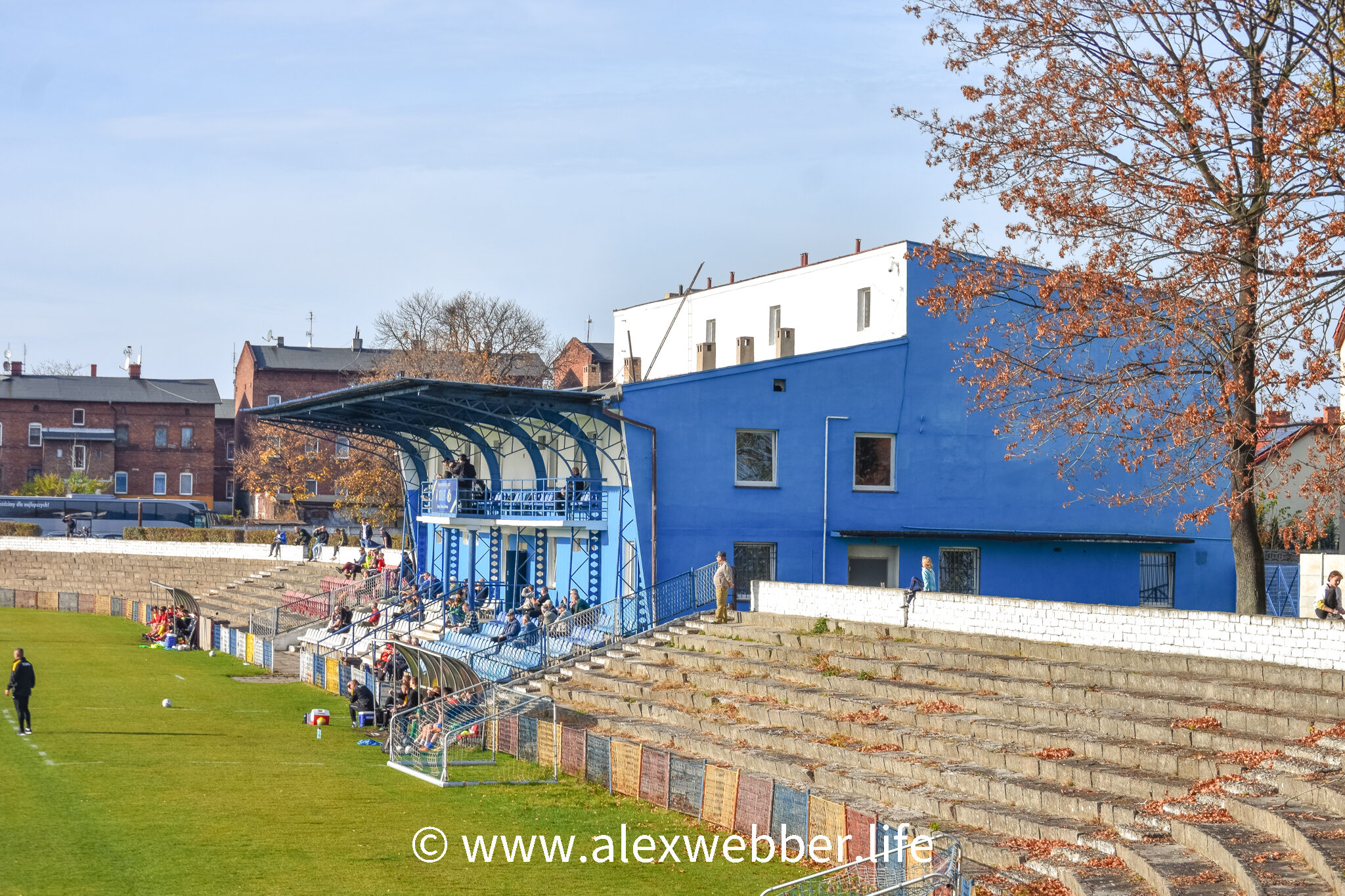 Better-known as the home of Sparta Zabrze, this little hidden gem typifies the richness and diversity of Silesia's football scene. Featuring everything from an excitable Golden Retriever to an empty away cage, the afternoon I spent here was my definition of football chill.
For more on this match, CLICK ME!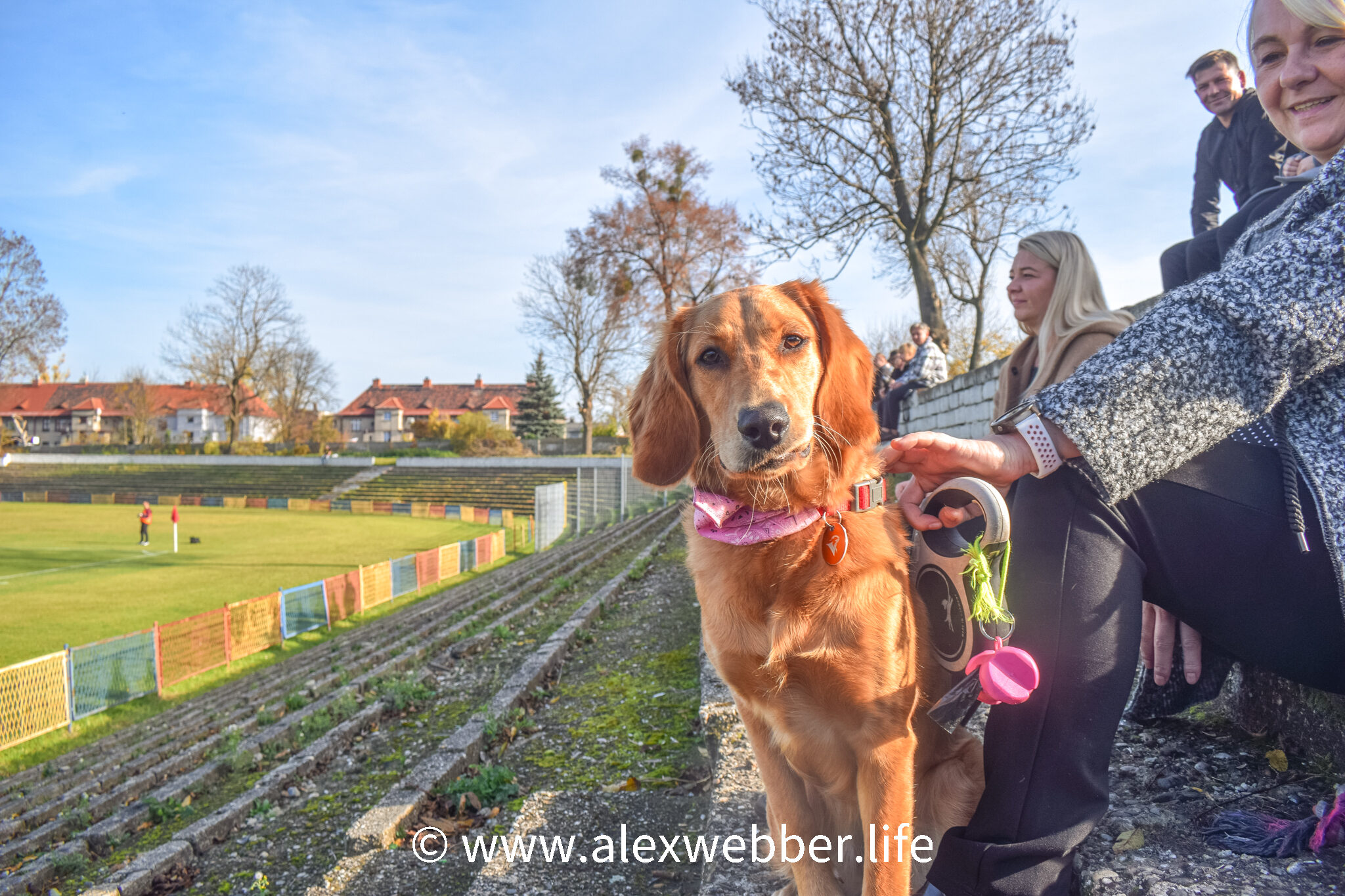 ---
Best Stadium
Stocznowiec Gdansk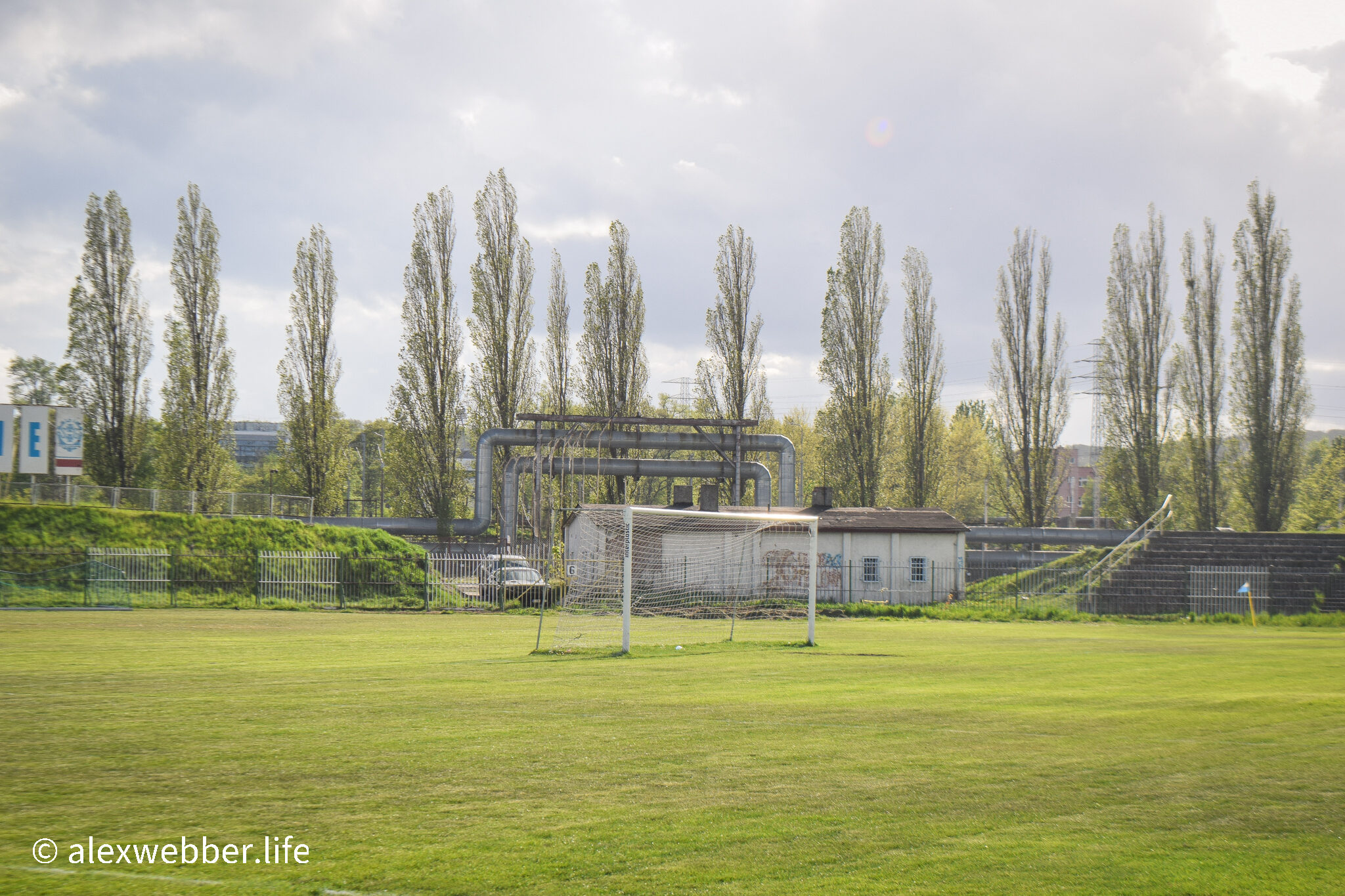 Perfect in every regard, visit Stocznowiec to find a football ground sprinkled with WWII German bunkers, battered terraces, weather-beaten seats and exposed gas pipes running yonder. Then you have the skeletal cranes of the local shipyard looming in the distance and, even, a scoreboard leftover from when this ground hosted England's U21 side.
For more on this match, CLICK ME!